Thirty-secondSunday after Pentecost
Fifteenth Sunday of Luke
The Bell Rings in the Distance
When the Sunday of Zaccheus rolls around, we know that Lent is not far behind. Begin thinking about Lent now. Resolve to do better than you did last year.
To aid us Fr. Stephanos will present a short (morning only) talk on preparing for Lent on Saturday, February 4 from 9:00am to 11:00am. More information below.
House and Business Blessing Schedule
Fr. Hans will be doing house and business blessings all through January and February on Wednesdays, Thursdays, and Fridays. Contact Fr. Hans either by phone, in person at church, or through the website (preferred) to schedule a date.
Stewardship Letters in the Mail
Responsibility towards God includes taking responsibility for His Church. We love God because He first loved us. He established the Church as His body, as the way we find Him and draw closer to Him. We are responsible for maintaining it so that the work of Christ can continue in the world. That's how it works.
You will be getting letter next week asking for your commitment to St. Peter's. Prayerfully consider your support of St. Peter's. The Church is not a charity. The Church is the Body of Christ. It needs to be high on our list.
Interfaith Charities Needs Peanut Butter, Jelly and Ramen Noodles
Interfaith Charities (IC), the local agency St. Peter's partners with to help working poor families, needs peanut butter, jelly, and ramen noodles to help feed underprivileged kids. They do not need spaghetti.
St. Peter's helps IC at crunch time. Last time we supplied over 90lbs of peanut butter and jelly when the call came out.
Please bring your donation to Church. We will be sure it gets to IC.
A Luncheon and Fashion Show for All Generations
Andrea Psaras has launched a clothing business and invites any interested women to attend "A Luncheon and Fashion Show for all Generations."
The luncheon and show will be held at the Bonita Bay Club, 26660 Country Club Dr, Bonita Springs, FL 34134 (get map)on Saturday January 28, 2017.
Schedule: 11:00am boutique, 11:30am lunch, 12:30pm fashion show. The cost for lunch and show is $25 per person. Clothes feature LuLaRoe Clothing, India Hicks bags and Noon Collection jewelry.
For more information call Andrea at 239-591-8002 or email Andrea at andrea.psaras@gmail.com
Bible Study Continues on Wednesday January 25, 2017
Bible Study resumes this Wednesday, January 18, 2017
See you then.
Liturgy on the Eve of the Presentation of Our Lord in the Temple
On Wednesday February 1, 2017 at 6:30pm we will celebrate the Presentation of the Lord in the Temple on the eve of this important feast day.
Forty days after Christ was born He was presented to God in the Jerusalem Temple according to the Mosaic Law. At this time as well His mother Mary underwent the ritual purification and offered the sacrifices as prescribed in the Law. Thus, forty days after Christmas, on the second of February, the Church celebrates the feast of the presentation called the Meeting (or Presentation or Reception) of the Lord.
Learn more on the Orthodox Church in America website.
Preparing for Lent Presentation
Fr. Stephanos will give us some practical instruction on Saturday, February 4, 2017 from 9:00am to 11:00am on what Lent is for, why we fast and how to fast, the worship cycle and more. We've planned it to fit into your schedule.
9:00 – Coffee, bagels, more
9:30 – Start of Presentation
11:00 – End of Presentation
Please plan to attend. The talk will be focused and cover the important points regarding Lent.
Calendar At A Glance
Choir Practice every Tuesday at 6:00pm and Bible Study every Wednesday at 7:00pm unless cancelled as noted below. Divine Liturgy every Sunday at 9:30. Extra services noted below. BIBLE STUDY RESUMES JANUARY 18, 2017.
January 18 (Wednesday) Bible Study Resumes 7:00pm
February 1 (Wednesday) Liturgy Presentation of the Lord in the Temple (eve) 6:30pm
February 12 (Sunday) Memorial Luke Pallis by John and Joan Simon
February 14 (Saturday) How to Prepare for Lent by Fr. Stephanos 9:00am to 11:00am.
February 27 (Monday) Lent Begins
Wisdom From The Elders
The purpose of spiritual reading is to keep the intellect from distraction and restlesness, for this is the first step towards salvation.
—St. Peter of Damaskos
In spite of our sinfulness, in spite of the darkness surrounding our souls, the Grace of the Holy Spirit, conferred by baptism in the name of the Father and the Son and the Holy Spirit, still shines in our hearts with the inextinguishable light of Christ…and when the sinner turns to the way of repentance the light smooths away every trace of the sins committed, clothing the former sinner in the garments of incorruption, spun of the Grace of the Holy Spirit. It is this acquisition of the Holy Spirit about which I have been speaking.
—St. Seraphim of Sarov
The passion of lust wars against everyone, and at the toll-houses the demon of lust will boast before all the princes of darkness that he provided hell with more spoils than all the rest. Be patient, and implore Divine help!
—St. Anatoly of Optina
The purpose of spiritual reading is to keep the intellect from distraction and restlesness, for this is the first stepThe mind, before it awakens from the sleep of slothfulness, resides with the demons.
—Venerable Isaiah the Recluse
It is better to yield. If you insist on fairness, it is the same as a paper ruble, but if you yield, it is a silver ruble.
—St. Ambrose of Optina
Remember in Your Prayers
Baby Samuel
Victoria
Jennie
Mary
James
Lori
Baby Kyriake
Maximos
Marian
Photini
Nicholas
Brad William
Ryan
Sarah
Robert Jarvis
Petronia (Wife of Phil Pappas)
Anna Marie Smith Baker
Harry Zifiris
Iris Kuring (Bettina Zifiris' mother)
Constantine Houpis
Gerhard Kuring (Bettina Zifiris' father)
Ron Chromulak
Beverly Chromulak
Katerina
Dianne
Loucine Kassis
Mary Kassis
Baby Maximus
Annette Star
Christine
Maria
Claire Livaditis
Eva Chandilles
Baby Dani
Scott Nedoff
Anthony Mourgis
John Hansen
Constandina James
James Hord
Bob Smith
Tom and Jean, parents of Patty and Jerry.
How should we pray for the sick? Remember them daily. Say their names (first names are sufficient) and ask God to bestow mercy and grace on them.
Add or remove names and print this list for easy reference during your prayer time on the St. Peter website.
Sunday Readings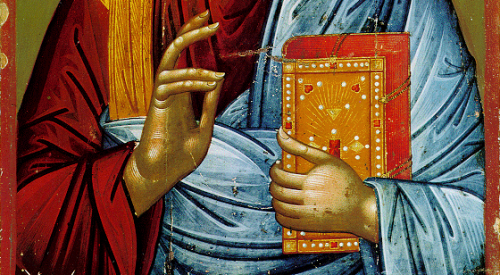 Epistle
For the Thirty-Second Sunday after Pentecost
The Lord will give strength to His people.
Ascribe to the Lord, O sons of God; ascribe to the Lord honor and glory.
The Reading from the First Epistle of St. Paul to St. Timothy. (4:9-15)
Timothy, my son, the saying is sure and worthy of full acceptance. For to this end we toil and strive, because we have our hope set on the living God, Who is the Savior of all men, especially of those who believe. Command and teach these things. Let no one despise your youth, but set the believers an example in speech and conduct, in love, in faith, in purity. Until I come, attend to the public reading of scripture, to preaching, to teaching. Do not neglect the gift you have, which was given you by prophetic utterance when the council of elders laid their hands upon you. Practice these duties; devote yourself to them, so that all may see your progress.
Gospel
For the Fifteenth Sunday of Luke—"Zacchaeus Sunday"
The Reading from the Holy Gospel according to St. Luke. (19:1-10)
At that time, Jesus entered Jericho and was passing through. And there was a man named Zacchaeus; he was a chief tax collector, and rich. And he sought to see Who Jesus was, but could not, on account of the crowd, because he was small of stature. So he ran on ahead and climbed up into a sycamore tree to see Jesus, for He was to pass that way. And when Jesus came to the place, He looked up and said to him, "Zacchaeus, make haste and come down; for I must stay at your house today."

So he made haste and came down, and received Him joyfully. And when they saw it they all murmured, "He has gone in to be the guest of a man who is a sinner." And Zacchaeus stood and said to the Lord, "Behold, Lord, the half of my goods I give to the poor; and if I have defrauded anyone of anything, I restore it fourfold." And Jesus said to him, "Today salvation has come to this house, since he also is a son of Abraham; for the Son of man
came to seek and to save the lost."