Twenty-ninth Sunday after Pentecost
Twelfth Sunday of Luke
Venerable Makarios of Alexandria; Arsenios, Bishop of Kerkyra; Venerable Mark Eugenikos, Metropolitan of Ephesus, Pillar of Orthodoxy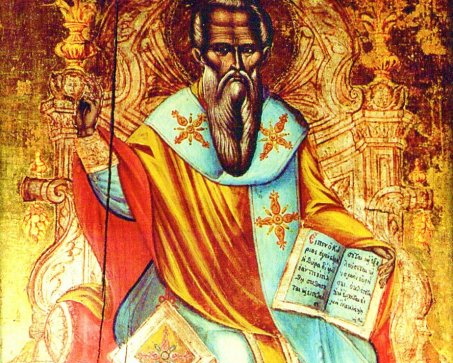 Arsenios, Bishop of Kerkyra
Who Was Arsenios, Bishop of Kerkyra (Corfu)?
Our father among the saints Arsenius, Archbishop of Kerkyra (Corfu), was a native of Palestine and lived in the ninth century. He is commemorated by the church January 19.
He led a strict ascetic life and was a well educated man and renowned spiritual writer. He was glorified by wisdom, and by the constantly defended his flock from the wrath of the emperor Constantine VIII (979-1028). Because of his great virtue, St. Arsenius was consecrated as Archbishop of Kerkyra. He was a defender of widows, a father to orphans, and a comfort for the sorrowful, and so God rewarded him with the gift of miracles. He fell asleep in the Lord toward the end of the ninth century.
His relics were placed in the cathedral at Kerkyra, and many miracles and healings took place at his tomb. St. Arsenius composed the Canon chanted during the Sanctification of Oil, a Panegyric on the Apostle Andrew, and a Discourse on the Suffering of the Great Martyr Barbara. Several of his letters to St. Photius (February 6) still survive.
Source: OrthodoxWiki.
St. Anthony the Great on Friday, January 17, 2020 at 9:30am
Our venerable and God-bearing Father Saint Anthony the Great was born in to a wealthy family in upper Egypt about 254 AD. Also known as Anthony of Egypt, Anthony of the Desert, and Anthony the Anchorite, he was a leader among the Desert Fathers, who were Christian monks in the Egyptian desert in the 3rd and 4th centuries AD.
One day after a teaching on Jesus saying to the people, "If you want to be perfect, go, sell what you have and give to the poor, and you will have treasures in heaven; and come, follow Me" (Matthew 19:21), St. Anthony sold everything he owned, gave the proceeds to the poor, and left the city behind to live in the desert.
Although he held no titles or position, his holiness marked him as one whose wisdom commanded respect. When the Synod of Nicea was convened, he was invited to participate. His eloquent defense of the Orthodox doctrine concerning the person of Jesus Christ was instrumental in weakening the position of Arianism. His witness led to the eventual and complete elimination of Arianism.
He instructed his followers to bury his body in an unmarked, secret grave, lest his body become an object of veneration. The monastic rules of Saint Anthony, the "patriarch" of monastic life, have served as the basis for countless monasteries
Source: OrthodoxWiki.
It Is Time For House Blessings!
To sign up for house blessings please text Fr. Hans at 239-248-4775 with some available dates and times that work, or send an email to info@stpeterorthodoxchurch.com, or sign up in the Social Hall. Fr. Hans will call you to set up the appointment.
If you call there is a good chance I cannot pick up, and if I am in the car I cannot write down the information anyway. That's why texting is preferred.
Mark You Calendar! Valentine's Day Party on February 15, 2020

Love Around the World:
A Valentine's Dinner Covered Dish Celebration
DATE: Saturday, February 15
TIME: 5:00pm
WHERE: St. Peter's Fellowship Hall
RSVP: Tina Kucera at 239-980-1520 along with the Covered Dish you can prepare
Live Entertainment from 6:30pm to 8:30pm! Dance to you favorite sounds from the 50s, 60s, and 70s!
Women of St. Peter's: Women's Retreat On Saturday, March 7, 2020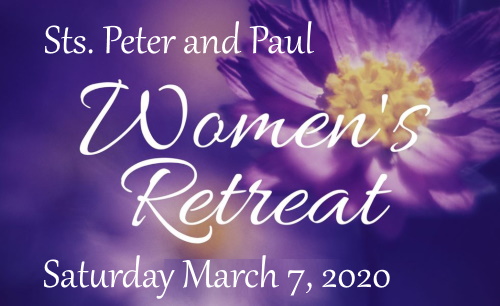 WOMEN OF ST PETER: It's our turn to sponsor the annual Lenten Retreat to be held at St. Peter's on Saturday, March 7. We have invited a guest speaker, Fr. Alexis Kouri of St. Philip's Orthodox Church in Davie, Florida, and we want to it to be a successful event.
If you can help with the event, please contact Mary Copeland or Nancy Forderhase to volunteer. We need to provide a light breakfast and lunch for the event, and there are numerous other "chores" to ensure that it's a successful effort.
Please plan to attend this one day retreat. It's a perfect way to begin the "Lenten Journey" and it will end early in the afternoon. We want to support this effort with a strong showing from the Women of St. Peter's. We are asking for a $10 contribution to pay for the food expenses.
Do You Want To Learn Greek?
One of our parishioners is a Greek teacher at Athenian Academy and would teach a class at St. Peter's if enough people are interested. Please click the image below and fill out the form (new window will open).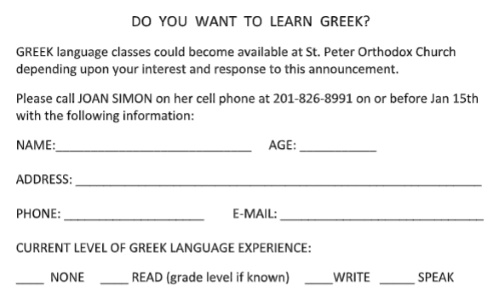 Thank you from St. Peter's Sunday School
Thank you to all the St. Peter's parishioners who assisted in out Christmas food drive. We wanted to teach the children about giving to others and we succeeded. Your support of our Sunday School program is deeply appreciated. Georgia Katsigianopoulos, Sunday School Director.
Our Stewardship to St. Peter's
The letter for Stewardship Support of St. Peter's in 2020 has been sent.
We are responsible to increase what God has given us. In the Parable of the Talents, the master gave his servants talents that they are expected to nurture and grow. This is a responsibility we cannot avoid.
The Church is both a place where the increase begins on the inside of us, and to which we much give some our increase. This too is a responsibility we must take on.
A contribution form will be included in the letter you receive. Our goal this year is $217,000.
Diocese of Miami Winter Retreat
A Short Conversation with Bp. Nicholas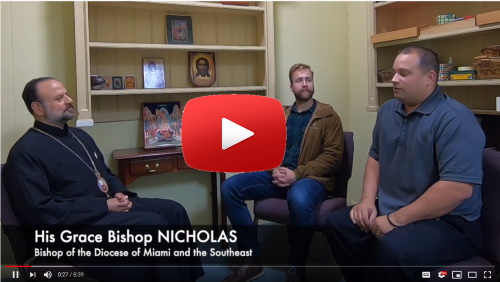 Bible Studies
Please note: Bible Studies have been postponed until January, 2020.
The Community Bible Study is for the entire community.
The Men's and Women's Bible Study are separate studies but held concurrently.
Upcoming Liturgies
St. Anthony the Great on Friday, January 17, 2020 at 9:30am
The Three Hierarchs on Thursday, January 30, 2020 at 9:30am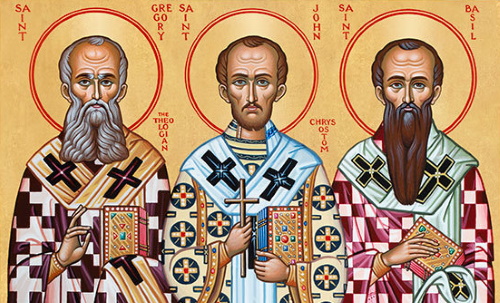 Pledge & Income Report – November 2019
In November we took in $17,225 in total donations. Our monthly goal is $16,777.00 leaving us $448 above our monthly expenses for the month.
Thank you for your generosity.
Calendar At A Glance
January
Tue Jan 7 — Synaxis of St. John the Baptist Divine Liturgy 9:30am
Sun Jan 12 — Memorial Prayers for Victoria Sahawneh
Sun Jan 12 — Cutting of the Vasilopita following the Divine Liturgy
Fri Jan 17 — St. Anthony the Great Divine Liturgy 9:30am
Fri Jan 17 — Parish Council Meeting 3:00pm
Tue-Sat Jan 22-25 — Miami Diocese Retreat in Atlanta. Fr. Hans out of town
Fri Jan 17 — St. Anthony the Great Divine Liturgy 9:30am
Fri Jan 27-29 — Fr. Hans out town
Thu Jan 30 — Three Hierarchs Divine Liturgy 9:30am
February
Wed-Sat Feb 5-8 — Fr. Hans Out of Town
Sat Feb 15 — Valentine's Day Party (Time and details TBA)
March
Sat Mar 7 — Sts. Peter/Paul Women's Retreat
Please note the extra remaining liturgies scheduled for January:
Fri Jan 17 — St. Anthony the Great Divine Liturgy 9:30am
Thu Jan 30 — Three Hierarchs Divine Liturgy 9:30am
Wisdom From The Elders
If failure occurs, do not let us be overwhelmed with despondency, but, acknowledging before God our sin and infirmity, let us humble ourselves before Him, throwing aside our self-love. Righteous John, Wonderworker of Kronstadt
If a person could realize at once the rising of his pride and say: 'My God, I have nothing of my own and I am full of pride; forgive me!' the compassionate hands of God will take hold of him immediately and set him down gently, without making his fall noticeable. Saint Paisios of Mount Athos
Trust in God, depend upon Him, seek and obey Him, and the Lord will help you! Priest Daniel Sysoev
Struggle to acquire humility by recalling your past and present failings Abbot Nikon Vorobiev
In our age of moral and spiritual decline, only the heroic example of righteous men and women is able to ignite a zeal for godly living in accordance with the Divine commandments. Hieromonk Seraphim Rose
The cross is the sole path to the resurrection… to flee from it is to enter into eternal death. Metropolitan Saba(Esber)
Remember in Your Prayers
Joan (Breitenbach)
Mary (Rauch)
Warren (BAND)
Joseph (Breitenbach)
Diomidis (Kanellos)

Anastasia (Ann Constan)
Ben (Ben)
Thomas (Ben)
Irene (C. Diveris)
Vasiliki (C.Diveris)
Efrosini (C. diveris)
Charles (Oberg)
Christine (Kouzes)
Nina (Kovalev)
Hugh (Jacquie)
Violet (Jacquie Mom)
Tammie (Jacquie friend)
Phillip
Baby Luke
George
Priest Kyprianos
Savannah (Jonson)
Bud
Silvana
Nicole
Evan
Megan
Bill R.
Pat R.
Aglaia
George
Hieromonk Serapion
Priest Kyprianos
Athanasia
Alexandra
Constantina
Maryanne (E)
Ron (E)
Tim
Robert (J)
Mary (J)
Patricia
Gregory
Andreas
Sofia Tešanovic
Paul
Dennis H. and Family
Victor Evan
Ann
James
Vasiliki
Efstratia
Alexandra
Nikos
Georgia
Ioannis
Costandino
Jeffrey
Vaso
Dave
Dimitri – Presbyter
Vassiliki
Octavio
Tom
Carl
Rena
Nikolay (5 year old boy in Bulgaria whose parents asked us to pray)
David
Rosie
Kathryn
Jeremy
Constantine
Robert
Jane
Theodora
David
Gina
Micheal
Haralambos
Lillian
Presbytera Rosy
Valentina
Eva W.
Barbara
Angela
Carol Ann
Matthew
Chrysostom
Tim
Pat
Christina
Maria Louise
Maximos
Marian
Photini
Nicholas
Sarah
Constantine Houpis
Anna Marie Smith Baker
Katerina
Mary Kassis
Baby Maximus
Christine
Maria
Annette Star
Claire Livaditis
Eva Chandilles
Baby Dani
Scott Nedoff
James Hord
How should we pray for the sick? Remember them daily. Say their names (first names are sufficient) and ask God to bestow mercy and grace on them.
Add or remove names and print this list for easy reference during your prayer time on the St. Peter website.
Sunday Readings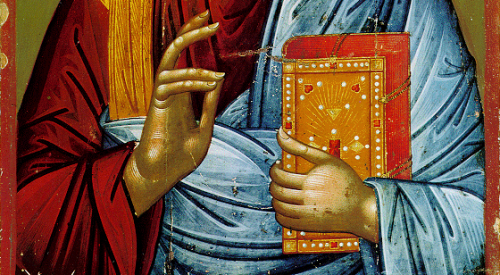 Epistle
For the Twenty-ninth Sunday after Pentecost
How magnified are Thy works, O Lord; in wisdom hast Thou made them all.
Bless the Lord, O my soul.
The Reading from the Epistle of St. Paul to the Colossians. (3:4-11)
Brethren, when Christ, Who is our life, appears, then you also will appear with him in glory. Put to death therefore what is earthly in you: fornication, impurity, passion, evil desire, and covetousness, which is idolatry. On account of these, the wrath of God is coming upon the sons January 19, 2020 Liturgy Variables 2 29th Sun. after Pentecost of disobedience. In these you once walked, when you lived in them. But now put them all away: anger, wrath, malice, slander, and foul talk from your mouth. Do not lie to one another, seeing that you have put off the old nature with its practices and have put on the new nature, which is being renewed in knowledge after the image of its Creator. Here there cannot be Greek and Jew, circumcised and uncircumcised, barbarian, Scythian, slave, free man, but Christ is all, and in all.
Gospel
For the Twelfth Sunday of Luke—"Ten Lepers"
The reading from the Holy Gospel according to St. Luke. (17:12-19)
At that time, as Jesus entered a village, He was met by ten lepers, who stood at a distance and lifted up their voices and said, "Jesus, Master, have mercy on us." When He saw them He said to them, "Go and show yourselves to the priests." And as they went they were cleansed. Then one of them, when he saw that he was healed, turned back, praising God with a loud voice; and he fell on his face at Jesus' feet, giving Him thanks. Now he was a Samaritan. Then Jesus said, "Were not ten cleansed? Where are the nine? Was no one found to return and give praise to God except this foreigner?" And He said to him, "Rise and go your way; your faith has made you well."