Sunday of the Pharisee and Publican
The Pharisee boasted of his works before God. The Publican recognized he was a sinner. Whose prayer was acceptable to God?
Excerpts from a sermon by Fr. Milan Medakovic:
As it says in the Gospel, the Pharisee went to pray and prayed "thus with himself." He was not praying to God; he was praying with himself. Why was his prayer with himself and not with God?

He is praying with himself because he is boastful and judgmental in his prayer: "I thank You God that I am not as other men …" The scripture reminds us, "Let a neighbor praise you, and not your own mouth: a stranger and not your own lips" (Proverbs 27:2).

The manner in which we pray is often reflective of the way in which we live our lives. We are all too often encouraged to be boastful in our lives. In business, we often get ahead by beating our own drum. We have all met these types of people that cannot stop telling us about the good things they have done. Our immediate reaction to these types of people is usually, "Will you shut up already?" Think about how it is for God if when we are in prayer all we do is tell Him about all the good things that we have done. It is most simply put in the Psalms: "put a door to your tongue, and a lock" (Psalms 140:3).

[…]

In contrast to the Pharisee's prayer, we are given the example of how we are to pray. First, we are to pray without ceasing (1 Thessalonians 5:17), as the Publican continually said, "God be merciful me a sinner." The last half of the Jesus prayer, "Lord Jesus Christ, Son of God, have mercy upon me a sinner," is based on this prayer.

The Publican further teaches us that we must not only pray continually but that we must first acknowledge our sin. This confirms what is said by the prophet Isaiah: "Declare your sins first, that you may be justified" (Isaiah 43:26). Thus, we learn through the Publican what is said in Proverbs: "The righteous is the accuser of himself" (Proverbs 18:17), and in Psalms: "I will confess against myself my transgression unto the Lord; and You forgave the iniquity of my heart" (Psalms 31:5). It is no coincidence that the Church tells us to begin all prayer with saying "God cleanse me a sinner and have mercy upon me" three times before we start any public or private prayer.
Read Fr. Milan Medakovic's full sermon on the Pravoslavie website.
Fr. Thomas Hopko on the Pharisee and the Publican
Listen to a sermon on the Pharisee and the Publican online. The late Fr. Hopko taught about Orthodox life in very practical ways. Also be sure to check out Fr. Hopko's "55 Maxims for Christian Living" on the website.
Listen here:
[audio:http://audio.ancientfaith.com/hopko/stt_001_pubpharisee.mp3]
Movie Outing for "Risen" this Saturday, February 20 at 4:30pm
Joe Repya is organizing an outing to see "Risen" this Saturday, February 20 at Fandango Prado Stadium 12 Theater, 25251 Chamber of Commerce Drive, Bonita Springs (get map). The movie begins at 4:30.
Please email Joe at jrepya@aol.com or call him at 612-270-4443 or signup on the website if you are coming. Deadline is Thursday evening so he can reserve a block of tickets for us at the theater.
Get more information on the St. Peter website.
Holy Week Service Books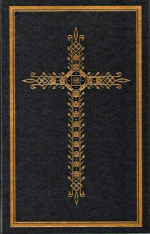 This year we will be using the Holy Week Service Book of the Antiochian Archdiocese during Holy Week. If you would like one for private use please order it from Ancient Faith Publishing. The price is $35.00.
Includes the three Bridegroom services, the three Liturgies of the Presanctified Gifts; the service of Holy Unction; the Vesperal Divine Liturgy and 12 Passion Gospels of Holy Thursday; the Royal Hours, Vespers, and Lamentations of Holy Friday; the Vesperal Divine Liturgy of Holy Saturday morning; Great and Holy Pascha; and the Agape Vespers of Sunday afternoon.
Lenten Service Schedule
The schedule for Lenten services is being finalized and will be put on the Church calendar and emailed to all all parishioners this week.
Valentine Pot Luck
Our Valentine Pot Luck was a success with good food and fellowship enjoyed by all. Many thanks to Mary Jarvis and Mary Copeland for chairing the event and to everyone who helped along the way.
Bible Study Continue Tuesday, February 23, 2016 at 7pm
Choir practice resumes shortly.
Youth Bible Study Continues on Wednesday February 24 at 6pm
We meet at Tony's Off Third Restaurant in downtown Naples (get map).
Orthodox Wisdom
And I, a sinner, have been trying to love God for more than forty years, and cannot say that I perfectly love Him. If we love someone we always remember him and try to please him; day and night our heart is occupied with that object.
Is that how you, gentlemen, love God? Do you often turn to Him, do you always remember Him, do you always pray to Him and fulfill His holy commandments? 'For our good, for our happiness at least let us make a vow that from this day, from this hour, from this minute we shall strive to love God above all else and to fulfill His holy will.
– St. Herman of Alaska
When you sit down to eat, pray. When you eat bread, do so thanking Him for being so generous to you. If you drink wine, be mindful of Him who has given it to you for your pleasure and as a relief in sickness. When you dress, thank Him for His kindness in providing you with clothes.
When you look at the sky and the beauty of the stars, throw yourself at God's feet and adore Him who in His wisdom has arranged things in this way. Similarly, when the sun goes down and when it rises, when you are asleep or awake, give thanks to God, who created and arranged all things for your benefit, to have you know, love and praise their Creator.
– St. Basil the Great
Remember in Your Prayers
Constandina James
Peter Wouralis
James Hord
Bonnie Joseph
Bob Smith
Tom and Jean, parents of Patty and Jerry.
How should we pray for the sick? Remember them daily. Say their names and ask God to bestow mercy and grace on them.
Sunday Readings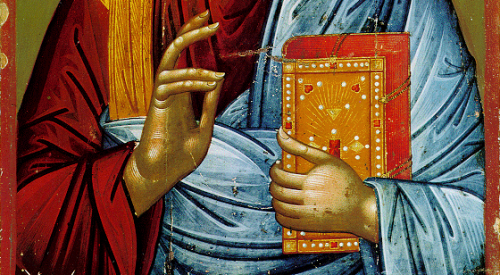 Epistle
For Sunday of the Pharisee and Publican
Make vows to the Lord thy God, and perform them.
In Judah God is known; His Name is great in Israel.
The Reading from the Second Epistle of St. Paul to St. Timothy. (3:10-15)
Timothy my son, you have observed my teaching, my conduct, my aim in life, my faith, my patience, my love, my steadfastness, my persecutions, and my sufferings; and what befell me at Antioch, at Iconium, and at Lystra. What persecutions I endured; yet from them all, the Lord rescued me. Indeed all who desire to live a godly life in Christ Jesus will be persecuted, while evil men and impostors will go on from bad to worse, deceivers and deceived.

But as for you, continue in what you have learned and have firmly believed, knowing from whom you learned it and how from childhood you have been acquainted with the sacred writings which are able to instruct you for salvation through faith in Christ Jesus.
Gospel
For Sunday of the Pharisee and Publican
The Reading from the Holy Gospel according to St. Luke. (18:10-14)
The Lord spoke this parable: "Two men went up into the temple to pray, one a Pharisee and the other a tax collector. The Pharisee stood and prayed thus with himself, 'God, I thank Thee that I am not like other men, extortionists, unjust, adulterers, or even like this tax collector. I fast twice a week; I give tithes of all that I get.' But the tax collector, standing far off, would not even lift up his eyes to heaven, but beat his breast, saying, 'God, be merciful to me a sinner!' I tell you, this man went down to his house justified rather than the other; for every one who exalts himself will be humbled, but he who humbles himself will be exalted."