Adult Bible Studies Discontinued until January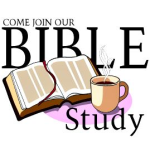 Christmas gets busy and with the Bishop's visit, Christmas coming, and all the other assorted events, we will discontinue the bible study until January.
Running Late on the Parish Christmas Card? Sign-Up and Donate Online!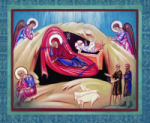 The Christmas Card deadline is December 15. Running late? Just sign up and make your donation on the website!
Or you can download and print the form (new window will open) and give it to Mary Copeland or Mary Jarvis at church or mail it to:
St. Peter Orthodox Mission
P.O. Box 110844
Naples, Fl. 34109
Deadline for sign-up is December 15, 2014.
You can also download the sign-up form from the St. Peter website.
Plans are Finalized for Bishop Antoun's to Visit St. Peter's on December 15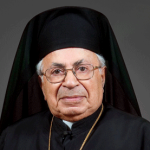 His Grace Bishop Antoun will be making his first pastoral visit to St. Peter's on Sunday, December 17.
We would like to see a very strong showing of St. Peter's parishioners and friends to welcome His Grace. Please plan to come!
He has been looking forward to this visit for quite a while. The choir has been practicing hard to make the Liturgy as beautiful as we can.
After the Liturgy (which will start promptly at 9:30 because Bp. Antoun does not like to start late) we will have
have a brunch/luncheon at the hotel where we can get to know our Bishop and he can get to know us.
Please go the website for sign-up instructions or talk to Mary Jarvis or Mary Copeland at Church.
Fr. Hans a Featured Guest on Ancient Faith Radio this Sunday (December 8, 2013)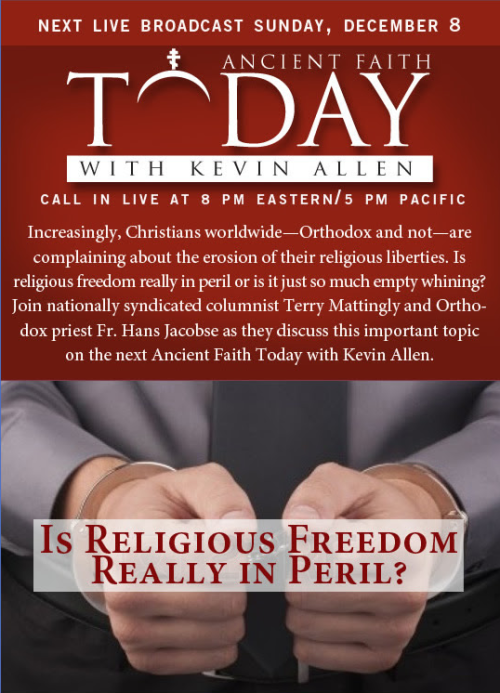 Georgian Metropolitan to Visit Naples Next Wednesday
Metropolitan Nicholas, an Orthodox Metropolitan from Georgia (the country bordering Turkey and Armenia) will be giving a talk in Naples on December 11 "The Orthodox Church in Georgia after the fall of Communism." The Georgian Church suffered severe persecution under the Communists. It has nearly 2000 parishes in the 1920's. Only 50 remained after the Communist era.
The public presentation starts at 7pm at Faith Lutheran Church (get map). Faith Lutheran Church is located Goodlette-Frank Road about 1/2 mile south of Pine Ridge on the south side (a few blocks past the Moorings).
The Orthodox Clergy Association of Southwest Florida is helping with the presentation.
Sunday Scripture Readings
Epistle
Ephesians 2:14-22 (24th Sunday after Pentecost)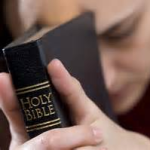 The Lord will give strength to his people.
Bring to the Lord, O sons of God, bring to the Lord honor and glory.
The Reading is from St. Paul's Letter to the Epehsians
BRETHREN, God who is rich in mercy, out of the great love with which he loved us, even when we were dead through our trespasses, made us alive together with Christ (by grace you have been saved), and raised us up with him, and made us sit with him in the heavenly places in Christ Jesus, that in the coming ages he might sow the immeasurable riches of his grace in kindness toward us in Christ Jesus.

For by grace you have been saved through faith; and this is not your own doing, it is the gift of God—not because of works, lest any man should boast. For we are his workmanship, created in Christ Jesus for good works, which God prepared before hand, that we should walk in them.
Gospel
Luke 13:10-17 (10th Sunday of Luke)
The Reading of the Holy Gospel according to St. Luke
BRETHREN, Christ is our peace, who has made us both one, and has broken down the diving wall of hostility, by abolishing in his flesh the law of commandments and ordinances, that he might create in himself one new man in place of the two, so making peace, and might reconcile us both to God in one body through the cross, thereby bringing the hostility to an end.

And he came and preached peace to you who were far off and peace to those who were near ; for through him we both have access in one Spirit to the Father.

So then you are no longer strangers and sojourners, but you are fellow citizens with the saints and members of the household of God, built upon the foundation of the apostles and prophets, Christ Jesus himself being the cornerstone, in whom the whole structure is joined together and grows into a holy temple in the Lord; in whom you also are built into it for a dwelling place of God in the Spirit.