Christ is Born! Glorify Him!
Theophany – The Baptism of Our Lord and Savior Jesus Christ
Theophany (or Epiphany) means shining forth or manifestation. The feast is often called, as it is in the Orthodox service books, Theophany, which means the shining forth and manifestation of God. The emphasis in the present day celebration is on the appearance of Jesus as the human Messiah of Israel and the divine Son of God, One of the Holy Trinity with the Father and the Holy Spirit.
Thus, in the baptism by John in the Jordan, Jesus identifies himself with sinners as the "Lamb of God who takes away the sin of the world" (Jn 1:29), the "Beloved" of the Father whose messianic task it is to redeem men from their sins (Lk 3:21, Mk 1:35). And he is revealed as well as One of the Divine Trinity, testified to by the voice of the Father, and by the Spirit in the form of a dove. This is the central epiphany glorified in the main hymns of the feast:
When Thou, O Lord, wast baptized in the Jordan the worship of the Trinity was made manifest! For the voice of the Father bare witness to Thee, calling Thee his Beloved Son. And the Spirit, in the form of a dove, confirmed the truthfulness of his Word. O Christ our God, who hast revealed Thyself and hast enlightened the world, glory to Thee (Troparion).
Read the entire article on the Orthodox Church of America website.
Blessing of the Water Following Divine Liturgy on Theophany on January 6, 2019
After Theophany Liturgy next Sunday (January 6), we will break for ten of fifteen minutes in the Social Hall for coffee and a donut (no regular social hall next Sunday) and then to Riverside Park and do an outdoor blessing of the waters at the Imperial River in Riverside Park.
The park is 3 miles south on Old 41 where the bandshell is located (get directions).
Why do the Orthodox bless the waters? Read about it here.
Feasts of Circumcision of Christ and St. Basil the Great on Tuesday, January 1, 2019 at 9:30am.
Saint Basil was born in the year 330 at Caesarea, the administrative center of Cappadocia. He was of illustrious lineage, famed for its eminence and wealth, and zealous for the Christian Faith. The saint's grandfather and grandmother on his father's side had to hide in the forests of Pontus for seven years during the persecution under Diocletian.
Saint Basil's mother Saint Emilia was the daughter of a martyr. On the Greek calendar, she is commemorated on May 30. Saint Basil's father was also named Basil. He was a lawyer and renowned rhetorician, and lived at Caesarea.
Ten children were born to the elder Basil and Emilia: five sons and five daughters. Five of them were later numbered among the saints: Basil the Great; Macrina (July 19) was an exemplar of ascetic life, and exerted strong influence on the life and character of Saint Basil the Great; Gregory, afterwards Bishop of Nyssa (January 10); Peter, Bishop of Sebaste (January 9); and Theosebia, a deaconess (January 10).
Saint Basil spent the first years of his life on an estate belonging to his parents at the River Iris, where he was raised under the supervision of his mother Emilia and grandmother Macrina. They were women of great refinement, who remembered an earlier bishop of Cappadocia, Saint Gregory the Wonderworker (November 17). Basil received his initial education under the supervision of his father, and then he studied under the finest teachers in Caesarea of Cappadocia, and it was here that he made the acquaintance of Saint Gregory the Theologian (January 25 and January 30). Later, Basil transferred to a school at Constantinople, where he listened to eminent orators and philosophers. To complete his education Saint Basil went to Athens, the center of classical enlightenment.
Read the entire history on the St. Peter's website.
St. Peter's Community Lucheon on Thursday, January 3, 2019 at 12:00pm
Menu
Chicken Pilaf made with Whole Wheat Orzo
Greek Salad with Feta Cheese
Kalamata Olives
Bread, Dessert, Beverage
You are invited to join your St. Peter's friends for lunch and fellowship at 12 noon on Thursday, January 3, at 12:00pm.
Barbara Dionysopoulos and friends are preparing a delicious meal for all our members. Come and join us to enjoy some good food and the company of your friends. Make some new friends too and get to know other parishioners.
Reservations are required! Please call Barbara at 239-826-1655 or sign up in the Social Hall after Divine Liturgy.
The cost is $5 per person.
New Year Celebration on Saturday, January 12, 2019 for a New Years lamb and chicken dinner! This will be good!
At St. Peter's we are always a bit late ringing in the New Year. So, in keeping with that tradition join us on Saturday, January 12, 2019 starting at 5:00pm for the roasting of a lamb on a spit along with grilled chicken.
The lamb and chicken are provided but please bring one of the following if you can:
If you can help defray the cost of the lamb and chicken, please give a donation to one of the Parish Council members.
Vassilopita on Sunday, January 13, 2016
We will cut the Vassilopita (St. Basil's bread) on Sunday January 33 following the Divine Liturgy.
Please Help on Church Directory Updates
A lot of work has been done behind the scenes updating our record keeping, parish lists, and financial tracking.
One area that has been improved is record keeping of our members.
To bring everything up to date we need current information. Please fill in the form on the website, fill in a paper form at Church, or complete the stewardship form you will be receiving shortly.
You can fill in the form on the website here.
Our Stewardship to St. Peter's: The Tree Must Bear Fruit
You will soon be receiving a letter asking for your Stewardship Support of St. Peter's in 2019.
We are responsible to increase what God has given us. In the Parable of the Talents, the master gave his servants talents that they are expected to nurture and grow. This is a responsibility we cannot avoid.
The Church is both a place where the increase begins on the inside of us, and to which we much give some our increase. This too is a responsibility we must take on.
A contribution form will be included in the letter you receive. Our goal this year is $200,000. We must meet this goal to avoid using our reserves. If we spend our reserves, we will not be able to obtain a mortgage to buy or build when the time comes to do so (and it will come sooner than later).
All of us may have to squeeze a bit to meet this goal. But if give, the Church flourishes and that flourishing spills over into our lives as well and the lives of our families.
We must increase what we have been given by God.
What's Coming in 2019?
New classes and Bible studies are starting!
Cathechumen/New Member class start on Monday, January 14 at 7:00pm. Catechumens are required to attend but anyone seeking a better understanding of the Orthodox faith is encouraged to attend as well.
General and Mens Bible studies on alternating Wednesdays beginning on Wednesday, January 16. The Mens Study will not begin until February 6 because Fr. Hans will be out of town on January 23 attending the Miami Diocese Retreat in Atlanta.
St. Demetrios Brotherhood meetings (for young men) moved to Thursdays beginning January 17.
Calendar At A Glance
JANUARY
Tuesday January 1, 2019 — St. Basil the Great and Circumcision of Christ Divine Liturgy at 9:30am.
Thursday, January 3 — Community Luncheon at 12:00pm
Sunday, January 6, 2019, 2018 — Theophany Divine Liturgy followed by Blessing of the Waters.
Saturday, January 12 — New Years Lamb and Chicken Dinner Celebration at 5:00pm
Sunday, January 13 — Cutting of the Vassilopita following Divine Liturgy
Monday, January 14 — Catechumen/New Member Class at 7:00pm
Wednesday, January 16 — Community Bible Study at 7:00pm
Thursday, January 17 — St. Demetrios Brotherhood at 7:00pm (NOTE DAY CHANGE)
Monday, January 21 — Catechumen/New Member Class at 7:00pm
Wednesday, January 16 — Community Bible Study at 7:00pm
Thursday, January 17 — St. Demetrios Brotherhood at 7:00pm
January 22-26, 2019 — Fr. Hans attends Miami Diocese Winter Retreat in Atlanta
Wednesday, January 23 — CANCELLED Mens Bible Study at 7:00pm
Thursday, January 24 — CANCELLED St. Demetrios Brotherhood at 7:00pm
Monday, January 28 — Catechumen/New Member Class at 7:00pm
Wednesday, January 30 — Community Bible Study at 7:00pm
Thursday, January 31 — St. Demetrios Brotherhood at 7:00pm
Wisdom From The Elders
Every divulgence of sin accompanied by sincere repentance makes the sinner closer, dearer and more precious to a spiritual father. This is commonly observed. The enemy only frightens one with thoughts contrary to this. Abbot Nikon Vorobiev
For us sinners, the prayer of the publican is sufficient. Learn to pray from him. Oh, if only you would learn this! Do not suppose that this is so simple. There is a profound depth here. This prayer opens the abyss of the heart, which is seen to be filled with all kinds of ugly vermin…. Abbot Nikon Vorobiev
Wherever I am, as soon as I raise the eyes of my heart in my affliction to God, the Lover of men immediately answers my faith and prayer, and the sorrow immediately departs. He is at every time and every hour near me, only I do not see it, but I feel it vividly in my heart, Righteous John, Wonderworker of Kronstadt
The rule of life for a perfect person is to be in the image and likeness of God.
St. Clement of Alexandria Elder Sergei of Vanves
If one is to work on one's fallow soul, one must first weed out all the thorns, its passions, and then plant virtues in their place. However, this process is an arduous one and requires a strong will and great patience. Saint Paisios of Mount Athos
Remember in Your Prayers
Athanasia
Alexandra
Constantina
Maryanne (E)
Ron (E)
Tim
Robert (J)
Mary (J)
Helen (Rogers)
Doug Spencer
Kathy Spencer
Kathy D
Andreas
Sofia Tešanovic
Paul
Dennis H. and Family
Victor Evan
Ann
James
Vasiliki
Efstratia
Alexandra
Nikos
Georgia
Ioannis
Costandino
Jeffrey
Vaso
Dave
Dimitri – Presbyter
Vassiliki
Octavio
Tom
Carl
Rena
Nikolay (5 year old boy in Bulgaria whose parents asked us to pray)
David
Eva K.
Rosie
Kathryn
Jeremy
Constantine
Robert
Jane
Theodora
David
Gina
Micheal
Haralambos
Lillian
Presbytera Rosy
Valentina
Eva W.
Barbara
Angela
Carol Ann
Matthew
Chrysostom
Tim
Pat
Christina
Maria Louise
Maximos
Marian
Photini
Nicholas
Sarah
Petronia (Wife of Phil Pappas)
Constantine Houpis
Anna Marie Smith Baker
Ron Chromulak
Beverly Chromulak
Katerina
Mary Kassis
Baby Maximus
Christine
Maria
Annette Star
Claire Livaditis
Eva Chandilles
Baby Dani
Scott Nedoff
James Hord
Tom
How should we pray for the sick? Remember them daily. Say their names (first names are sufficient) and ask God to bestow mercy and grace on them.
Add or remove names and print this list for easy reference during your prayer time on the St. Peter website.
Sunday Readings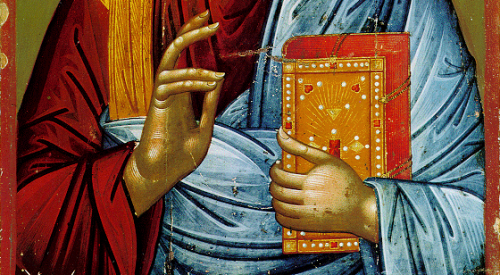 Epistle
Blessed is He that cometh in the Name of the Lord.
O give thanks unto the Lord, for He is good; for His mercy endureth forever.
The Reading from the Epistle of St. Paul to Titus. (2:11-15; 3:4-7)
My son Titus, the grace of God has appeared for the salvation of all men, training us to renounce irreligion and worldly passions, and to live sober, upright, and godly lives in this world; awaiting our blessed hope, the appearing of the glory of our great God and Savior Jesus Christ, Who gave Himself for us to redeem us from all iniquity and to purify for Himself a people of His own who are zealous for good deeds. Declare these things; exhort and reprove with all authority. Let no one disregard you. When the goodness and loving kindness of God our Savior appeared, He saved us, not because of deeds done by us in righteousness, but in virtue of His own mercy, by the washing of regeneration and renewal in the Holy Spirit, which He poured out upon us richly through Jesus Christ our Savior, so that we might be justified by His grace and become heirs in hope of eternal life.
Gospel
The Reading from the Holy Gospel according to St. Matthew. (3:13-17)
At that time, Jesus came from Galilee to the Jordan to John, to be baptized by him. John would have prevented Him, saying, "I need to be baptized by Thee, and Thou dost come to me?" But Jesus answered him, "Let it be so now; for thus it is fitting for us to fulfill all righteousness." Then he consented. And when Jesus was baptized, He went up immediately from the water, and behold, the heavens were opened and He saw the Spirit of God descending like a dove, and alighting on Him; and lo, a voice from heaven, saying, "This is My beloved Son, with Whom I am well pleased."