Christ is Born! Glorify Him!
Feasts of Circumcision of Christ and St. Basil the Great
St. Basil the Great of Cappadocia (329–379)
Saint Basil was born in the year 330 at Caesarea, the administrative center of Cappadocia. He was of illustrious lineage, famed for its eminence and wealth, and zealous for the Christian Faith. The saint's grandfather and grandmother on his father's side had to hide in the forests of Pontus for seven years during the persecution under Diocletian.
Saint Basil's mother Saint Emilia was the daughter of a martyr. On the Greek calendar, she is commemorated on May 30. Saint Basil's father was also named Basil. He was a lawyer and renowned rhetorician, and lived at Caesarea.
Ten children were born to the elder Basil and Emilia: five sons and five daughters. Five of them were later numbered among the saints: Basil the Great; Macrina (July 19) was an exemplar of ascetic life, and exerted strong influence on the life and character of Saint Basil the Great; Gregory, afterwards Bishop of Nyssa (January 10); Peter, Bishop of Sebaste (January 9); and Theosebia, a deaconess (January 10).
Saint Basil spent the first years of his life on an estate belonging to his parents at the River Iris, where he was raised under the supervision of his mother Emilia and grandmother Macrina. They were women of great refinement, who remembered an earlier bishop of Cappadocia, Saint Gregory the Wonderworker (November 17). Basil received his initial education under the supervision of his father, and then he studied under the finest teachers in Caesarea of Cappadocia, and it was here that he made the acquaintance of Saint Gregory the Theologian (January 25 and January 30). Later, Basil transferred to a school at Constantinople, where he listened to eminent orators and philosophers. To complete his education Saint Basil went to Athens, the center of classical enlightenment.
Read the entire history on the St. Peter's website.
The Circumcision of Our Lord and Savior Jesus Christ
The Circumcision of Christ
On the eighth day after His Nativity, our Lord Jesus Christ was circumcised in accordance with the Old Testament Law. All male infants underwent circumcision as a sign of God's Covenant with the holy Forefather Abraham and his descendants (Gen. 17:10-14, Lev. 12:3).
After this ritual the Divine Infant was given the name Jesus, as the Archangel Gabriel declared on the day of the Annunciation to the Most Holy Theotokos (Luke 1:31-33, 2:21). The Fathers of the Church explain that the Lord, the Creator of the Law, underwent circumcision in order to give people an example of how faithfully the divine ordinances ought to be fulfilled. The Lord was circumcised so that later no one would doubt that He had truly assumed human flesh, and that His Incarnation was not merely an illusion, as certain heretics (Docetists) taught.
In the New Testament, the ritual of circumcision gave way to the Mystery of Baptism, which it prefigured (Col. 2:11-12). Accounts of the Feast of the Circumcision of the Lord continue in the Eastern Church right up through the fourth century. The Canon of the Feast was written by Saint Stephen of the Saint Sava Monastery (October 28 and July 13).
Read more on the Orthodox Church of America website.
The Theophany of Our Lord and Savior Jesus Christ
In the Orthodox Church, the Christmas seasons begins on December 25 and ends on Theophany (January 5-6). This constitutes the "12 Days of Christmas" (see the essay The Twelve Days of Christmas).
Theophany means "the revelation or revealing of God" and happened at the Baptism of Christ. It is a great feast day in the Orthodox Church. The schedule for Theophany 2017 is:
January 5 (Thursday) Theophany Royal Hours 9:00am
January 5 (Thursday) Vesperal Liturgy and Blessing of the Waters 6:30pm
January 6 (Friday) Theophany Divine Liturgy 9:30am
Presentation of the Vasilopita
The cutting of the Vasilopita (St. Basil's bread) will take place on Sunday, January 8 following the Divine Liturgy.
Stewardship Letters in the Mail
Responsibility towards God includes taking responsibility for His Church. We love God because He first loved us. He established the Church as His body, as the way we find Him and draw closer to Him. We are responsible for maintaining it so that the work of Christ can continue in the world. That's how it works.
You will be getting letter next week asking for your commitment to St. Peter's. Prayerfully consider your support of St. Peter's. The Church is not a charity. The Church is the Body of Christ. It needs to be high on our list.
A Luncheon and Fashion Show for All Generations
Andrea Pandazi has launched a clothing business and invites any interested women to attend "A Luncheon and Fashion Show for all Generations."
The luncheon and show will be held at the Bonita Bay Club, 26660 Country Club Dr, Bonita Springs, FL 34134 (get map)on Saturday January 28, 2017.
Schedule: 11:00am boutique, 11:30am lunch, 12:30pm fashion show. The cost for lunch and show is $25 per person. Clothes featur LuLaRoe Clothing, India Hicks bags and Noon Collection jewelry.
Bible Study Resumes Wednesday January 18, 2017
See you then.
Calendar At A Glance
Choir Practice every Tuesday at 6:00pm and Bible Study every Wednesday at 7:00pm unless cancelled as noted below. Divine Liturgy every Sunday at 9:30. Extra services noted below. BIBLE STUDY RESUMES JANUARY 18, 2017.
January 5 (Thursday) Theophany Royal Hours 9:00am
January 5 (Thursday) Vesperal Liturgy and Blessing of the Waters 6:30pm
January 6 (Friday) Theophany Divine Liturgy 9:30am
January 6 (Friday) Theophany Divine Liturgy 9:30am
January 8 (Sunday) Cutting of the Vasilopita (St. Basil's Bread) following Liturgy
January 18 (Wednesday) Bible Study Resumes 7:00pm
Wisdom From The Elders
The three foundations of monasticism are: abstinence, humility, and obedience.
—Archbishop Seraphim (Sobolev) of Bogucharsk
[T]he Lord is longsuffering. he only cuts short a man's life when He sees either that he is prepared to pass into eternity or that there is no hope for his correction.
—St. Ambrose of Optina
If one understands the mysteries of spiritual life and the mystical way in which God works, he ceases worrying over what happens to him, because he accepts joyfully the bitter medicines that God gives him for the health of his soul. Such a person considers everything to be the result of his prayer, since he constantly asks from God to purify his soul.
—St. Paisios of Mount Athos
By talents we mean not only wealth, education, or fame. Talents are good conditions for salvation of the soul. Each of us has his own given talents. Poverty, sickness, various sorrows—these are all talents. From the worldly point of view, talents mean scholarly, musical, or artistic abilities. They are not sinful; it is good when such abilities are combined with a Christian life, and when they are dedicated to God.
If an ability prevents us from living in a godly manner and saving our souls, then it should be abandoned. It is better to be a little stupider and simpler, but to be saved. What benefit is it to you if you gain the whole world but destroy your soul?
—St. Nikon of Optina
The sons of the world consider distraction to be innocent, but the Holy Fathers consider it to be the beginning of all evil.
—St Pimen the Great
Remember in Your Prayers
Jennie
Mary
James
Lori
Baby Kyriake
Maximos
Marian
Photini
Nicholas
Brad William
Ryan
Sarah
Robert Jarvis
Petronia (Wife of Phil Pappas)
Anna Marie Smith Baker
Harry Zifiris
Iris Kuring (Bettina Zifiris' mother)
Constantine Houpis
Gerhard Kuring (Bettina Zifiris' father)
Ron Chromulak
Beverly Chromulak
Katerina
Dianne
Loucine Kassis
Mary Kassis
Baby Maximus
Annette Star
Christine
Maria
Claire Livaditis
Eva Chandilles
Baby Dani
Scott Nedoff
Anthony Mourgis
John Hansen
Constandina James
James Hord
Bob Smith
Tom and Jean, parents of Patty and Jerry.
How should we pray for the sick? Remember them daily. Say their names (first names are sufficient) and ask God to bestow mercy and grace on them.
Add or remove names and print this list for easy reference during your prayer time on the St. Peter website.
Sunday Readings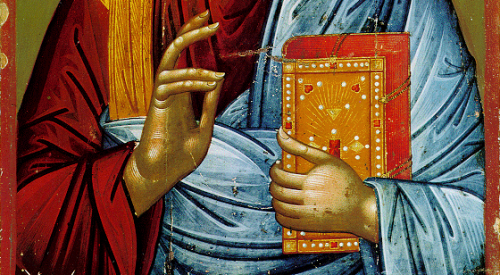 Epistle
My mouth shall speak of wisdom; and the meditation of my heart shall be of understanding.
Hear this, all ye people.
The reading from the Epistle of St. Paul Epistle to the Colossians. (2:8-12)
Brethren, see to it that no one makes a prey of you by philosophy and empty deceit, according to human tradition, according to the elemental spirits of the universe, and not according to Christ.

For in Him the whole fullness of the Godhead dwells bodily, and you have come to fullness of life in Him, Who is the head of all rule and authority.

In Him also you were circumcised with a circumcision made without hands, by putting off the body of flesh in the circumcision of Christ; and you were buried with Him in baptism, in which you were also raised with Him through faith in the working of God, Who raised Him from the dead.
Gospel
The reading from the Holy Gospel according to St. Luke. (2:20-21, 40-52)
And it came to pass that the shepherds returned, glorifying and praising God for all they had heard and seen, as it had been told them. And at the end of eight days, when He was circumcised, He was called Jesus, the name given by the angel before He was conceived in the womb. And the child grew and became strong, filled with wisdom; and the favor of God was upon Him.

Now His parents went to Jerusalem every year at the feast of the Passover. And when He was twelve years old, they went up according to custom; and when the feast was ended, as they were returning, the boy Jesus stayed behind in Jerusalem. His parents did not know it, but supposing Him to be in the company they went a day's journey, and they sought Him among their kinsfolk and acquaintances; and when they did not find Him, they returned to Jerusalem, seeking Him.

After three days they found Him in the temple, sitting among the teachers, listening to them and asking them questions; and all who heard Him were amazed at His understanding and His answers. And when they saw Him they were astonished; and His mother said to Him, "Son, why hast Thou treated us so? Behold, Thy father and I have been looking for Thee anxiously." And Jesus said to them, "How is it that you sought Me? Did you not know that I must be in My Father's house?" And they did not understand the saying which He spoke to them.

And He went down with them and came to Nazareth, and was obedient to them; and His mother kept all these things in her heart. And Jesus increased in wisdom and in stature, and in favor with God and man.