Christ is Born! Glorify Him!
Sunday after the Nativity of Christ
Commemoration of Joseph the Betrothed
David the Prophet and King
James the brother of God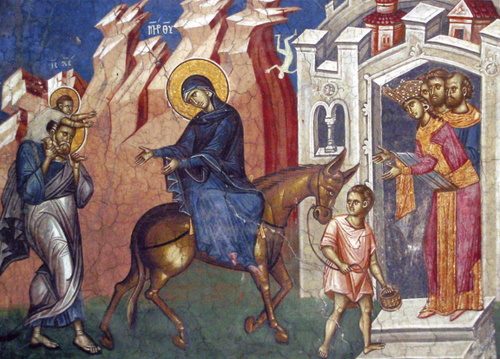 The Flight into Egypt
The Flight into Egypt
"Take the young child and his mother, and flee into Egypt, and be thou there until I bring thee word" (Matthew 2:13 – KJV)
"Out of Egypt I called my son" (Hosea 11:1 – RSV)
"The burden of Egypt. Behold, the LORD rideth upon a swift cloud, and shall come into Egypt: and the idols of Egypt shall be moved at his presence, and the heart of Egypt shall melt in the midst of it." (Isaiah 19:1 – KJV)
"In that day shall there be an altar to the LORD in the midst of the land of Egypt, and a pillar at the border thereof to the LORD." (Isaiah 19:19 – KJV)
"Blessed be Egypt my people" (Isaiah 19:25 – KJV)
According to the Scripture, Jesus Christ lived in Palestine, and the only other country he travelled to (as a young child) was Egypt. The Holy Family, throughout their stay in Egypt, which lasted for about three-and-half years, moved through many towns in Upper and Lower Egypt.
Many of the details of the journey of the Holy Family in Egypt are chronicled in a Mimar (manuscript) by Pope Theophilus, 23rd Patriarch of Alexandria (384-412 A.D.), who received these details during an apparition of the Holy Virgin Mary. Other sources of information include accounts by 2nd and 3rd century Greek and Jewish writers/philosophers/historians.
Many churches and monasteries were built in the locations which have been blessed by the visit of our Lord Jesus Christ, the Holy Virgin Mary, and St. Joseph the carpenter. Many miracles took place in these locations during the Holy Family visit 2000 years ago (and continue to occur to this day). These Coptic churches are considered the oldest and among the holiest of all churches in Christendom.
Among the places visited by the Holy Family are Zeitun in Cairo, where the Holy Virgin Mary also appeared in 1968, and Assiut in Upper Egypt, where She again appeared in 2000 [1].
In one small street in el-Matarya district of today's Cairo (Eid Street/Shek El-Te'eban Street), all kinds of bread and bakery cannot be leavened up to this day, since the Virgin Mary first visited that place with the Holy Family 2000 years ago and they were refused bread and cast away. This is an ongoing miracle that anyone can witness till this very day. Bread leavens normally in all surrounding streets.
Source: Orthodox WikiA.
Our Stewardship to St. Peter's
The letter for Stewardship Support of St. Peter's in 2020 has been sent.
We are responsible to increase what God has given us. In the Parable of the Talents, the master gave his servants talents that they are expected to nurture and grow. This is a responsibility we cannot avoid.
The Church is both a place where the increase begins on the inside of us, and to which we much give some our increase. This too is a responsibility we must take on.
A contribution form will be included in the letter you receive. Our goal this year is $217,000.
Diocese of Miami Winter Retreat
A Short Conversation with Bp. Nicholas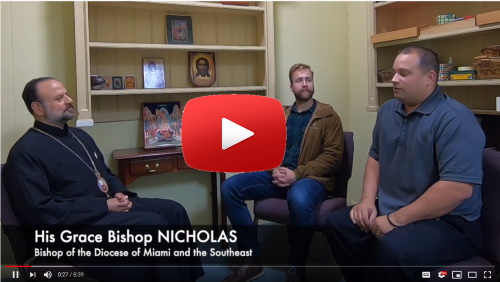 Bible Studies
Please note: Bible Studies have been postponed until January, 2020.
November
Wed Nov 27 — CANCELLED Men's & Women's Bible Study (Thanksgiving Divine Liturgy held instead) 7:00pm
No Bible Studies in December
The Community Bible Study is for the entire community.
The Men's and Women's Bible Study are separate studies but held concurrently.
Upcoming Liturgies
Synaxis of the Theotokos Divine Liturgy on Thursday, December 26, 2019 at 9:30am
St. Stephen the Proto-Martyr Divine Liturgy on Friday, December 27, 2019 at 9:30am
St. Basil / Circumcision of Christ Divine Liturgy on Wednesday, January 1, 2020 at 9:30am
Synaxis of St. John the Baptist on Wednesday, January 7, 2020 at 9:30am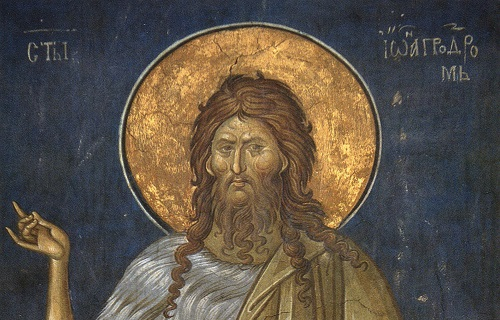 St. Anthony the Great on Friday, January 17, 2020 at 9:30am
The Three Hierarchs on Thursday, January 30, 2020 at 9:30am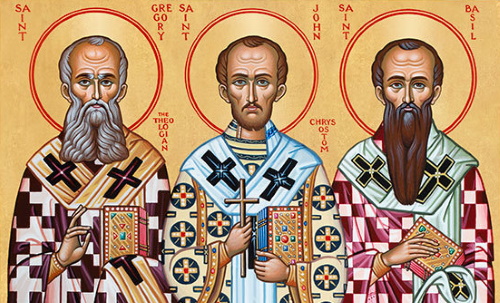 Pledge & Income Report – November 2019
In November we took in $17,225 in total donations. Our monthly goal is $16,777.00 leaving us $448 above our monthly expenses for.
Thank you for your generosity.
Dr. Zannos and Julia Are Going to be Married and You Are Invited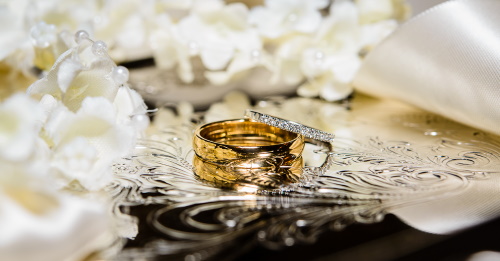 We are pleased to announce the marriage of Zannos and Julia to be held on Saturday, January 4, 2020 at 4:00pm. They have invited all members of the parish to attend.
If you plan to attend, please RSVP online to Julia (click here) or mention it to her in person by December 14, 2019.
Interfaith Charities Needs More Food Items
They need:
Ramen noodles
Canned tuna
Vegetables
Beans
Soups
Please note: Interfaith Charities is no longer accepting clothing or household items so we won't be accepting them at St. Peter's either.
Bring the food items to church and we will get them to Interfaith Charities. Interfaith Charities is a coalition of local churches helping the poor in our immediate community. See more on their website.
Calendar At A Glance
December
Thu Dec 26 — Synaxis of the Theotokos Divine Liturgy 9:30pm
Fri Dec 27 — St. Stephen the Proto-Martyr Divine Liturgy 9:30pm
Sun Dec 29 — Kuchera Memorial following Divine Liturgy
January
Wed Jan 1 — Royal Hours / Circumcision of Christ Divine Liturgy 9:30am
Fri Jan 3 — Theophany Royal Hours 9:00am
Sat Jan 4 — Grekos Wedding 4:00pm
Sun Jan 5 — Theophany Great Blessing of the Waters 9:30am
Tue Jan 7 — Synaxis of St. John the Baptist Divine Liturgy 9:30am
Tue-Sat Jan 22-25 — Miami Diocese Retreat in Atlanta. Fr. Hans out of town
Fri Jan 17 — St. Anthony the Great Divine Liturgy 9:30am
Thu Jan 30 — Three Hierarchs Divine Liturgy 9:30am
Please note the extra remaining liturgies scheduled for December/January:
Thu Dec 26 — Synaxis of the Theotokos Divine Liturgy 9:30am
Fri Dec 27 — St. Stephen the Proto-Martyr Divine Liturgy 9:30am
Wed Jan 1 — Circumcision of Christ Divine Liturgy 9:30am
Tue Jan 7 — Synaxis of St. John the Baptist Divine Liturgy 9:30am
Fri Jan 17 — St. Anthony the Great Divine Liturgy 9:30am
Thu Jan 30 — Three Hierarchs Divine Liturgy 9:30am
Wisdom From The Elders
A spiritual child of Vladyka Seraphim shared with him that it was difficult for him to maintain attention on the words of prayer. Vladyka told him: "Herein lies everything: constantly to compel oneself to attention, constantly to return one's mind to the heart, because only thereby is true prayer attained." Archbishop Seraphim (Sobolev) of Bogucharsk
O Lord, send Thy grace to my help, that I may glorify Thy holy name… O Lord my God, even though I have done nothing good in Thy sight, yet grant me by Thy grace to make a good beginning. O Lord, sprinkle into my heart the dew of Thy grace. O Lord of Heaven and Earth, remember me Thy sinful servant, shameful and unclean, in Thy Kingdom. Amen St. John Chrysostom, Archbishop of Constantinople
Don't ever pay attention to anything earthly and unstable. Strive for the union of your soul with God. Elder Amphilochios of Patmos
"If any man will come after Me, said the Lord, let him deny himself, and take up his cross daily and follow Me." But who is the daily cause of our cross, our afflictions and distresses? The old carnal man, and the Devil with his continual snares. Righteous John, Wonderworker of Kronstadt
Faith is not an issue of great knowledge and learning but humble submission not to the prevailing knowledge but to the truth of the Church, timeless and eternal. Protopresbyter Theodore Zissis
Remember in Your Prayers
Mary (Rauch)
Warren (BAND)
Joseph (Breitenbach)
Diomidis (Kanellos)

Anastasia (Ann Constan)
Ben (Ben)
Thomas (Ben)
Irene (C. Diveris)
Vasiliki (C.Diveris)
Efrosini (C. diveris)
Charles (Oberg)
Christine (Kouzes)
Nina (Kovalev)
Hugh (Jacquie)
Violet (Jacquie Mom)
Tammie (Jacquie friend)
Phillip
Baby Luke
George
Priest Kyprianos
Savannah (Jonson)
Bud
Silvana
Nicole
Evan
Megan
Bill R.
Pat R.
Aglaia
George
Hieromonk Serapion
Priest Kyprianos
Athanasia
Alexandra
Constantina
Maryanne (E)
Ron (E)
Tim
Robert (J)
Mary (J)
Patricia
Gregory
Andreas
Sofia Tešanovic
Paul
Dennis H. and Family
Victor Evan
Ann
James
Vasiliki
Efstratia
Alexandra
Nikos
Georgia
Ioannis
Costandino
Jeffrey
Vaso
Dave
Dimitri – Presbyter
Vassiliki
Octavio
Tom
Carl
Rena
Nikolay (5 year old boy in Bulgaria whose parents asked us to pray)
David
Rosie
Kathryn
Jeremy
Constantine
Robert
Jane
Theodora
David
Gina
Micheal
Haralambos
Lillian
Presbytera Rosy
Valentina
Eva W.
Barbara
Angela
Carol Ann
Matthew
Chrysostom
Tim
Pat
Christina
Maria Louise
Maximos
Marian
Photini
Nicholas
Sarah
Constantine Houpis
Anna Marie Smith Baker
Katerina
Mary Kassis
Baby Maximus
Christine
Maria
Annette Star
Claire Livaditis
Eva Chandilles
Baby Dani
Scott Nedoff
James Hord
How should we pray for the sick? Remember them daily. Say their names (first names are sufficient) and ask God to bestow mercy and grace on them.
Add or remove names and print this list for easy reference during your prayer time on the St. Peter website.
Sunday Readings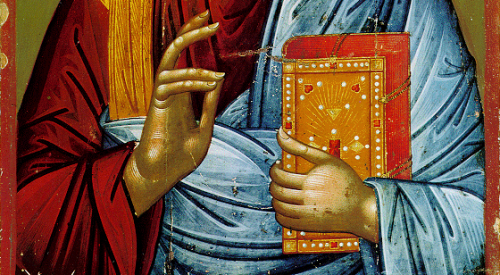 Epistle
For the Sunday after Nativity of Christ
God is wondrous in His saints.
Bless God in the congregations.
The Reading from the Epistle of St. Paul to the Galatians. (1:11-19)
Brethren, I would have you know that the Gospel, which was preached by me, is not man's gospel. For I did not receive it from man, nor was I taught it, but it came through a revelation of Jesus Christ. For you have heard of my former life in Judaism, how I persecuted the Church of God violently and tried to destroy it; and I advanced in Judaism beyond many of my own age among my people; so extremely zealous was I for the traditions of my fathers. But when He who had set me apart before I was born, and had called me through His grace, was pleased to reveal His Son to me, in order that I might preach Him among the Gentiles, I did not confer with flesh and blood, nor did I go up to Jerusalem to those who were apostles before me, but I went away into Arabia; and again I returned to Damascus. Then after three years I went up to Jerusalem to visit Cephas, and remained with him fifteen days. But I saw none of the other apostles except James the Lord's brother.
Gospel
For the Sunday after Nativity of Christ
The Reading from the Holy Gospel according to St. Matthew. (2:13-23)
When the wise men had departed, behold, an angel of the Lord appeared to Joseph in a dream and said, "Rise, take the Child and His mother, and flee to Egypt, and remain there until I tell you; for Herod is about to search for the Child, to destroy Him." And he rose and took the Child and His mother by night, and departed to Egypt, and remained there until the death of Herod. This was to fulfill what the Lord had spoken by the prophet, "Out of Egypt have I called My Son."

Then Herod, when he saw that he had been tricked by the wise men, was in a furious rage, and he sent and killed all the male children in Bethlehem and in all that region, who were two years old or under, according to the time which he had ascertained from the wise men. Then was fulfilled what was spoken by the prophet Jeremiah: "A voice was heard in Ramah, wailing and loud lamentation, Rachel weeping for her children; she refused to be consoled, because they were no more."

But when Herod died, behold, an angel of the Lord appeared in a dream to Joseph in Egypt, saying, "Rise, take the Child and His mother, and go to the land of Israel, for those who sought the Child's life are dead." And he rose and took the Child and His mother, and went to the land of Israel. But when he heard that Archelaus reigned over Judea in place of his father Herod, he was afraid to go there, and being warned in a dream he withdrew to the district of Galilee. And he went and dwelt in a city called Nazareth, that what was spoken by the prophets might be fulfilled, "He shall be called a Nazarene."