The Nativity of our Lord and Savior Jesus Christ
The Adoration of the Magi
Thy Nativity, O Christ our God, hath shined the light of knowledge upon the world;
for thereby they that worshiped the stars were instructed by a star to worship Thee, the Sun of Righteousness, and to know Thee, the Dayspring from on high.
O Lord, glory be to Thee.
The Adoration of the Magi
Today, the Virgin bears Him who is transcendent,
and the earth presents the cave to Him who is beyond reach.
Angels, along with shepherds glorify Him.
The Magi make their way to Him by a star.
For a new child has been born for us, the God before all ages.
Christmas Worship Schedule
Christmas worship is different this year because Christmas falls on a Sunday. The schedule is:
December 23 (Friday) Nativity Royal Hours 9:00am
December 24 (Saturday) Nativity Eve Divine Liturgy 9:00am
December 24 (Saturday) Great Vespers 6:30pm
December 25 (Sunday) Nativity Divine Liturgy, Hours 9:00am, Liturgy 9:30am
Christmas Season Food Drive for NAMI
Every Christmas season St. Peter's runs a food drive for NAMI (National Association for Mental Illness)serving local people in need. NAMI helps people with serious and persistent mental illnesses, as well as their parents, children, spouses, siblings and friends.
St. Peter's has contributed to NAMI emergency food bank care for six years. Donations go to the Sarah Ann Drop In Center in Naples, FL. Three categories of items are needed:
Canned and dry goods
Toiletry articles (The small hotel type items work very well)
Diabetic foods
Bring them to church and we will get them to NAMI. The drive will run through Christmas.
Stewardship Letters in the Mail
Responsibility towards God includes taking responsibility for His Church. We love God because He first loved us. He established the Church as His body, as the way we find Him and draw closer to Him. We are responsible for maintaining it so that the work of Christ can continue in the world. That's how it works.
You will be getting letter next week asking for your commitment to St. Peter's. Prayerfully consider your support of St. Peter's. The Church is not a charity. The Church is the Body of Christ. It needs to be high on our list.
New Restaurant Opens in Bonita Springs/Naples
Christos and Dena Poulias just moved down from Columbus, Ohio and opened a new Greek Restaurant in the shopping complex where Tom and Mercedes Sovjani have their hair salon (Wiggins Pass Road and 41 behind the Walgreens – get map here).
Greek Mediterranean Cuisine
Open 7 days – 4pm to 9pm
Christos and Dena have been in the restaurant business for 30 years. All recipes are family owned. They are just starting out in Florida so any business we can give them will help them get a strong start!
2017 Liturgical Calendars Available
Pick up yours at Church. One per household please. What constitutes a household? If you have kids in college and want to send them a calendar for example, that would count as another household. So go ahead and send it.
If we have any left (we ordered 100) we can move to more than one per household.
The calendar is attractive and useful. It lists the Saint for each day, the scripture readings, fasting schedule, and more.
Toys for Tots Continues Until Christmas
The drive for Toys for Tots leading up to our St. Nicholas Pot Luck was successful and we have decided to continue it another few weeks. Please bring an unwrapped toy to Church and we will make sure it gets to the people who give it to needy children.
Music from Archdiocese Teens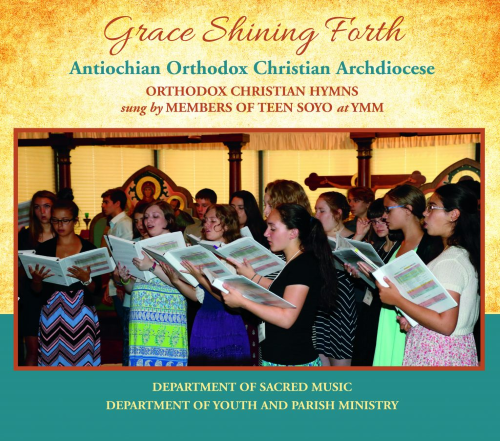 Grace Shining Forth, a beautiful Music CD featuring our teens singing hymns of the Orthodox Church was just released. Sales of this CD provide scholarships for our teens to participate in the Youth Music Ministry (YMM) of the Sacred Music Institute (SMI) held each year.
You can hear a sample of the music and order a CD on the Teen SOYO website.
Bible Study Resumes after Theophany
Date to be announced.
Calendar At A Glance
Choir Practice every Tuesday at 6:00pm and Bible Study every Wednesday at 7:00pm unless cancelled as noted below. Divine Liturgy every Sunday at 9:30. Extra services noted below.
November 15 – December 24 Christmas Fast Period
December 23 (Friday) Nativity Royal Hours 9:00am
December 24 (Saturday) Nativity Eve Divine Liturgy 9:00am
December 24 (Saturday) Great Vespers 6:30pm
December 25 (Sunday) Nativity Divine Liturgy, Hours 9:00am, Liturgy 9:30am
Wisdom From The Elders
The sons of the world consider distraction to be innocent, but the Holy Fathers consider it to be the beginning of all evil.
—St Pimen the Great
It sometimes happens that a person in despondency thinks to himself that it would be easier for him to be destroyed, or to be without any feeling and consciousness, than to remain any longer in this unaccountably tormenting state of mind. One should try to get out of it as quickly as possible. Beware of the spirit of despondency, for it gives birth to every evil.
—Archbishop Seraphim (Sobolev) of BogucharskSt. Seraphim of Sarov
Intending to offer up your prayer to God, cast aside all earthly thoughts and cares. Do not engage in the thoughts which come to you at that time, however important or brilliant or necessary they might seem. Render to God the things that are God's and you will have time to render what is necessary for temporal life in its own time.
—St. Igantius Brianchaninov
Be careful, my children, not to judge anyone, especially if he is a man of God. I beg you, guard yourselves from this sin. Look after yourselves and be conscious of your own faults. With this consciousness we will be able to repent.
—St. Nephon
In afflictions, read three chapters from the Gospels.
—Archbishop Seraphim (Sobolev) of Bogucharsk
Remember in Your Prayers
Jennie
Mary
James
Lori
Baby Kyriake
Maximos
Marian
Photini
Nicholas
Brad William
Ryan
Sarah
Robert Jarvis
Petronia (Wife of Phil Pappas)
Anna Marie Smith Baker
Harry Zifiris
Iris Kuring (Bettina Zifiris' mother)
Constantine Houpis
Gerhard Kuring (Bettina Zifiris' father)
Ron Chromulak
Beverly Chromulak
Katerina
Dianne
Loucine Kassis
Mary Kassis
Baby Maximus
Annette Star
Christine
Maria
Claire Livaditis
Eva Chandilles
Baby Dani
Scott Nedoff
Anthony Mourgis
John Hansen
Constandina James
James Hord
Bob Smith
Tom and Jean, parents of Patty and Jerry.
How should we pray for the sick? Remember them daily. Say their names (first names are sufficient) and ask God to bestow mercy and grace on them.
Add or remove names and print this list for easy reference during your prayer time on the St. Peter website.
Sunday Readings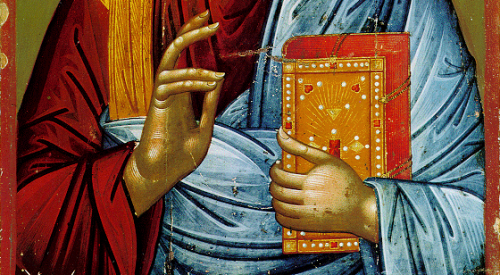 Epistle
Let all the earth worship Thee, and sing to Thee.
Shout with joy to God, all the earth.
The reading from the Epistle of St. Paul to the Galatians. (4:4-7)
Brethren, when the time had fully come, God sent forth His Son, born of a woman, born under the Law, to redeem those who were under the Law, so that we might receive adoption as sons. And because you are sons, God has sent the Spirit of His Son into our hearts, crying, "Abba! Father!" Therefore, you are no longer a slave but a son; and if a son, then an heir of God through Christ.
Gospel
The reading from the Holy Gospel according to St. Matthew. (2:1-12)
Now when Jesus was born in Bethlehem of Judea in the days of Herod the king, behold, wise men from the East came to Jerusalem, saying, "Where is He who has been born king of the Jews? For we have seen His star in the East, and have come to worship Him."

When Herod the king heard this, he was troubled, and all Jerusalem with him; and assembling all the chief priests and scribes of the people, he inquired of them where the Christ was to be born. They told him, "In Bethlehem of Judea; for so it is written by the prophet: 'And you, O Bethlehem, in the land of Judea, are by no means least among the rulers of Judea; for from you shall come a ruler who will govern My people Israel.'"

Then Herod summoned the wise men secretly and ascertained from them what time the star appeared; and he sent them to Bethlehem, saying, "Go and search diligently for the child, and when you have found Him bring me word, that I too may come and worship Him." When they had heard the king they went their way; and lo, the star which they had seen in the East went before them, until it came to rest over the place where the child was.

When they saw the star, they rejoiced exceedingly with great joy; and going into the house they saw the child with Mary His mother, and they fell down and worshiped Him. Then, opening their treasures, they offered Him gifts, gold and frankincense and myrrh. And being warned in a dream not to return to Herod, they departed to their own country by another way.