Forefeast of the Nativity
Sunday before the Nativity of Christ (The Genealogy)
Great-martyr Anastasia the Deliverer from Potions and her Teacher the Martyr Chrysogonos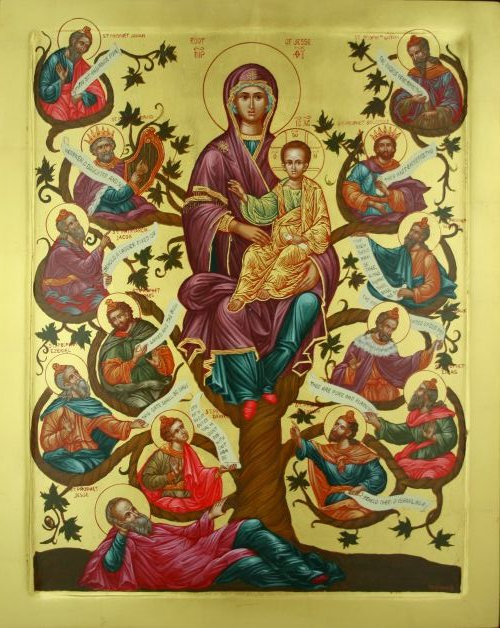 The Geneology of Christ according to St. Luke
The Geneology of Christ
The genealogies in the gospels of Saints Matthew and Luke are made to and from Joseph. This is not to give the impression that Jesus came from Joseph's seed. Both gospels are absolutely clear on this point. Jesus is born from the Virgin Mary by the power of the Holy Spirit. The point is rather that Joseph is Jesus' father according to the law, and it is from the father that one's lawful descent is to be traced. Jesus' legal father is "Joseph, son of David," the legal husband of Mary (Mt 1:20).
One other important point is made in listing the human generations which led to the birth of Jesus. This is the fact that God is faithful to His promises even though His chosen people are often not faithful. Among the people from whom Jesus came are both sinners and heathens. In a word, Jesus comes not only from the righteous and holy, but from the wicked and sinful. And He comes not only from Jews, but from Gentiles. The names of the four women specifically mentioned in St. Matthew's list— Tamar, Rahab, Ruth, and the wife of Uriah (Bathsheba)— were noted, not to say notorious, Gentiles, including one of David's own wives, the mother of Solomon. The point to be seen here is one beautifully made in an early Christian hymn quoted in the Bible in the second letter to Timothy:
If we have died with Him, we shall also live with Him;
If we endure, we shall also reign with Him;
If we deny Him, He also will deny us;
If we are faithless, He remains faithful— for He cannot deny Himself. (2 Tim 2:11-13)
This is the wonderful witness of the genealogies of Jesus: If we are faithless, the Lord God remains faithful— for he cannot deny Himself!
Source: Antiochian Archdiocese Website.
Our Stewardship to St. Peter's
The letter for Stewardship Support of St. Peter's in 2020 has been sent.
We are responsible to increase what God has given us. In the Parable of the Talents, the master gave his servants talents that they are expected to nurture and grow. This is a responsibility we cannot avoid.
The Church is both a place where the increase begins on the inside of us, and to which we much give some our increase. This too is a responsibility we must take on.
A contribution form will be included in the letter you receive. Our goal this year is $217,000.
Lenten Cookbook by Tabita Valentine Available
Tabit Valentine has compiled a cookbook of Lenten recipes available to our parishioners and for sale in our bookstore.
The recipes are good. Many of you have sampled her work during Social Hall and special events and will agree that what she makes tastes great and topped with a good dose of healthy!
Suggested donation is $15 with all proceeds going to the building fund.
Dr. Zannos and Julia Are Going to be Married and You Are Invited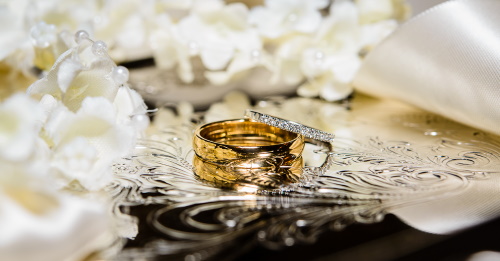 We are pleased to announce the marriage of Zannos and Julia to be held on Saturday, January 4, 2020 in the afternoon. They have invited all members of the parish to attend.
If you plan to attend, please RSVP online to Julia (click here) or mention it to her in person by December 14, 2019.
Nativity Fast Continues 2019
The Nativity Fast is one of the four Canonical Fasting Seasons in the Church year. This is a joyous fast in anticipation of the Nativity of Christ. That is the reason it is less strict than other fasting periods. The fast is divided into two periods. The 1st period is November 15th through December 19th when the traditional fasting discipline (no meat, dairy, fish, wine, and oil) is observed. There is dispensation given for wine and oil on Tuesdays and Thursdays. Similarly, fish, wine, and oil are permitted on Saturdays and Sundays. The 2nd period is December 20th through 24th when the traditional fasting discipline (no meat, dairy, fish, wine, and oil) is observed. There is dispensation given for wine and oil only on Saturday and Sunday during this period. Here are the guidelines:
| | | | | |
| --- | --- | --- | --- | --- |
| Meat | Dairy | Fish | Wine | Oil |
| beef, chicken, pork, turkey, elk, veal, lamb, deer, rabbit, buffalo, and so forth | milk, eggs, cheese, butter, yogurt, cream, and so forth | fish with a backbone (not including shrimp, octopus, shellfish, squid, or other seafood. | (some include all types of alcohol in this category) | (some include all types of oil in this category) |
| Abstain. | Abstain. | Permitted only on Saturdays and Sundays before December 20. (some permit fish Tuesdays and Thursdays also) | Permitted only on Tuesdays, Thursdays, Saturdays, & Sundays before December 20. | Permitted only on Tuesdays, Thursdays, Saturdays, & Sundays before December 20. |
The Purpose of Fasting
The purpose of fasting is to focus on the things that are above, the Kingdom of God. It is a means of putting on virtue in reality, here and now. Through it we are freed from dependence on worldly things. We fast faithfully and in secret, not judging others, and not holding ourselves up as an example.
Fasting in itself is not a means of pleasing God. Fasting is not a punishment for our sins. Nor is fasting a means of suffering and pain to be undertaken as some kind of atonement. Christ already redeemed us on His Cross. Salvation is a gift from God that is not bought by our hunger or thirst.

We fast to be delivered from carnal passions so that God's gift of Salvation may bear fruit in us.

We fast and turn our eyes toward God in His Holy Church. Fasting and prayer go together.

Fasting is not irrelevant. Fasting is not obsolete, and it is not something for someone else. Fasting is from God, for us, right here and right now.

Most of all, we should not devour each other. We ask God to "set a watch and keep the door of our lips."
Diocese of Miami Winter Retreat
Bible Studies
Please note: Bible Studies have been postoned until January, 2020.
November
Wed Nov 27 — CANCELLED Men's & Women's Bible Study (Thanksgiving Divine Liturgy held instead) 7:00pm
No Bible Studies in December
The Community Bible Study is for the entire community.
The Men's and Women's Bible Study are separate studies but held concurrently.
Upcoming Liturgies
St. Ignatios of Antioch Divine Liturgy, Friday, December 20, 9:30am
Nativity Divine Liturgy on Tuesday, December 24, 2019 at 6:30pm
Synaxis of the Theotokos Divine Liturgy on Thursday, December 26, 2019 at 9:30am
St. Stephen the Proto-Martyr Divine Liturgy on Friday, December 27, 2019 at 9:30am
Pledge & Income Report – October 2019
In October we took in $17,201 in total donations. Our monthly goal is $16,777.00 leaving us $424 above our monthly expenses for.
These are very good numbers for September.
Please continue giving and thank you for it. We are on track to meet all of our 2019 expenses.
Interfaith Charities Needs More Food Items
They need:
Ramen noodles
Canned tuna
Vegetables
Beans
Soups
Please note: Interfaith Charities is no longer accepting clothing or household items so we won't be accepting them at St. Peter's either.
Bring the food items to church and we will get them to Interfaith Charities. Interfaith Charities is a coalition of local churches helping the poor in our immediate community. See more on their website.
Calendar At A Glance
December
Fri Dec 20 — St. Ignatius of Antioch Divine Liturgy 9:30am
Fri Dec 20 — Parish Council Meeting 3:00pm
Tue Dec 24 — Nativity of Our Lord and Savior Jesus Christ Divine Liturgy 6:30pm
Tue Dec 26 — Synaxis of the Theotokos Divine Liturgy 9:30pm
Tue Dec 27 — St. Stephen the Proto-Martyr Divine Liturgy 9:30pm
Sun Dec 29 — Kuchera Memorial following Divine Liturgy
January
Fri Jan 3 — Theophany Royal Hours 9:00am
Sat Jan 4 — Grekos Wedding 4:00pm
Sun Jan 5 — Theophany Great Blessing of the Waters 9:30am
Tue-Sat Jan 22-25 — Miami Diocese Retreat in Atlanta. Fr. Hans out of town
Please note the extra remaining liturgies scheduled for November/December:
Fri Dec 20 — St. Ignatius of Antioch Divine Liturgy 9:30am
Tue Dec 24 — Nativity of Our Lord and Savior Jesus Christ Divine Liturgy 6:30pm
Tue Dec 26 — Synaxis of the Theotokos Divine Liturgy 9:30am
Tue Dec 27 — St. Stephen the Proto-Martyr Divine Liturgy 9:30am
Wisdom From The Elders
Anger is by nature designed for waging war with the demons and for struggling with every kind of sinful pleasure. Therefore angels, arousing spiritual pleasure in us and giving us to taste its blessedness, incline us to direct our anger against the demons. But the demons, enticing us towards worldly lusts, make us use anger to fight with men, which is against nature, so that the mind, thus stupefied and darkened, should become a traitor to virtues. Abba Evagrius the Monk
Let this always be the aim of your conduct: to be courteous and respectful to all. Venerable Isaac the Syrian, Bishop of Nineveh
Strive toward salvation, do not despair, do not grum­ble, do not offend anyone with a harsh word. Pray, and always try to keep before you the image of God. Abbot Nikon Vorobiev
We should never say that nothing is important. On the contrary, everything is important. Even the smallest of our actions impacts our eternal salvation. Elder Sergei of Vanves
If one is to work on one's fallow soul, one must first weed out all the thorns, its passions, and then plant virtues in their place. However, this process is an arduous one and requires a strong will and great patience. Saint Paisios of Mount Athos
Remember in Your Prayers
Diomidis (Kanellos)

Anastasia (Ann Constan)
Ben (Ben)
Thomas (Ben)
Irene (C. Diveris)
Vasiliki (C.Diveris)
Efrosini (C. diveris)
Charles (Oberg)
Christine (Kouzes)
Nina (Kovalev)
Hugh (Jacquie)
Violet (Jacquie Mom)
Tammie (Jacquie friend)
Phillip
Baby Luke
George
Priest Kyprianos
Savannah (Jonson)
Bud
Silvana
Nicole
Evan
Megan
Bill R.
Pat R.
Aglaia
George
Hieromonk Serapion
Priest Kyprianos
Athanasia
Alexandra
Constantina
Maryanne (E)
Ron (E)
Tim
Robert (J)
Mary (J)
Patricia
Gregory
Andreas
Sofia Tešanovic
Paul
Dennis H. and Family
Victor Evan
Ann
James
Vasiliki
Efstratia
Alexandra
Nikos
Georgia
Ioannis
Costandino
Jeffrey
Vaso
Dave
Dimitri – Presbyter
Vassiliki
Octavio
Tom
Carl
Rena
Nikolay (5 year old boy in Bulgaria whose parents asked us to pray)
David
Rosie
Kathryn
Jeremy
Constantine
Robert
Jane
Theodora
David
Gina
Micheal
Haralambos
Lillian
Presbytera Rosy
Valentina
Eva W.
Barbara
Angela
Carol Ann
Matthew
Chrysostom
Tim
Pat
Christina
Maria Louise
Maximos
Marian
Photini
Nicholas
Sarah
Constantine Houpis
Anna Marie Smith Baker
Katerina
Mary Kassis
Baby Maximus
Christine
Maria
Annette Star
Claire Livaditis
Eva Chandilles
Baby Dani
Scott Nedoff
James Hord
How should we pray for the sick? Remember them daily. Say their names (first names are sufficient) and ask God to bestow mercy and grace on them.
Add or remove names and print this list for easy reference during your prayer time on the St. Peter website.
Sunday Readings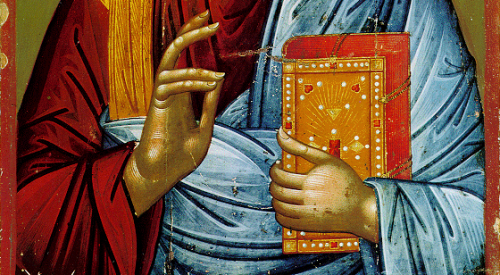 Epistle
For the Sunday before the Nativity
Blessed are Thou, O Lord, the God of our fathers.
For Thou art justified in all that Thou hast done for us.
The Reading from the Epistle of St. Paul to the Hebrews. (11:9-10, 32-40)
Brethren, by faith Abraham sojourned in the land of promise, as in a foreign land, living in tents with Isaac and Jacob, heirs with him of the same promise. For he looked forward to the city which has foundations, whose builder and maker is God. And what more shall I say? For time would fail me to tell of Gideon, Barak, Samson, Jephthah, of David and Samuel and the prophets— who through faith conquered kingdoms, enforced justice, received promises, stopped the mouths of lions, quenched raging fire, escaped the edge of the sword, won strength out of weakness, became mighty in war, and put foreign armies to flight. Women received their dead by resurrection. Some were tortured, refusing to accept release, so that they might rise again to a better life. Others suffered mocking and scourging, and even chains and imprisonment. They were stoned, they were sawn in two, they were killed with the sword; they went about in skins of sheep and goats, destitute, afflicted, ill-treated—of whom the world was not worthy—wandering over deserts and mountains, and in dens and caves of the earth. And all these, though well attested by their faith, did not receive what was promised, since God had foreseen something better for us, that apart from us they should not be made perfect.
Gospel
For the Sunday before the Nativity: "The Genealogy"
The Reading from the Holy Gospel according to St. Matthew. (1:1-25)
The book of the genealogy of Jesus Christ, the son of David, the son of Abraham. Abraham was the father of Isaac, and Isaac the father of Jacob, and Jacob the father of Judah and his brothers, and Judah the father of Perez and Zerah by Tamar, and Perez the father of Hezron, and Hezron the father of Aram, and Aram the father of Amminadab, and Amminadab the father of Nahshon, and Nahshon the father of Salmon, and Salmon the father of Boaz by Rahab, and Boaz the father of Obed by Ruth, and Obed the father of Jesse, and Jesse the father of David the king.

And David was the father of Solomon by the wife of Uriah, and Solomon the father of Rehoboam, and Rehoboam the father of Abijah, and Abijah the father of Asa, and Asa the father of Jehoshaphat, and Jehoshaphat the father of Joram, and Joram the father of Uzziah, and Uzziah the father of Jotham, and Jotham the father of Ahaz, and Ahaz the father of Hezekiah, and Hezekiah the father of Manasseh, and Manasseh the father of Amon, and Amon the father of Josiah, and Josiah the father of Jechoniah and his brothers, at the time of the deportation to Babylon.

And after the deportation to Babylon: Jechoniah was the father of Shealtiel, and Shealtiel the father of Zerubbabel, and Zerubbabel the father of Abiud, and Abiud the father of Eliakim, and Eliakim the father of Azor, and Azor the father of Zadok, and Zadok the father of Achim, and Achim the father of Eliud, and Eliud the father of Eleazar, and Eleazar the father of Matthan, and Matthan the father of Jacob, and Jacob the father of Joseph the husband of Mary, of whom Jesus was born, Who is called Christ.

So all the generations from Abraham to David were fourteen generations, and from David to the deportation to Babylon fourteen generations, and from the deportation to Babylon to the Christ were fourteen generations. Now the birth of Jesus Christ took place in this way. When His mother Mary had been betrothed to Joseph, before they came together she was found to be with child of the Holy Spirit; and her husband Joseph, being a just man and unwilling to put her to shame, resolved to divorce her quietly.

But as he considered this, behold, an angel of the Lord appeared to him in a dream, saying, "Joseph, son of David, do not fear to take Mary your wife, for that which is conceived in her is of the Holy Spirit; she will bear a son, and you shall call His Name Jesus, for He will save His people from their sins." All this took place to fulfill what the Lord had spoken by the prophet: "Behold, a virgin shall conceive and bear a son, and His Name shall be called Emmanuel" (which means, God with us). When Joseph woke from sleep, he did as the angel of the Lord had commanded him; he took his wife, but knew her not until she had borne a son; and he called His Name Jesus.