Twenty-Seventh Sunday after
Pentecost
Tenth Sunday of Luke
Nicholas the Wonderworker, Archbishop of Myra
St. Nicholas lived during the reign of Saint Constantine the Great, and reposed in 330, As a young man, he desired to espouse the solitary life. He made a pilgrimage to the holy city Jerusalem, where he found a place to withdraw to devote himself to prayer.
It was made known to him, however, that this was not the will of God for him, but that he should return to his homeland to be a cause of salvation for many. He returned to Myra, and was ordained bishop. He became known for his abundant mercy, providing for the poor and needy, and delivering those who had been unjustly accused.
No less was he known for his zeal for the truth. He was present at the First Ecumenical Council of the 318 Fathers at Nicaea in 325; upon hearing the blasphemies that Arius brazenly uttered against the Son of God, Saint Nicholas struck him on the face. Since the canons of the Church forbid the clergy to strike any man at all, his fellow bishops were in perplexity what disciplinary action was to be taken against this hierarch whom all revered.
Read the entire essay on the Greek Orthodox website.
Read The Real Santa Claus on the St. Peter website.
Vespers and St. Nicholas Potluck on Saturday, December 5 at 5:30pm

Join us for Vespers at 5:30pm and a St. Nicholas Day pot luck on Saturday, December 5 starting at 5:30. The next day (Sunday) is St. Nicholas Feast Day.
Invite your friends. We always have guests at our potluck because they are so much fun. Great food and fellowship — always! St. Peter's easily does the best potlucks this side of the Mississippi!
Pilgrimage to St. Nicholas on Monday, December 7, 2015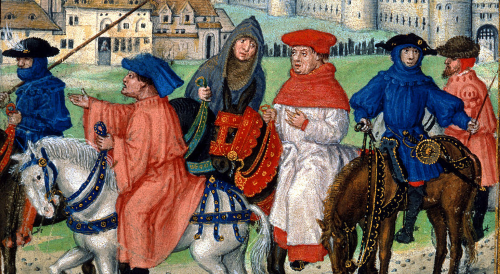 Join us for a pilgrimage to Saint Nicholas Monastery in Ft Myers on Monday December 7th. We will depart caravan style from St Peter at 9am and return in the afternoon.
The begins with a reading of the Hours in the chapel. The chapel has many Holy Relics to venerate. Lunch follows with a lecture by Fr. Stephanos. The monastery has a second chapel dedicated to Saint Nectarios, so anyone interested in healing should make a special effort to join us.
Confessions are available. The onsite bookstore has some beautiful Icons and other gift items available in time for Christmas. This is a great way to start getting into the Spirit of the Birth of Christ.
Sign up for the St. Peter Parish Christmas Card
Every year we send out a parish Christmas Card.
Sign up for the card either:
Deadline is December 13, 2015.
Food for the Hungry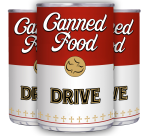 As we do ever year, the months approaching Christmas is when we collect foor for neighborhood foodshelves.
Please bring a canned item to Church with you on Sundays. Bins will be set up to collect them.
Cash/check donations work too. Please give your donation to Mary Copeland and notate "Food Donation" on the memo line.
The drive will run through December 29. All donations will be distributed locally.
See more information on the website.
Chior Practice and Orthodoxy 101 Class Resume Wednesday, December 2, 2015
Choir practice begins at 6pm and Orthodoxy 101 at 7pm.
Get the class syllabus and complete information on the website.
Read Chapters 10-11, Pages 153-178 to prepare for class.
First Look at an Icon Commissioned for St. Peters
An icon commissioned for St. Peter's is nearly complete. More details with be forthcoming (arrival, installation, dedication, and so forth) as they become known. The icon is hand carved and depicts Christ pulling Peter from the waters.
Click image to see a larger image on the website.
Expansion Starts This Week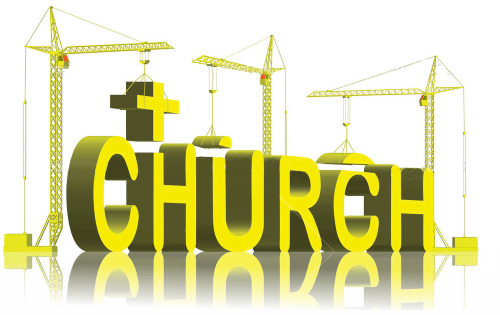 Work will procede on demolition of the inside of the new space next week — God willing. It consists of removing a few walls, clean up, and so forth. It won't be done in a week but it may be done enough that we can hold our pot luck in the new location.
Fr. Hans out of Town on Thursday, December 3, 2015
He will be attending a Diocese meeting in Miami and will return late afternoon. He will be available by cell phone.
New Videos Posted on Website
"Welcome to the Orthodox Church!" is a new video series by Frederica Mathewes-Green that feature short and simple answers to questions about the Orthodox Church.
You can check them out on the St. Peter's website.
Learn about Orthodox teachings and dogma, Orthodox architecture and terminology, and what it means to live an Orthodox life.
These videos are based off of Frederica's new book, "Welcome to the Orthodox Church" (click to order from Amazon).
Remember in Your Prayers
Tony Backos – That his business would be restored quickly.
Soterios Ninos father of Angela Long.
Bonnie Joseph
Bob Smith
Tom and Jean, parents of Patty and Jerry.
How should we pray for the sick? Remember them daily. Say their names and ask God to bestow mercy and grace on them.
Sunday Readings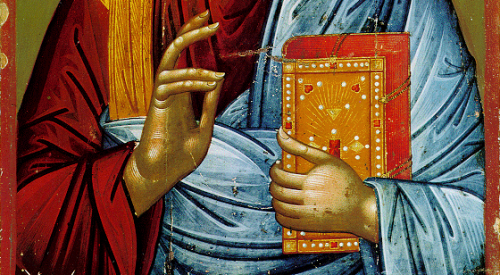 Epistle
For St. Nicholas
Precious in the sight of the Lord is the death of His saints.
What shall I render to the Lord for all that He has given me?
The Reading from the Epistle of St. Paul to the Hebrews. (13:17-21)
Brethren, obey your leaders and submit to them; for they are keeping watch over your souls, as men who will have to give account. Let them do this joyfully, and not sadly, for that would be of no advantage to you. Pray for us, for we are sure that we have a clear conscience, desiring to act honorably in all things. I urge you the more earnestly to do this in order that I may be restored to you the sooner.
Now may the God of peace Who brought again from the dead our Lord Jesus, the great shepherd of the sheep, by the blood of the eternal covenant, equip you with everything good that you may do His will, working in you that which is pleasing in His sight, through Jesus Christ; to Whom be glory forever and ever. Amen.
Gospel
For the Tenth Sunday of Luke
The Reading from the Holy Gospel according to St. Luke. (13:10-17)
At that time, Jesus was teaching in one of the synagogues on the Sabbath. And there was a woman who had had a spirit of infirmity for eighteen years; she was bent over and could not fully straighten herself. And when Jesus saw her, He called her and said to her, "Woman, you are freed from your infirmity." And He laid His hands upon her, and immediately she was made straight, and she praised God.

But the ruler of the synagogue, indignant because Jesus had healed on the Sabbath, said to the people, "There are six days on which work ought to be done; come on those days and be healed, and not on the Sabbath day."

Then the Lord answered him, "You hypocrite! Does not each of you on the Sabbath untie his ox or his ass from the manger, and lead it away to water it? And ought not this woman, a daughter of Abraham, whom Satan bound for eighteen years, be loosed from this bond on the Sabbath day?" As Jesus said this, all His adversaries were put to shame; and all the people rejoiced at all the glorious things that were done by Him.