A Tip about Prayer in Times of Trouble
Prayer is a deep mystery. We don't really understand how it works, yet we know that it does. Sometimes it works in very powerful ways.
Sometimes it is hard to pray, especially when we are overcome with trouble and filled with fear and anxiety. We try to pray but can't. I call that kind of prayer "wrestling with an elephant."
How do we break the grip of fear and anxiety? By praying for others. And often just saying the name of the person is enough. "Lord, guard, protect, and help so and so."
No, angelic trumpets won't sound. You probably won't feel any different, not initially anyway. But continue on, even if all you can muster is five minutes. The struggle to pray even that short prayer is like wrestling an elephant but if you pray it, you win.
Then, in due course the bars of anxiety and fear that imprison our mind and heart, are broken. Often this happens much sooner than later. Our freedom is restored. We experience again the assurance and mercy that God has for us.
So if you are having trouble praying start this way: pray the Lord's prayer with awareness (think about the words you are saying even if you don't feel anything or may even feel bad), and then say the names of the people that come to your mind.
God hears those prayers and you set yourself back on the path of the inner freedom that we all need and desire.
Sunday Scripture Readings
Epistle
I Corinthians 3:9-17 (9th Sunday after Pentecost)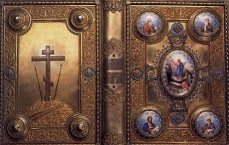 The Reading is from St. Paul's First Letter to the Corinthians
BRETHREN, we are God's fellow workers; you are God's field, God's building.
According to the grace of God given to me, like a skilled master builder I laid a foundation, and another man is building upon it. Let each man take care how he builds upon it. For no other foundation can any one lay than that which is laid, which is Jesus Christ.
Now if any one builds on the foundation with gold, silver, precious stones, wood, hay, straw — each man's work will become manifest; for the Day will disclose it, because it will be revealed with fire, and the fire will test what sort of work each one has done.
If the work which any man has built on the foundation survives, he will receive a reward. If any man's work is burned up, he will suffer loss, though he himself will be saved, but only as through fire.
Gospel
Matthew 14:22-34 (9th Sunday of Matthew)
The Reading of the Holy Gospel according to St. Matthew
At that time: Jesus made the disciples get into the boat and go before him to the other side, while he dismissed the crowds. And after he had dismissed the crowds, he went up on the mountain by himself to pray.
When evening came, he was there alone, but the boat by this time was out on the sea, beaten by the waves; for the wind was against them. And in the fourth watch of the night he came to them, walking on the sea.
But when the disciples saw him walking on the sea, they were terrified, saying, "It is a ghost!" And they cried out for fear. But immediately he spoke to them, saying, "Take heart, it is I; have no fear."
And Peter answered him, "Lord, if it is you, bid me come to you on the water." He said, "Come," So Peter got out of the boat and walked on the water and came to Jesus; but when he saw the strong wind, he was afraid, and beginning to sink he cried out, "Lord, save me."
Jesus immediately reached out his hand and caught him, saying to him, "O man of little faith, why did you doubt?" And when thy got into the boat, the wind ceased. And those in the boat worshiped him, saying, "Truly you are the Son of God."
And when they had crossed over, they came to land at Gennesaret.