Fourteenth Sunday after Pentecost
Fourteenth Sunday of Matthew
Martyr Mamas and His Family
John the Faster, Patriarch of Constantinople
St. John the Faster
Who was John the Faster, Patriarch of Constantinople?
Our father among the saints John IV of Constantinople, also known as John the Faster, John the Abstainer, and John Nesteutes, was the 33rd bishop or Patriarch of Constantinople. He is noted for his penitential nomokanon and as the first bishop of Constantinople to assume the title Ecumenical Patriarch. His feast day is on September 2.
The date of Joannes' birth is unknown. He probably was born in Constantinople where he was raised by artisan parents. He was not well educated. He became famous for his ascetical life which led to his being called "the Faster". He was a deacon at Hagia Sophia under Patriarch John III (Scholasticus) before becoming a skallarios, that is, an official who was the patriarchal vicar for monasteries. Under Patriarch Eutychius I, who was restored as patriarch, after John Scholasticus died in 577, Joannes became esteemed among the clergy of Constantinople. Upon the death of Eutychius in 582, he was named patriarch as John IV by Emperor Tiberius II on April 11, 582. He remained in the good graces of Emperor Maurice who succeeded Tiberius later in 582.
In 588, John IV convened a council in Constantinople to investigate certain charges against Patriarch Gregory of Antioch, of which he was acquitted. The summons to the bishops of the East was done in the name of John IV as Ecumenical Patriarch. While this title, in a context of a compliment, had been used as early as reign of Acacius (471 to 489) in reference to the Patriarch of Constantinople, its use by John IV as a title in documents of his office was a first. The title was used in the acts of the council, to which Pope Pelagius II of Rome objected. Again, in 595, Pope Gregory I, objected to the use of the title, although Gregory previously had been on good terms with John.
Patriarch John the Faster reposed on September 2, 595 in Constantinople.
Source: Orthodox Wiki website.
Beheading of John the Baptist Liturgy, Wednesday, August 29, 2018 at 9:30
The Beheading of St. John the Forerunner
We will celebrate the Liturgy of the Beheading of St. John the Baptist on Wednesday, August 29, 2018 starting at 9:30am. Why celebrate this important day? Because when we celebrate the liturgies of important Saints, their presence and power becomes more evident in our Church.
This is particularly true of St. Peter's with the recent installation of the icon of St. John the Baptist. St. John, like the Theotokos, work to bring people to Christ. They work in different ways. We welcome their intercessions and honoring them increases the grace of God they bring to us.
Community Luncheon on Thursday, September 6, 2018 at 12:00pm
You are invited to join your St. Peter's friends for lunch and fellowship at 12 noon on Thursday, September at 12:00pm.
Barbara Dionysopoulos and friends are preparing a delicious meal for all our members. Come and join us to enjoy some good food and the company of your friends. Make some new friends too and get to know other parishioners.
MENU
Chicken with Macaroni (Kapama)
Greek Salad, Feta Cheese, Kalamata Olives
Bread, Dessert, Beverage
Reservations are required! Please call Barbara at 239-826-1655 or sign up in the Social Hall after Divine Liturgy.
There is no charge for this luncheon. An anonymous friend is donating this dinner to the good people of St. Peter's.
Sunday School Starts on Sunday, September 9, 2018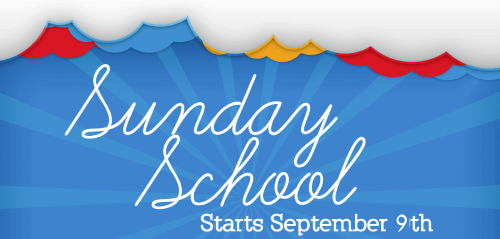 Parents: Please note that Sunday School starts on Sunday, September 9 immediately following Holy Communion. Children will take communion first and go directly to Sunday School.
Georgia Katsigianopoulos, our Sunday School director, will have registration forms available following the Divine Liturgy on Sundays.
This year will be a good year with important lessons planned. Your children will learn important things about our Orthodox faith and Orthodox Church.
One other very important point: Our society is in a decline. The moral and characters values that children need to learn to become strong adults are not longer taught by the society. Parents need to take extra measures to make sure the souls and minds of their children a protected and formed properly. One way to help them is to bring them to Church and Sunday School consistently.
Interfaith Charities Needs Food, Clothing, Towels, and Bedding
Interfaith Charities, the local assembly of churches that helps the poor in our area, needs:
Canned vegetables
Canned fruit
Tuna
Jelly
Other food items you can give (peanut butter, spaghetti, etc.)
They also need:
Bedding
Towels
Clothing
Shoes
Other items that can be used but in good condition.
If you bring to the church, we will get them to Interfaith Charities.
Calendar At A Glance
Wednesday, August 29, 2018 — 9:30am Divine Liturgy Beheading of St. John the Baptist
Thursday, September 6, 2018 — 12:00pm Community Luncheon
Saturday, September 8, 2018 — 9:30pm Great Feast Nativity of the Theotokos
Sunday, September 9, 2018 — Sunday School Starts
Wisdom From The Elders
Do not steal anything from anyone, and take noth­ing, and be content with what you earn by your own labors. St. Theophan the Recluse
When Christ is in our heart, we are contented with everything: what has been discomfort to us becomes the greatest comfort, what was bitter to us becomes sweet, poverty becomes wealth, our hunger is satisfied, and our sorrow turns into joy! St. John of Kronstadt
Devoutness is a transmittable virtue. The movements and behavior of a devout person are transmitted like perfume, provided the recipient possesses good will and humility. Elder Paisios of Mount Athos
Human pride also manifests itself to a greats extent when an ordinary mortal dares to compare himself with; God's saints, and does not see their great and wonderful per fections acquired by their own exploits, with the assistance of the grace of God. St. John of Kronstadt
For those who work carelessly and slackly apparently toil greatly, but they never gather fruit because they take no pains and are fundamentally painless. St. Gregory the Sinaite
Be kindly disposed in heart, word, and deed, ready at every time to serve others without the slightest vexation or irritability, remembering the words of the Saviour: " Whosoever will be chief among you, let him be your servant." St. John of Kronstadt
Remember in Your Prayers
Victor Evan
Ann
James
David (Speakman)
Joyce (Speakman)
Vasiliki
Efstratia
Alexandra
Nikos
Georgia
Ioannis
Costandino
Jeffrey
Vaso
Dave
Dimitri – Presbyter
Vassiliki
Octavio
Tom
Carl
Rena
Nikolay (5 year old boy in Bulgaria whose parents asked us to pray)
David
Eva K.
Rosie
Kathryn
Jeremy

Constantine
Robert
Jane
Theodora
David
Gina
Baby Brynn L.
Micheal
Haralambos
Lillian
Presbytera Rosy
Valentina
John
Eva W.
Barbara
Angela
Carol Ann
Matthew
Chrysostom
Tim
Ivy-Jean
Pat
Christina
Maria Louise
Maximos
Marian
Photini
Nicholas
Sarah
Petronia (Wife of Phil Pappas)
Constantine Houpis
Anna Marie Smith Baker
Ron Chromulak
Beverly Chromulak
Katerina
Loucine Kassis
Mary Kassis
Baby Maximus
Christine
Maria
Annette Star
Claire Livaditis
Eva Chandilles
Baby Dani
Scott Nedoff
Anthony Mourgis
John Hansen
James Hord
Tom
How should we pray for the sick? Remember them daily. Say their names (first names are sufficient) and ask God to bestow mercy and grace on them.
Add or remove names and print this list for easy reference during your prayer time on the St. Peter website.
Sunday Readings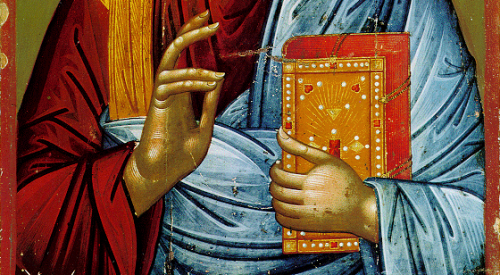 Epistle
For the Fourteenth Sunday after Pentecost
Thou, O Lord, wilt keep and preserve us.
Save me, O Lord, for the godly man has failed.
The Reading from the Second Epistle of St. Paul to the Corinthians. (1:21-2:4)
Brethren, it is God who establishes us with you in Christ, and has commissioned us; He has put his seal upon us and given us His Spirit in our hearts as a guarantee. But I call God to witness against me—it was to spare you that I refrained from coming to Corinth. Not that we lord it over your faith; we work with you for your joy, for you stand firm in your faith.

For I made up my mind not to make you another painful visit. For if I cause you pain, who is there to make me glad but the one whom I have pained? And I wrote as I did, so that when I came I might not suffer pain from those who should have made me rejoice, for I felt sure of all of you, that my joy would be the joy of you all. For I wrote you out of much affliction and anguish of heart and with many tears, not to cause you pain but to let you know the abundant love that I have for you.
Gospel
For the Fourteenth Sunday of Matthew
The Reading from the Holy Gospel according to St. Matthew. (22:2-14)
The Lord spoke this parable: "The kingdom of heaven may be compared to a king who gave a marriage feast for his son, and sent his servants to call those who were invited to the marriage feast; but they would not come. Again he sent other servants, saying, 'Tell those who are invited, Behold, I have made ready my dinner, my oxen and my fat calves are killed, and everything is ready; come to the marriage feast.' But they made light of it and went off, one to his farm, another to his business, while the rest seized his servants, treated them shamefully, and killed them. The king was angry, and he sent his troops and destroyed those murderers and burned their city.

Then he said to his servants, 'The wedding is ready, but those invited were not worthy. Go therefore to the thoroughfares, and invite to the marriage feast as many as you find.' And those servants went out into the streets and gathered all whom they found, both bad and good; so the wedding hall was filled with guests. But when the king came in to look at the guests, he saw there a man who had no wedding garment; and he said to him, 'Friend, how did you get in here without a wedding garment?' And he was speechless. Then the king said to the attendants, 'Bind him hand and foot, and cast him into the outer darkness; there men will weep and gnash their teeth.' For many are called, but few are chosen."