The Thirteenth Sunday of Matthew
Leave-taking of the commemoration of the Beheading of
St. John the Baptist
Sunday School Begins September 20
A form to register your child can be found on the website.
Wisdom from Met. Joseph
To be negative and critical is no good, whether it comes from the clergy or the people. Let us be at peace at all times, in whatever we do and say. The Church needs to become a holy place where God is.
Choir Practice Continues on Tuesday at 6pm
Please consider joining the choir. "He who sings prays twice."
Bible Study Continues on Tuesday at 7pm
Turn out has been good, even in summer! Come and bring a friend.
Remember in Your Prayers
Mary Spiropoulos, mother of Joan Simon.
Bob Smith. Bob has been diagnosed with Crohn's Disease.
Tom and Jean, parents of Patty and Jerry.
How should we pray for the sick? Remember them daily. Say their names and ask God to bestow mercy and grace on them.
Sunday Readings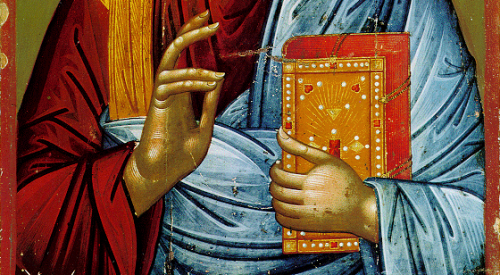 Epistle
For the Thirteenth Sunday after Pentecost
O Lord, how marvelous are Thy works. In wisdom hast Thou made them all.
Bless the Lord, O my soul!
The Reading from the First Epistle of St. Paul to the Corinthians. (16:13-24)
Brethren, be watchful, stand firm in your faith, be courageous, and be strong. Let all that you do be done in love. Now, brethren, you know that the household of Stephanas were the first converts in Achaia, and they have devoted themselves to the service of the saints; I urge you to be subject to such men and to every fellow worker and laborer.

I rejoice at the coming of Stephanas and Fortunatus and Achaicus, because they have made up for your absence; for they refreshed my spirit as well as yours. Give recognition to such men.

The churches of Asia send greetings. Aquila and Prisca, together with the church in their house, send you hearty greetings in the Lord. All the brethren send greetings. Greet one another with a holy kiss.

I, Paul, write this greeting with my own hand. If anyone has no love for the Lord, let him be accursed. Our Lord, come! The grace of the Lord Jesus be with you. My love be with you all in Christ Jesus. Amen.
Gospel
For the Thirteenth Sunday of Matthew
The Reading from the Holy Gospel according to St. Matthew. (21:33-42)
The Lord spoke this parable: "There was a householder who planted a vineyard, and set a hedge around it, and dug a wine press in it, and built a tower, and let it out to tenants, and went into another country.

When the season of fruit drew near, he sent his servants to the tenants, to get his fruit; and the tenants took his servants and beat one, killed another, and stoned another. Again he sent other servants, more than the first; and they did the same to them. Afterward he sent his son to them, saying, 'They will respect my son.'

But when the tenants saw the son, they said to themselves, 'This is the heir; come, let us kill him and have his inheritance.' And they took him and cast him out of the vineyard, and killed him.

When therefore the owner of the vineyard comes, what will he do to those tenants?" They said to him, "He will put those wretches to a miserable death, and let out the vineyard to other tenants who will give him the fruits in their seasons."

Jesus said to them, "Have you never read in the Scriptures: 'The very stone which the builders rejected has become the head of the corner; this was the Lord's doing, and it is marvelous in our eyes?'"