Christ is Risen!
The Third Sunday after Pascha
Sunday of the Myrrh-Bearing Women
Pious Joseph of Arimathea and Righteous Nicodemus
The Sunday of the Holy Myrrhbearers
The third Sunday of Holy Pascha is observed by the Orthodox Church as the Sunday of the Holy Myrrhbearers. The day commemorates when the women disciples of our Lord came to the tomb to anoint his body with myrrh-oils but found the tomb empty. As the woman wondered what this meant, angels appeared proclaiming that Christ had risen from the dead.
About the beginning of His thirty-second year, when the Lord Jesus was going throughout Galilee, preaching and working miracles, many women who had received of His beneficence left their own homeland and from then on followed after Him. They ministered unto Him out of their own possessions, even until His crucifixion and entombment; and afterwards, neither losing faith in Him after His death, nor fearing the wrath of the Jewish rulers, they came to His sepulcher, bearing the myrrh-oils they had prepared to anoint His body. It is because of the myrrh-oils that these God-loving women brought to the tomb of Jesus that they are called Myrrh-bearers.
Of those whose names are known are the following: first of all, the most holy Virgin Mary, who in Matthew 27:56 and Mark 15:40 is called "the mother of James and Joses" (these are the sons of Joseph by a previous marriage, and she was therefore their step-mother); Mary Magdalene (celebrated July 22); Mary, the wife of Clopas; Joanna, wife of Chouza, a steward of Herod Antipas; Salome, the mother of the sons of Zebedee; Mary and Martha, the sisters of Lazarus; and Susanna. As for the names of the rest of them, the evangelists have kept silence (Matthew 217:55-56; 28:1-10. Mark 15:40-41.
Read more on the Greek Orthodox Archdiocese website.
How Do We Pray?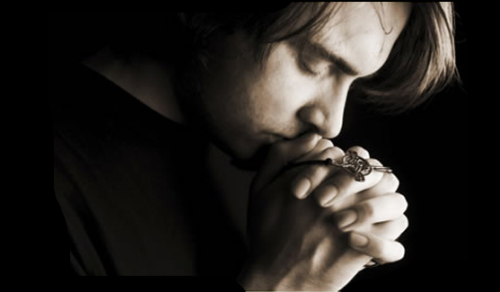 "Prayer needs no teacher. It requires diligence, effort and personal ardor, and then God will be its teacher." St. Meletius the Confessor
Holy Scripture says:
Pray without ceasing (1Thess 5:17).
Praying always with all prayer and supplication in the Spirit (Eph 6:158).
He spoke a parable to them, that men always ought to pray and not lose heart. (Luke 18:1).
St Isaac the Syrian says we should:
Pray with attention – so that we can have a true encounter with God.
Pray with humility – because this sort of prayer goes straight to God's ear.
Pray with affection and tears – with joy and thanksgiving, but also with true repentance and purity.
Pray with patience and ardor – 'to deny oneself' is courageously to persevere in prayer.
Pray from the depths of the heart – even if we pray using 'the words of another' they should be uttered as if they are our own. St. Isaac says this is especially true of the Psalms.
Pray with faith and absolute trust in God – because He knows our life.
Building St. Peter's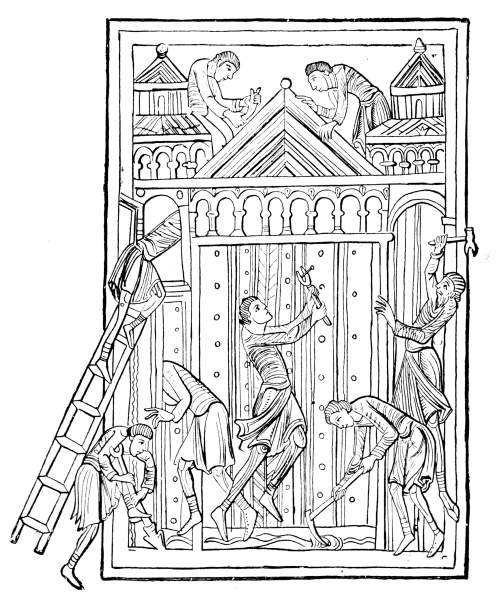 Many, many thanks to all who worked so diligently to make our Lent and Pascha what it was. Orthodoxy is work but it is the kind of work that endures; the necessary work that allows us to move closer to Christ and experience Him in ways that transform us and the world around us.
That's why we do it. The Church the Apostle Paul says is the "pillar and ground of the truth" — ground zero, the place where we can encounter Christ and learn His voice to be able to recognize Him when He meets us outside of it.
All of us have gifts given to us by God. Our job is to discern what they are and develop them. These gifts are not for us but for our neighbor — for our neighbor's good and edification — although when we use them in these ways we discover real meaning and joy. We begin to comprehend the reason we are alive and what we were put on the earth to do.
No work is too small. The parts make the whole. When we live this way, Christ lives in us and His Church becomes His habitation, His house, His body. This too is what people who are looking for him will experience (they will sense Christ is present) and this experience is their confirmation that they too have finally found their home.
If we remain faithful to Christ in this way, our Lord with meet our needs and will also provide for us when it is time to build our permanent structure.
Christ is Risen!
Calendar At A Glance
April 30 (Sunday) Memorial for Helen Deligiannis by Frank and Sarah Pyrsson
Wisdom From The Elders
For those who have been instructed in this great mystery of Christianity and, having understood it, have become believers and faithful to it and later fell, being men who bear flesh–there is no other means to restore what has been lost than repentance in everything in which they have sinned.
St. Symeon the New Theologian
You will achieve nothing by your own efforts alone; yet God will not give you anything, unless you work with all your strength.
The Art of Prayer
If your heart has been softened either by repentance before God or by learning the boundless love of God towards you, do not be proud with those whose hearts are still hard. Remember how long your heart was hard and incorrigible.

Bishop Nikolai Velimirovic
Our God is not a Baal; He is the God of love. He is a Father who sees the suffering of His children from various temptations and the tribulations they go through. He will reward us, as long as we can be patient during the short martyrdom of testing, or rather, of blessing.
St. Paisios of Mount Athos
With strict attention to his conscience and with the help of enlightening grace, conceit gradually gives way to self-condemnation and a correct view and knowledge of himself.
Elder Joseph of Optina
Remember in Your Prayers
Carol Ann
Matthew
Gerhard
Valerie
Chrysostom
Tim
Ron
Ivy-Jean
Pat
Christina
Baby Samuel
Jennie
Mary
Baby Kyriake
Maximos
Marian
Photini
Nicholas
Brad William
Ryan
Sarah
Robert Jarvis
Petronia (Wife of Phil Pappas)
Anna Marie Smith Baker
Iris Kuring (Bettina Zifiris' mother)
Constantine Houpis
Ron Chromulak
Beverly Chromulak
Katerina
Dianne
Loucine Kassis
Mary Kassis
Baby Maximus
Annette Star
Christine
Maria
Claire Livaditis
Eva Chandilles
Baby Dani
Scott Nedoff
Anthony Mourgis
John Hansen
Constandina James
James Hord
Bob Smith
Tom and Jean, parents of Patty and Jerry.
How should we pray for the sick? Remember them daily. Say their names (first names are sufficient) and ask God to bestow mercy and grace on them.
Add or remove names and print this list for easy reference during your prayer time on the St. Peter website.
Sunday Readings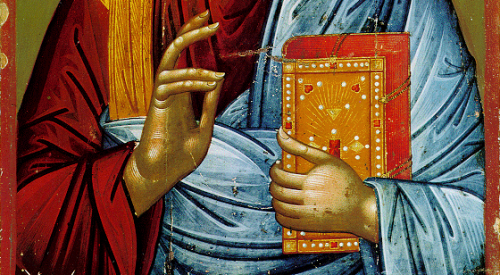 Epistle
The Lord is my strength and my song.
The Lord has chastened me severely.
The Reading from the Acts of the Saintly and Pure Apostles. (6:1-7)
In those days, when the disciples were increasing in number, the Hellenists murmured against the Hebrews because their widows were neglected in the daily distribution. And the Twelve summoned the body of the disciples and said, "It is not right that we should give up preaching the word of God to serve tables. Therefore, brethren, pick out from among you seven men of good repute, full of the Spirit and of wisdom, whom we may appoint to this duty. But we will devote ourselves to prayer and to the ministry of the word."

And what they said pleased the whole multitude, and they chose Stephen, a man full of faith and of the Holy Spirit, and Philip, and Prochorus, and Nicanor, and Timon, and Parmenas, and Nicolaos, a proselyte of Antioch. These they set before the apostles, and they prayed and laid their hands upon them. And the word of God increased; and the number of the disciples multiplied greatly in Jerusalem, and a great many of the priests were obedient to the faith.
Gospel
The Reading from the Holy Gospel according to St. Mark. (15:43-16:8)
At that time, Joseph of Arimathea, a respected member of the council, who was also himself looking for the Kingdom of God, took courage and went to Pilate, and asked for the body of Jesus. And Pilate wondered if He were already dead; and summoning the centurion, he asked him whether Jesus was already dead. And when he learned from the centurion that He was dead, he granted the body to Joseph. And he bought a linen shroud, and taking Him down, wrapped Him in the linen shroud, and laid Him in a tomb, which had been hewn out of the rock; and he rolled a stone against the door of the tomb. Mary Magdalene and Mary the mother of Joses saw where He was laid.

And when the Sabbath was passed, Mary Magdalene, Mary the mother of James, and Salome, bought spices so that they might go and anoint Him. And very early on the first day of the week they went to the tomb when the sun had risen. And they were saying to one another, "Who will roll away the stone for us from the door of the tomb?" And looking up, they saw that the stone was rolled back— it was very large. And entering the tomb, they saw a young man sitting on the right side, dressed in a white robe; and they were amazed. And he said to them, "Do not be amazed; you seek Jesus of Nazareth, Who was crucified. He has risen, He is not here; see the place where they laid Him. But go, tell His Disciples and Peter that He is going before you to Galilee; there you will see Him, as He told you." And they went out and fled from the tomb; for trembling and astonishment had come upon them; and they said nothing to anyone, for they were afraid.