Christ is Risen!
The Fourth Sunday After Pascha
The Sunday of the Paralytic
Introduction
The fourth Sunday of Holy Pascha is observed by the Orthodox Church as the Sunday of the Paralytic. The day commemorates the miracle of Christ healing a man who had been paralyzed for thirty-eight years. The biblical story of the event is found in the Gospel of John 5:1-15.
Background
Close to the Sheep's Gate in Jerusalem, there was a pool, which was called the Sheep's Pool. It had five porches, that is, five sets of pillars supporting a domed roof. Under this roof there lay very many sick people with various maladies awaiting the moving of the water. The first person to step in after the troubling of the water was healed immediately of whatever malady he had.
It was there that the paralytic of today's Gospel was lying, tormented by his infirmity of thirty-eight years. When Christ beheld him, He asked him, "Will you be made whole?" And he answered with a quiet and meek voice, "Sir, I have no man, when the water is troubled, to put me into the pool." The Lord said unto him, "Rise, take up your bed, and walk." And straightaway the man was made whole and took up his bed. Walking in the presence of all, he departed rejoicing to his own house. According to the expounders of the Gospels, the Lord Jesus healed this paralytic during the days of the Passover, when He had gone to Jerusalem for the Feast, and dwelt there teaching and working miracles. According to Saint John the Evangelist, this miracle took place on the Sabbath.
Read the entire story on the Greek Orthodox Archdiocese website.
Thank you to Everyone who Worked so Hard During Pascha!
Dozens of people helped, so much so that listing them all is impossible. Be assured of one thing (it's from the Bible so take is seriously!):
For God is not unjust to forget your work and labor of love which you have shown toward His name, in that you have ministered to the saints, and do (Hebrews 6:10).
This means that our Lord sees our work, and of special importance to Him is the work that we do for each other. Our work in the Church — cooking, chanting, taking care of the kids, vacuuming the floor, decorating the Kovouklion, fixing the air conditioning, organizing an easter egg hunt, wiping the tables, making visitors feel at home, cooking Lenten meals and a pancake breakfast, sponsoring Palm Sunday Brunch — everything the contributes to the life of St. Peter's is a labor of love honored by God.
Think about that and then think how important the generous hearts and helping hands is for the welfare and life of our our parish. If we can grasp that it is important to our Lord, then we can be grateful for the opportunity to serve.
In return St. Paul teaches, you will be blessed for all you have done.
Interfaith Charites Needs More Help
The shelves are bare. They need rice, canned vegetables, beans, and cereal. Please consider picking up a few extra items the next time you are shopping and bring them to Church. We will get to Interfaith Charities.
Interfaith Charities is a coalition of churches and business that help the poor in the San Carlos and south Fort Myers area (view their website). We partner with them to help the working poor in our area as part of our mission to serve the poor around us.
Calendar At A Glance
Wednesday, May 16, 2018 — 6:30pm Ascension Divine Liturgy
Sunday, May 16, 2018 — Pentecost
Wisdom From The Elders
It is not enough to simply make your confession to the Spiritual Father; you must also truly repent of what you have done.
Elder Paisios of Mount Athos
But as soon as Grace sees that a little self-esteem has begun to steal into a man's thoughts, and that he has begun to think great things of himself, she immediately permits the temptations opposing him to gain in strength and prevail, until he learns his weakness, and takes to flight, and clings to God in humility. St. Isaac the Syrian
Abba Sisoes used to say that the way that leads to humility is abstinence, unceasing prayer to God, and the struggle to be lower than every man. Archbishop Chrysostomos of Etna
In the same way the grace of God is preserved by the practice of the commandments, and the observance of these commandments is laid down like foundations through the gift of God. The grace of the Spirit cannot remain with us without the practice of the commandments, but the practice of the commandments is of no help or advantage to us without the grace of God. St. Symeon the New Theologian
It is a wonderful thing that, no matter how much we trouble about our health, however much care we take of ourselves, whatever wholesome and pleasant food we eat, whatever wholesome drinks we drink, however much we walk in the fresh air, still, notwithstanding all this, in the end we are subjected to maladies and corruption; whilst the saints, who despised their flesh, and mortified it by continual abstinence and fasting, by lying bare on the earth, by watchfulness, labours, unceasing prayer, have made both their souls and bodies immortal. St. John of Kronstadt
Your children should not hear you arguing even once, not even if you raise the tone of your voices to one another. Elder Porphyrios
Remember in Your Prayers
Carolyn L.
Jim R.
Vassiliki
Octavio
Tom
Carl
Rena
Nikolay (5 year old boy in Bulgaria whose parents asked us to pray)
David
Eva K.
Rosie
Jill
Sean Helgeland (great nephew to Steve and Anne Brietenbach)
Kathryn
Jeremy
Robert
Jane
Theodora
Baby Brynn L.
Micheal
Haralambos
Lillian
Presbytera Rosy
Valentina
John
Eva W.
Barbara
Angela
Sonya
Kenneth
Carol Ann
Matthew
Chrysostom
Tim
Ron
Ivy-Jean
Pat
Christina
Maria Louise
Maximos
Marian
Photini
Nicholas
Sarah
Petronia (Wife of Phil Pappas)
Constantine Houpis
Anna Marie Smith Baker
Ron Chromulak
Beverly Chromulak
Katerina
Loucine Kassis
Mary Kassis
Baby Maximus
Christine
Maria
Annette Star
Claire Livaditis
Eva Chandilles
Baby Dani
Scott Nedoff
Anthony Mourgis
John Hansen
James Hord
Tom
How should we pray for the sick? Remember them daily. Say their names (first names are sufficient) and ask God to bestow mercy and grace on them.
Add or remove names and print this list for easy reference during your prayer time on the St. Peter website.
Sunday Readings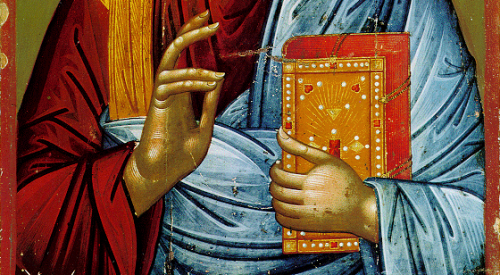 Epistle
Sing praises to our God, sing praises.
Clap your hands, all you nations.
The Reading from the Acts of the Saintly and Pure Apostles. (9:32-42)
In those days, as Peter went here and there among them all, he came down also to the saints that lived at Lydda. There he found a man named Aeneas, who had been bedridden for eight years and was paralyzed. And Peter said to him, "Aeneas, Jesus Christ heals you; rise and make your bed." And immediately he rose. And all the residents of Lydda and Sharon saw him, and they turned to the Lord. Now there was at Joppa a disciple named Tabitha, which means Dorcas. She was full of good works and acts of charity. In those days she fell sick and died; and when they had washed her, they laid her in an upper room. Since Lydda was near Joppa, the disciples, hearing that Peter was there, sent two men to him entreating him, "Please come to us without delay." So Peter rose and went with them. And when he had come, they took him to the upper room. All the widows stood beside him weeping, and showing tunics and other garments, which Dorcas made while she was with them. But Peter put them all outside and knelt down and prayed; then turning to the body he said, "Tabitha, rise." And she opened her eyes, and when she saw Peter she sat up. And he gave her his hand and lifted her up. Then calling the saints and widows he presented her alive. And it became known throughout all Joppa, and many believed in the Lord.
Gospel
The Reading from the Holy Gospel according to St. John. (5:1-15)
At that time, Jesus went up to Jerusalem. Now there is in Jerusalem by the Sheep Gate a pool, in Hebrew called Bethsaida, which has five porticoes. In these lay a multitude of invalids, blind, lame, paralyzed, waiting for the moving of the water. For an angel of the Lord went down at certain seasons into the pool and troubled the water; whoever stepped in first, after the troubling of the water was healed of whatever disease he had. One man was there, who had been ill for 38 years. When Jesus saw him and knew that he had been lying there a long time, He said to him, "Do you want to be healed?" The sick man answered Him, "Sir, I have no man to put me into the pool when the water is troubled, and while I am going another steps down before me." Jesus said to him, "Rise, take up your pallet, and walk." And at once the man was healed, and he took up his pallet and walked. Now that day was the Sabbath. So the Jews said to the man who was cured, "It is the Sabbath, it is not lawful for you to carry your pallet." But he answered them, "The man who healed me said to me, 'Take up your pallet, and walk.'" They asked him, "Who is the man who said to you, 'Take up your pallet, and walk'?" Now the man who had been healed did not know who it was, for Jesus had withdrawn, as there was a crowd in the place. Afterward, Jesus found him in the temple, and said to him, "See, you are well! Sin no more, that nothing worse befalls you." The man went away and told the Jews that it was Jesus Who had healed him.