Fourth Sunday of Great Lent
St. John of the Ladder
Martyr Kalliopios of Cilicia; Venerable George, bishop of Mitylene; Repose of Tikhon,
Patriarch of Moscow and Enlightener of North America
Our venerable and God-bearing Father John Climacus (ca. 579 – 649), also known as John of the Ladder, John Scholasticus, and John Sinaites, was a seventh century monk at St. Catherine's monastery at the base of Mount Sinai.
He came to the monastery and became a novice when he was about 16 years old, and when he died in 649 he was the monastery's abbot. He wrote a number of instructive books, the most famous of which is The Ladder of Divine Ascent. (It is because of this book that John is known as "Climacus," which means "of the ladder".)
It describes how to raise one's soul to God, as if on a ladder. This book is one of the most widely read among Eastern Orthodox Christians, especially during the season of Great Lent which immediately precedes Pascha (Easter), and on the fourth Sunday of Great Lent he is especially commemorated.
Quotes from St. John
Repentance is the renewal of baptism.
Repentance is a contract with God for a second life.
A penitent is a buyer of humility.
Repentance is constant distrust of bodily comfort.
Repentance is self-condemning reflection, and carefree self-care.
Repentance is the daughter of hope and the renunciation of despair.
A penitent is an undisgraced convict.
Repentance is reconciliation with the Lord by the practice of good deeds contrary to the sins.
Repentance is purification of conscience.
Repentance is the voluntary endurance of all afflictions.
A penitent is the inflicter of his own punishments.
Repentance is a mighty persecution of the stomach, and a striking of the soul into vigorous awareness.
Read more on the Orthodoxwiki website.
Fr. Thomas Hopko on "St. John of the Ladder"
Originally broadcast on March 11, 2008 Length: 13:24
It is at this point in our Lenten journey that the Church contemplates the instruction of St. John Climacus and his Ladder of Divine Ascent.
Fr. Tom takes us step by step through this treasure and makes it practical for us non-monastics!
Listen here:
https://stpeterorthodoxchurch.com/fr-thomas-hopko-on-st-john-of-the-ladder/">
St. Basil Liturgy During Lent
On the Sundays of Lent we worship with the Liturgy of St. Basil instead of the Liturgy of St. John Chrysostom. What is the difference between the two? The Liturgy of St Basil is a bit longer because the priests prayers a longer, say 10 minutes or so.
The Liturgy of St. Basil is derived from the Liturgy of St. John Chrysostom.
Learn About Lent
Check out the rich resoures about Lent and Holy Week on the Antiochian website.
St. Peter Second Annual Bake Sale April 7 and April 14
No more pre-orders but items with be for sale on April 7 and 14. Pre-orders will be available on April 7 and 14 as well. Thank you for your support!
Interfaith Charities Needs Our Help
Interfaith Charities, the local agency St. Peter's partners with to help working poor families in our immediate area needs these items:
Rice
Lentils
Tuna
Mac and cheese
Soup
SpaghettiOs
Jelly
Used clothing
Used housewares
St. Peter's is committed to helping the poor among us. If each family could bring some of these items to church this Sunday and the next, then we will get them to Interfaith Charities and the families who need them.
Lent and Holy Week Schedule Posted
Click the image to view and print. Copies will also be available at Church.
Lenten Supper Schedule
Following the Presanctified Liturgies on Wednesday evenings during Great Lent, we share in a Lenten supper. During the supper a short program will be held. This year's theme is "Orthodox Saints."
April 03 Wednesday Katina Protopapadakis
April 10 Wednesday Mary Copeland
April 17 Wednesday Anne Breitenbach
Thank you ladies!
Icons Available in the Social Hall

St. Peter's has a large selection of Icons available for sale and donation. They come in various sizes — mini, small, medium and large.
The Icons are generously donated by Theo Palis and therefore all proceeds go directly to St. Peter's.
If there is a specific icon you are looking for and we don't have it, Theo might be able to make it for you.
New Member Classes and Bible Studies
Cathechumen classes continue on Tuesday evening at 7:00pm
St. Demetrios Brotherhood meets on Thursday at 7:00pm.
Bible studies cancelled until after Holy Week.
Calendar At A Glance
Note: Lent and Holy Week Schedule available on the St. Peter website.
MARCH
Sun Apr 7 — SUNDAY OF ST JOHN OF THE LADDER
Mon Apr 8 — Great Compline at 6:30pm
Wed Apr 10 — Great Compline at 6:30pm with Canon of St Mary at 6:30pm
Thu Apr 11 — Presanctified Liturgy 6:30pm
Fri Apr 12 — Complete Salutations 6:30pm
Sun Apr 14 — SUNDAY OF ST MARY OF EGYPT
Mon Apr 15 — Great Compline at 6:30pm
Wed Apr 17 — Presanctified Liturgy 6:30pm
Fri Apr 19 — Small Compline with Canon of St. Lazarus 6:30pm
Fri Apr 20 — Lazarus Saturday Liturgy 9:30am / Baptisms / Make crosses / Pancake
breakfast / Children confessions – Full Schedule TBA
UPCOMING – Mark your calendars!
Sun Apr 21 — Palm Sunday Brunch following Liturgy
Sun Apr 28 — PASCHA Community Dinner following Agape Vespers
Sun May 12 — Mother's Day Brunch following Liturgy
Sun Jun 16 — Father's Day Barbecue following Liturgy
Wisdom From The Elders
The way of humility is this: self-control, prayer, and thinking yourself inferior to all creatures. Abba Thithoes
A person who is accustomed to humiliation attracts the grace of God. Elder Porphyrios
It is a spiritual gift from God for a man to perceive his sins. Venerable Isaac the Syrian, bishop of Nineveh
Mental prayer does not allow either distractions or foul thoughts to enter the inner sanctum. Venerable Abba Dorotheos of Gaza
The beginnings of prayer do not reside in a method, in a specific style or form of practice. They are a cry of the heart, a longing of the soul. If you have discovered this longing within yourself, even if its precise shape or source or focus remains un­known to you, then you have within you the seeds from which prayer can grow. But these seeds must be fostered, watered! Bishop Irenei Steenberg
If one has not made the decision about death and is not prepared to die, nothing can be achieved. It all starts from there. Saint Paisios of Mount Athos
Remember in Your Prayers
Silvana
Nicole
Evan
Megan
Bill R.
Pat R.
Aglaia
George
Hieromonk Serapion
Priest Kyprianos
Presvytera Charlotte
Bryan, Carolina, their unborn baby
Athanasia
Alexandra
Constantina
Maryanne (E)
Ron (E)
Tim
Robert (J)
Mary (J)
Patricia
Gregory
Doug Spencer
Kathy Spencer
Kathy D.
Andreas
Sofia Tešanovic
Paul
Dennis H. and Family
Victor Evan
Ann
James
Vasiliki
Efstratia
Alexandra
Nikos
Georgia
Ioannis
Costandino
Jeffrey
Vaso
Dave
Dimitri – Presbyter
Vassiliki
Octavio
Tom
Carl
Rena
Nikolay (5 year old boy in Bulgaria whose parents asked us to pray)
David
Rosie
Kathryn
Jeremy
Constantine
Robert
Jane
Theodora
David
Gina
Micheal
Haralambos
Lillian
Presbytera Rosy
Valentina
Eva W.
Barbara
Angela
Carol Ann
Matthew
Chrysostom
Tim
Pat
Christina
Maria Louise
Maximos
Marian
Photini
Nicholas
Sarah
Constantine Houpis
Anna Marie Smith Baker
Katerina
Mary Kassis
Baby Maximus
Christine
Maria
Annette Star
Claire Livaditis
Eva Chandilles
Baby Dani
Scott Nedoff
James Hord
Tom
How should we pray for the sick? Remember them daily. Say their names (first names are sufficient) and ask God to bestow mercy and grace on them.
Add or remove names and print this list for easy reference during your prayer time on the St. Peter website.
Sunday Readings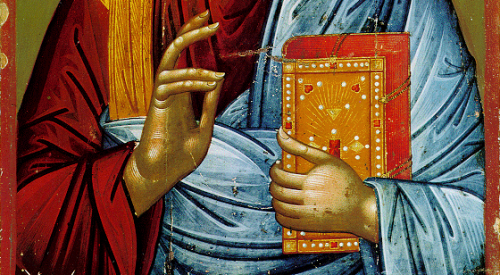 Epistle
The Lord will give strength to His people.
The Lord will bless His people with peace.
The Reading from the Epistle of St. Paul to the Hebrews. (6:13-20)
Brethren, when God made a promise to Abraham, since He had no one greater by whomto swear, He swore by Himself, saying, "Surely I will bless you and multiply you." And thusAbraham, having patiently endured, obtained the promise. Men indeed swear by one greater thanthemselves, and in all their disputes an oath is final for confirmation. So when God desired to showmore convincingly to the heirs of the promise the unchangeable character of His purpose, He interposed with an oath. So that through two unchangeable things, in which it is impossible thatGod should prove false, we who have fled for refuge might have strong encouragement to seizethe hope set before us. We have this as a sure and steadfast anchor of the soul, a hope that entersinto the inner shrine behind the curtain, where Jesus has gone as a forerunner on our behalf, havingbecome a high priest forever after the order of Melchizedek.
Gospel
The Reading from the Holy Gospel according to St. Mark. (9:17-31)
At that time, a man came to Jesus, kneeling down and saying unto him, "Teacher, I broughtmy son to you, for he has a dumb spirit. And wherever it seizes him, it dashes him down; and hefoams and grinds his teeth and becomes rigid; and I asked Thy Disciples to cast it out, and theywere not able." And Jesus answered them, "O faithless generation, how long am I to be with you?How long am I to bear with you? Bring him to Me." And they brought the boy to Him; and whenthe spirit saw Jesus, immediately it convulsed the boy, and he fell on the ground and rolled about,foaming at the mouth.

And Jesus asked his father, "How long has he had this?" And he said, "From childhood. And it has often cast him into the fire and into the water, to destroy him; but if Thou canst do anything, have pity on us and help us." And Jesus said to him, "If you can believe, all things are possible to him who believes." Immediately the father of the child cried out and said with tears, "Lord, I believe; help my unbelief!" And when Jesus saw that a crowd came running together, he rebuked the unclean spirit, saying to it, "You dumb and deaf spirit, I command you,come out of him, and never enter him again." And after crying out and convulsing him terribly, it came out, and the boy was like a corpse; so that most of them said, "He is dead." But Jesus took him by the hand and lifted him up, and he arose.

And when Jesus had entered the house, His Disciples asked Him privately, "Why could we not cast it out?" And Jesus said to them, "This kind cannot be driven out by anything but prayer and fasting." They went on from there and passed through Galilee. And Jesus would not have anyone know it; for He was teaching His Disciples,saying to them, "The Son of man will be delivered into the hands of men, and they will kill Him; and after He is killed, He will rise on the third day."