Palm Sunday Fish Brunch / Jeremiah Tewis Fundraiser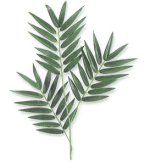 On Palm Sunday, April 28 St. Peter's will hold a Fish Brunch following the Divine Liturgy at the hotel in our suite.
Tickets are $15/person with the full proceeds going to help the Tewis family offset some of their medical expenses.
Tickets must be bought by April 21 so we know how much food to buy. You can give your check to Mary Jarvis or mail it to: St. Peter Orthodox Mission, P.O. Box 110844, Naples, FL 34108.
The Fifth Sunday of Lent — St. Mary of Egypt
St Mary was born in Egypt. She had left her parents at the age of twelve to go to Alexandria, where she spent the next seventeen years in debauchery and the greatest profligacy. Living on charity and linen-weaving, she nevertheless offered her body to any man, not being forced to it by dire necessity as were so many poor women, but as though she were consumed by the fire of a desire that nothing was able to appease. Read more…
Final Orthodoxy 101
The last Orthodoxy 101 of this spring will be held next Sunday, April 21, at St. Demetrios Orthodox Church (OCA) starting at 6:30pm (get directions).
Lent and Holy Week Schedule
If you don't have a Lent and Holy Week schedule, click here. The file will open up in your computer.
Sunday Scripture Readings
Epistle
Hebrews 9:11 – 14 (Fifth Sunday of Great Lent)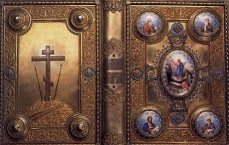 Vow and pay unto the Lord your God In Judah is God known.
The Reading is from St. Paul to the Hebrews.
BRETHREN, when Christ appeared as a high priest of the good things to come, then through a greater and more perfect tabernacle, (not made with hands, that is, not of this creation), he entered once for all into the Holy Place, taking not the blood of goats and calves but his own blood, thus securing an eternal redemption.

For if the sprinkling of defiled persons with the blood of goats and bulls and with the ashes of a heifer sanctifies for the purification of the flesh, how much more shall the blood of Christ, who through the eternal Spirit offered himself without blemish to God, purify your conscience from dead works to serve the living God.
Gospel
Mark 10:32 – 45 (Fifth Sunday of Great Lent)
The Reading of the Holy Gospel according to St. Mark
At that time: Jesus took the twelve aside, and he began to tell them what was to happen to him, saying, "Behold, we are going up to Jerusalem; and the Son of man will be delivered to the chief priests and the scribes, and they will condemn him to death, and deliver him to the Gentiles; and they will mock him, and spit upon him, and scourge him, and kill him; and after three days he will rise."

And James and John, the sons of Zebedee came forward and said to him, "Master, we want you to do for us whatever we ask of you." And he said to them, "What do you want me to do for you?" And they said to him, "Grant us to sit, one at your right hand and one at your left, in your glory."

But Jesus, said to them, "You do not know what you are asking. Are you able to drink the cup I drink, or to be baptized with the baptism with which I am baptized?" And they said to him, "We are able." And Jesus said to them, "The cup that I drink you will drink; and the baptism with which I am baptized, you will be baptized; but to sit at my right hand or at my left is not mine to grant, but it is for those for whom it has been prepared."

And when the ten heard it, the y began to be indignant at James and John. And Jesus called them to him and said to them, "You know that those who are supposed to rule over the Gentiles lord it over them, and their great men exercise authority over them. But it shall not be so among you; but whoever would be great among you must be your servant, and whoever would be first among you must be the slave of all. For the Son of man himself came not to be served but to serve, and to give his life as a ransom for many."