Twenty-fifth Sunday after Pentecost
Thirteenth Sunday of Luke
Venerable Alypios the Stylite of Adrianople; Nikon the Preacher of Repentance;
Venerable Stylianos of Paphlagonia; New-martyr George of Chios; Repose of
Innocent, first bishop of Irkutsk
Venerable Alypios the Stylite of Adrianople
Our holy Father Alypios was born in the city of Adrianople in the province of Paphlagonia during the reign of Heraclius (610-41). When he was only three his father died, and his mother placed him in the care of Bishop Theodore to study sacred literature and to be brought up for the service of the Church. The child's remarkable ability as well as his great piety commended him to the Bishop's successor, who made him steward of the church and ordained him deacon when he reached the canonical age. He fulfilled this double office admirably, but he longed to follow the eremitic life. As a result, he gave away his goods to the poor and told his pious mother of his intention to leave for the Holy Land and to embrace the monastic life.
So fast did word spread of the servant of God that, much as he wished to persist in his holy work without distraction, he was under the necessity of welcoming many of the faithful who came to receive his blessing. Gentle, easy to speak to, attentive to all alike, young and old, rich and poor, he would have no one leave him except filled with spiritual joy. But becoming aware that such involvement was harmful to his soul, and having by then sufficient skill in the ascetic art, he decided to make his abode on top of the pillar, protected from the weather by a small, rough, wooden roof.
He was ferociously attacked by demons jealous of his progress. When they began hurling stones at him, he asked his mother, who lived at the foot of the pillar, for an axe, intending to show them that soldiers of Christ rate their attacks no more than juvenile insults. Throwing the roof that sheltered him to the ground, he faced without protection the hail of stones, prepared to die like Stephen the first Martyr, if that were the will of God. Alarmed by his boldness and unshakeable faith in God, the demons took flight from the place, bewailing their discomfiture.
The Saint received the gift of prophecy; he healed the sick, reconciled enemies, gave instruction in the mysteries of divine wisdom, either directly or in letters; he became all things to all men that he might by all means save some for Christ (1 Cor. 9:22). One day, having thrown down his tunic to a poor man in need, he remained shivering on the pillar until a recluse of the men's monastery saw his state and came to his assistance.
When he gave us his soul to God at last, aged ninety-nine, the people hastened to venerate his body and a possessed man was healed in its presence. St. Alypios reposed in the year 640, at age 118. The body of the venerable stylite was buried in the church he founded in honor of the holy Martyr Euphemia. His head is preserved in the Monastery of Koutloumousiou on the Mount Athos. The feast day of Saint Alypios is celebrated on November 26.
Read the complete history on the Mystagogy website.
Services for Thanksgiving
From His Eminence Metropolitan JOSEPH: On Thursday, November 23, the U.S. celebrates Thanksgiving in the midst of the After-feast of the Entrance of the Theotokos. His Eminence Metropolitan JOSEPH asks that parishes offer divine services in thanksgiving to God for all of His abundant blessings upon us.
St. Peter's will offer a Vespers of Thanksgiving on November 22 at 6:30pm. On Thanksgiving Day we will hold a Divine Liturgy starting at 9am.
St. Nicholas Celebration on Tuesday, December 5, 2017
Mark you calendars for the St. Nicholas Day Celebration Tuesday December 5, 2017. We will begin with Divine Liturgy at 6:00pm (note time!) followed by a presentation on the real Santa Clause (hint: it was really a bishop from Myra in the fourth century) for the children.
All children should attend! The program will be for them including a surprise at the end.
Decorate the Social Hall for Christmas on Saturday, December 2 at 10:00am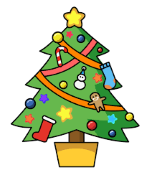 We have all the supplies (tree, lights, wire, etc.). Coffee and bagels provided.
Church Wide Pot-Luck Saturday, December 2, 2017 at 6:00pm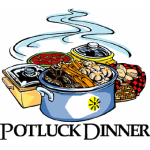 St. Peter's Pot Luck's are always a great time of fellowship. Please bring a dish in this category and sign up in the Social Hall:
Please remember: This is a fasting season no no meat or cheese in the food item.
Living the Orthodox Faith Class Continues Wednesday, November 22 at 7:00pm
"Living the Orthodox Faith" will look at why our Church does things the way it does, and how to do it properly. We will learn about the sign up the cross, how to enter the Church properly (candles and veneration), how to make a home altar, and more. This is a very practical class, not theological as much as how to live the Orthodox life as an Orthodox Christian.
Can't make the class? Join in on Facebook Live! You can also view last week's class too.
Christmas Fast Continues
The Nativity Fast is one of the four Canonical Fasting Seasons in the Church year. This is a joyous fast in anticipation of the Nativity of Christ. That is the reason it is less strict than other fasting periods. The fast is divided into two periods. The 1st period is November 15th through December 19th when the traditional fasting discipline (no meat, dairy, fish, wine, and oil) is observed. There is dispensation given for wine and oil on Tuesdays and Thursdays. Similarly, fish, wine, and oil are permitted on Saturdays and Sundays.
The 2nd period is December 20th through 24th when the traditional fasting discipline (no meat, dairy, fish, wine, and oil) is observed. There is dispensation given for wine and oil only on Saturday and Sunday during this period.
Fasting always works in conjuction with prayer and giving alms (helping the poor, giving to worthy charities, etc.). Fasting helps us reorder the interior life, but the reordering does not occur with greater prayer and greater concern for the poor.
The reordering is a clarification — we end up seeing things more clearly, we get stronger in the fight against sin and temptation. The fast always ends on a great Feast Day of our Lord.
For a complete list, visit the Antiochian website or click on the image below:
Please note: There is always a dispensation for Thanksgiving. No fast on Thanksgiving day.
How Does Music Work in the Orthodox Church?
We are blessed to have a very fine choir. We appreciate that they work hard and that singing well is very important to them. Music is very important in Orthodox worship and our choir understand this. Serving in the choir is am important ministry that adds greatly to the welfare of our parish. Below are two brief paragraphs that explain how music functions in Orthodox worship.

The music of the Orthodox Church is evangelism, and the choir, Her primary evangelistic instrument. The fullness of Orthodox theology and preaching is expressed in hymnography.
When sung within the context of worship, the words of Sts. Basil the Great, John Chrysostom, Ephrem the Syrian, John Damascene, and Romanos the Melodist give form to our experience with the visible and unseen worlds.
This nearness [association] between heaven and earth, evoked in Orthodox worship, is not the musical "prettiness" found in the concert hall. Dostoevsky has said, "Beauty will save the world." Through beauty, truth enters the heart and awakens our spiritual senses. It is the responsibility of the liturgical singers and chanters to convey, with all clarity and "sweetness," the Beauty of God's revelation to man, as extolled in the liturgical poetry of the Orthodox services.
By not imposing the unique personalities of their individual voices or sounding forth above the company, the singers humbly strive to become one breath, one voice, allowing the redemptive words to take precedence over any necessity to be heard as separate singers. Thus, the liturgical voices are anonymously integrated into the rubrics of worship, so as not to disturb the prayer of the people but to carry their hearts, as it were, from earth to heaven.
In this sense, Orthodox singing is prayer that assists the praying congregation. It is an aural icon which is both didactic (instructive) and pleasing (nourishment-giving) to the souls of the worshipers as they unite with the choir in the praise of God.
Christmas Season Food Drive for NAMI Continues
Every Christmas season St. Peter's runs a food drive for NAMI (National Association for Mental Illness)serving local people in need. NAMI helps people with serious and persistent mental illnesses, as well as their parents, children, spouses, siblings and friends.
St. Peter's has contributed to NAMI emergency food bank care for six years. Donations go to the Sarah Ann Drop In Center in Naples, FL. Three categories of items are needed:
Canned and dry goods
Toiletry articles (The small hotel type items work very well)
Diabetic foods
Bring them to church and we will get them to NAMI. The drive will run through Christmas.
Toys for Tots Drive Continues
Every Christmas season St. Peter's parishioners contribute to Toys for Tots which gives children who otherwise would receive no gifts some presents on Christmas Day.
If you would like to contribute, bring an unwrapped present for a child in its original packaging. A collection box is in the Social Hall. We will deliver them to the fire station where they are collected for distribution to the needy children.
Calendar At A Glance
November
Wednesday, November 22, 2017 6:30pm Vespers of Thanksgiving
Thursday, November 23, 2017 9:00am Liturgy for Thanksgiving
December
Tuesday, December 2, 2017 10:00am. Decorate Social Hall
Tuesday, December 2, 2017 6:00pm. Christmas Pot Luck
Tuesday, December 5, 2017 6:00pm. St. Nicholas Liturgy
Tuesday, December 5, 2017 7:15pm. St. Nicholas Program
Nativity (Christmas) Worship Schedule
Friday, December 22, 2017 9am Nativity Royal Hours
Sunday, December 24, 2017 8:30am/9:30am Orthros and Divine Liturgy
Sunday, December 24, 2017 7:00pm Great Vespers of Nativity
Monday, December 25, 2017 8:30am/9:30am Festal Orthros and Festal Divine Liturgy of St. Basil the Great
Wisdom From The Elders
If a person wants to get an idea about the pyramids of Egypt, he must either trust those who have been in immediate proximity to the pyramids, or he must get next to them himself. There is no third option. In the same way a person can get an impression of God: He must either trust those who have stood and stand in immediate proximity to God, or he must take pains to come into such proximity himself.
St. Nicholas of Serbia
Is some poor person asking you for help? Even if you doubt his situation, vou should still help him discreetly so that you are not tempted by negative thoughts.
Elder Paisios of Mount Athos
Allow the spirit of God to dwell within you; then in His love He will come and make a habitation with you; He will reside in you and live in you.
Evagrius
External circumstances can never serve as excuses for the deficiencies in our interior life.
Elder Sergei of Vanves
Our life is in the heavens, our true life, that is. Our job is to live that life here and now.
Elder Sergei of Vanves
Whether one is contented or hungry, whether he is praised or wronged, he must rejoice and face everything humbly and patiently.
St. Paisios of Mount Athos
Remember in Your Prayers
Jill
Connie
Katherine
Sean
Kathryn
Jeremy
Robert
Jane
Theodora
Baby Brynn L.
Micheal
Haralambos
Lillian
Presbytera Rosy
Valentina
John
Eva W.
Barbara
Angela
Sonya
Kenneth
Carol Ann
Matthew
Chrysostom
Tim
Ron
Ivy-Jean
Pat
Christina
Maria Louise
Maximos
Marian
Photini
Nicholas
Brad William
Sarah
Petronia (Wife of Phil Pappas)
Constantine Houpis
Anna Marie Smith Baker
Ron Chromulak
Beverly Chromulak
Katerina
Loucine Kassis
Mary Kassis
Baby Maximus
Christine
Maria
Annette Star
Claire Livaditis
Eva Chandilles
Baby Dani
Scott Nedoff
Anthony Mourgis
John Hansen
James Hord
Tom and Jean, parents of Patty and Jerry.
How should we pray for the sick? Remember them daily. Say their names (first names are sufficient) and ask God to bestow mercy and grace on them.
Add or remove names and print this list for easy reference during your prayer time on the St. Peter website.
Sunday Readings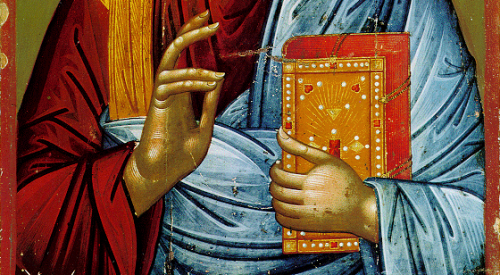 Epistle
For the Twenty-Fifth Sunday after Pentecost
Make your vows to the Lord our God and perform them.
God is known in Judah; His Name is great in Israel.
The Reading from the Epistle of St. Paul to the Ephesians. (4:1-7)
Brethren, I, a prisoner for the Lord, beg you to lead a life worthy of the calling to which you have been called, with all lowliness and meekness, with patience, forbearing one another in love, eager to maintain the unity of the Spirit in the bond of peace. There is one body and one Spirit, just as you were called to the one hope that belongs to your call, one Lord, one faith, one baptism, one God and Father of us all, Who is above all and through all and in all. But grace was given to each of us according to the measure of Christ's gift
Gospel
For the Thirteenth Sunday of Luke
The Reading from the Holy Gospel according to St. Luke. (18:18-27)
At that time, a man came testing Jesus and asking, "Good Teacher, what shall I do to inherit eternal life?" And Jesus said to him, "Why do you call Me good? No one is good but God alone. You know the commandments: 'Do not commit adultery. Do not kill. Do not steal. Do not bear false witness. Honor your father and mother.'" And the man said, "All these I have observed from my youth." And when Jesus heard it, he said to him, "One thing you still lack. Sell all that you have and distribute to the poor, and you will have treasure in heaven; and come, follow Me." But when the man heard this he became sad, for he was very rich. Jesus, seeing him sad, said, "How hard it is for those who have riches to enter the kingdom of God! For it is easier for a camel to go through the eye of a needle than for a rich man to enter the kingdom of God." Those who heard it said, "Then who can be saved?" Jesus said, "What is impossible with men is possible with God."