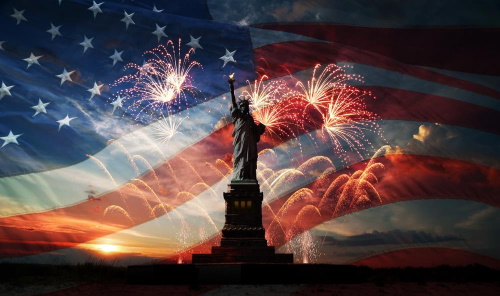 We are celebrating Independence Day next Sunday, July 4. Hamburgers, hot dogs and barbecued chicken and all of the sides during Social Hall following Divine Liturgy.
The celebration is being sponsored by Jack and Angela Long in honor of Maria Ninos, mother of Angela. Independence Day is also the day of Maria's six month memorial and prayers will be offered for Maria after the Divine Liturgy Sunday morning. May her memory be eternal.
Although our country is undergoing severe trials at the moment remember is this: All the refugee movements in the past century have aimed for America. America is and has been a magnanimous and generous country, not without some faults but certainly a beacon of freedom and a new home for millions — including ourselves, our parents, grandparents, and great-grandparents.
The good in America is worth preserving, the weak is worth strengthening, that which should be changed is worth changing.
Pray for our country, our president, and all those in civil authority that the right decisions be made, and that our nation comes to God in order to preserve our liberty.
Let no one tear down this great country. Instead, defend it and make it better.
God bless America!