The Sunday After Theophany
Martyr Polyeuktos of Armenia; Venerable Eustratios the wonderworker; New-martyr Parthenas; Philip, metropolitan of Moscow
Services This Week
Sun Jan 02 — SUNDAY DIVINE LITURGY – Orthros 8:30am Divine Liturgy 9:30am LIVE STREAM
Wed Jan 05 — Theophany Royal Hours 9:00am LIVE STREAM
Wed Jan 05 — Theophany Orthros 5:00pm LIVE STREAM
Wed Jan 05 — Theophany Divine Liturgy and Great Blessing Of The Waters 6:00pm LIVE STREAM
Fri Jan 07 — Synaxis of St. John the Baptist Divine Liturgy 9:30am LIVE STREAM
Services Next Week
Sun Jan 09 — SUNDAY DIVINE LITURGY – Orthros 8:30am Divine Liturgy 9:30am LIVE STREAM
Sun Jan 09 — Cutting of the Vasilopita 11:30am LIVE STREAM
Wed Jan 12 — Paraklesis to the Theotokos 9:30am LIVE STREAM
Fri Jan 14 — Paraklesis to the Theotokos 9:30am LIVE STREAM
Synaxis of St. John the Baptist Divine Liturgy on Friday January 7, 2022 at 9:30am
The Holy Prophet, Forerunner and Baptist John
In the Orthodox Church it is customary, on the day following the Great Feasts of the Lord and the Mother of God, to remember those saints who participated directly in the sacred event. So, on the day following the Theophany of the Lord, the Church honors the one who participated directly in the Baptism of Christ, placing his own hand upon the head of the Savior.
Saint John, the Holy Forerunner and Baptist of the Lord, whom the Lord called the greatest of the prophets, concludes the history of the Old Testament and opens the era of the New Testament. The holy Prophet John bore witness to the Only-Begotten Son of God, incarnate in the flesh. Saint John was accounted worthy to baptize Him in the waters of the Jordan, and he was a witness of the Theophany of the Most Holy Trinity on the day of the Savior's Baptism.
The holy Prophet John was related to the Lord on His mother's side, the son of the Priest Zachariah and Righteous Elizabeth. The holy Forerunner, John, was born six months before Christ. The Archangel Gabriel announced his birth in the Temple at Jerusalem, revealing to Zachariah that a son was to be born to him.
Read the entire article on the Orthodox Church in America website.
The Cutting of the Vasilopita (St. Basil's Bread) on Sunday January 9, 2022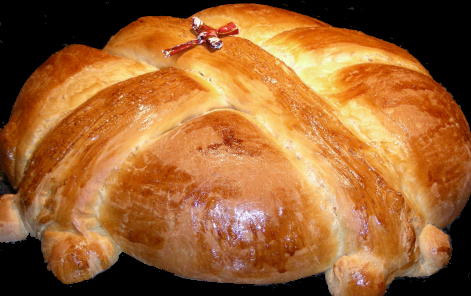 The history behind this celebration reaches back centuries:
The tradition of baking and cutting a special "pita" (which can mean a loaf of bread, a cake, or even a pie) each year on January 1st is observed in honor of our holy father Basil the Great, archbishop of Caesarea in Cappodocia— hence its name "Vasilopita" meaning "St. Basil's Bread." This tradition is observed in both parish churches and in the homes of the faithful.

What is the meaning of this tradition and how did it begin?

For centuries upon centuries, parents, grandparents and godparents have related the following to Orthodox children about St. Basil and the Vasilopita.

One year, during a time of terrible famine, the emperor levied a sinfully excessive tax upon the people of Caesarea.

The tax was such a heavy burden upon the already impoverished people that to avoid debtors' prison each family had to relinquish its few remaining coins and pieces of jewelry, including precious family heirlooms.

Learning of this injustice upon his flock, St. Basil the Great, the archbishop of Caesarea, took up his bishop's staff and the book of the holy Gospels and came to his people's defense by fearlessly calling the emperor to repentance.

By God's grace, the emperor did repent! He canceled the tax and instructed his tax collectors to turn over to St. Basil all of the chests containing the coins and jewelry which had been paid as taxes by the people of Caesarea.

But now St. Basil was faced with the daunting and impossible task of returning these thousands of coins and pieces of jewelry to their rightful owners. After praying for a long time before the icons of our Master Christ and His All-Holy Mother, St. Basil had all the treasures baked into one huge pita. He then called all the townspeople to prayer at the cathedral, and, after Divine Liturgy, he blessed and cut the pita, giving a piece to each person.

Miraculously, each owner received in his piece of Vasilopita his own valuables. They all joyfully returned home, giving thanks to God who had delivered them from abject poverty and to their good and holy bishop St. Basil the Great!

In remembrance of that miracle wrought by God as a result of St. Basil's love and defense of his people, Orthodox Christians have observed the tradition of the Vasilopita each year on January 1st— the date on which St. Basil reposed in the Lord in the year 379.
From the Antiochian Archdiocese website.
It Is Time For House Blessings!
To sign up for house blessings please text Fr. Hans at 239-248-4775 with some available dates and times that work, or send an email to info@stpeterorthodoxchurch.com, or sign up in the Social Hall. Fr. Hans will call you to set up the appointment.
If you call there is a good chance I cannot pick up, and if I am in the car I cannot write down the information anyway. That's why texting is preferred.
Community Flea Market / Rummage Sale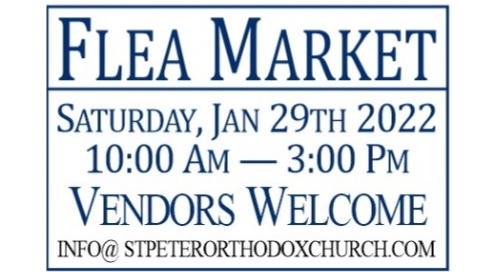 St. Peter's parish is holding a Community Flea Market/Rummage Sale on Saturday,January 29, 2022 from 10:00am to 3:00pm.
If you have any household items to donate tothe church for sale, please contact Gregory Seremetis BEFORE January 25 at 917-992-5884.
If you or anyone you know wants to be a vendor to rent a space to sell their owngoods, vendor prices are:
Single space 8 ft x 17 ft — $25
Double Space 16 ft x 34 ft — $40
To reserve your space, please contact Gregory Seremetis at 17-992-5884 ASAP.
All proceeds benefit St. Peter's.
St. Peter Monthly Fellowship Lunches Resume Thursday January 13!

Starting on January 13 and every second Thurday of the month, come join us for food and fellowship starting at 12:00pm noon.
Menu:
Pastichio
Salad
Bread
Desert
Coffee
The cost is $10 per person to cover the cost of the meal.
Please sign up by January 9 in the Social Hall so we know how much food to prepare.
St. Peter's Kafenio Opens Thursday, January 27!

Barbara and Costa Dionysopoulos invite you to attend our first ever "Kafenio" for some Greek coffee, "Parea" (company) and sweets.
The Kafenio opens on Thursday, January 27 from 3:00pm to 5:00pm and on the fourth Thursday of every month following.
Sign up in the Social Hall before Sunday, January 23 so we know how many deserts to prepare. A small donation is requested to cover the cost of the coffee and deserts.
If you would like to help make Greek Coffee or donate a dessert to the Kafeniou as well, pleasecall Barbara Dionysopoulos at 239-826-1655 so that she can coordinate the monthly event.
Room to Rent Wanted

A nursing student who is transferring to Ave Maria Nursing School needs a room to rent while she finishes up her degree. All she needs is a bedroom and access to the kitchen until she graduates. She would prefer to be no more than 30 minutes away from Ave Maria (St. Paul Church is about 25 minutes away) but is flexible is something farther away if available.
The student is a friend of the Kerr family so if you have a room available or know of someone who does, please call Holly at 615-462-8122.
Calling All Teens!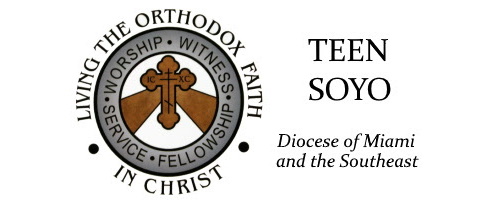 Fr. Hans needs your name and email address (or your parent's address) so you can receive SOYO (Society of Orthodox Youth Organization) materials. Maybe we can begin a SOYO group at St. Peter's too.
Learn more about Teen SOYO on the DOMSE website.
Cafe of Life— Happy New Year!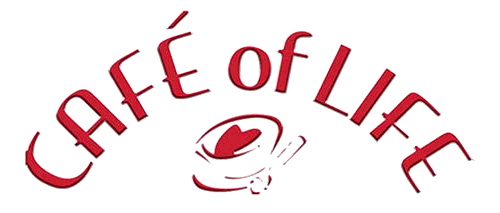 Happy New Year! May God bless us and our families with good health, peace, prosperity and all our comings and goings throughout this year, guiding our works according to God's Divine Will.
So as we step into 2022, let's be Orthodox on purpose and remember what the Scriptures teaches us: Do not neglect to do good and to share what you have, for such sacrifices are pleasing to God (Hebrews 13:16).
Thank you and IC XC NI KA!
DOMSE Winter Retreat – January 28-29, 2022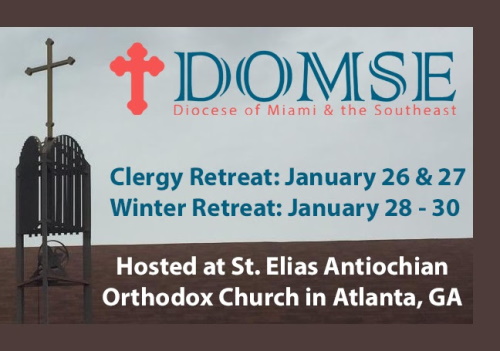 Get more information on the DOMSE website.
Save the Date! DOMSE Parish Life Conference June 15-18, 2022

Learn more on the DOMSE website.
Could You Support a Special Project?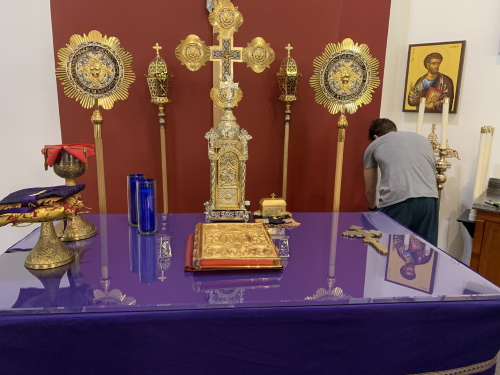 Some parishioners have requested a needs list they could contribute to. Below are the special projects we still need to get done. If you can help please mention it to Fr. Hans, Jack Long, or John Simon.
Replace Church computer
$1,500 Donated.
Replace Flat roof on Church
$30,000. Donated.
Replace windows in the Sunday School rooms
$8000.
Upgrade Church sound system
$1700.00 Donated.
Seal coat and restripe parking Lot
$6,300.
Upgrade Church Electrical System
$3600 Donated.

Pledge & Income Report – November 2021
Donations received in November: $24,004.
Amount of money needed to cover expenses: $22,760.
We are ahead by $1,244.
These numbers reflect the operating costs of the the Hickory Drive property.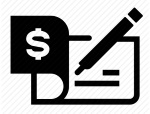 St. Peter Orthodox Church
7470 Hickory Drive
Fort Myers, FL 33967
You can also donate online:
Sign up the the Monthly DOMSE Newsletter on the DOMSE (Diocese of Miami and the Southeast) Website!
Visit the DOMSE Website (scroll to the bottom, fill in the form on the left side) to sign up for "The Light" Newsletter and DOMSE emails.

The Social Hall All Stars are the men and women that make St. Peter's Social Hall happen. Thank you All Stars!
January 2 – January 30
Barbara Dionysopoulos 239-826-1655
Costa Dionysopoulos
Marianthi Kazakos
Niki Locklear
Ray Locklear
Koula Ormandiou
Carol Palatine
February 6 – February 27
Pavlo Bilych
Bonnie Joseph
Al Joseph
Sandy Krotov
Nader Sahawneh 214-695-5710
Anna Tsikitas
Margie Zimmerman
March 6 – March 27
Leon Dephkalion
Marlene Haley
Tom Haley 239-887-0753
Cheryl Morse
Tim Morse
Diana Najjar
Debbie Repya
Elaine Semeretis
Gregory Semeretis
Procedures for Hospitality
Please note: If you would like to bring in your own prepared food, please contact Tom Haley at 239-887-0753 a week before the upcoming Sunday. That way we know not to prepare any food for Sunday.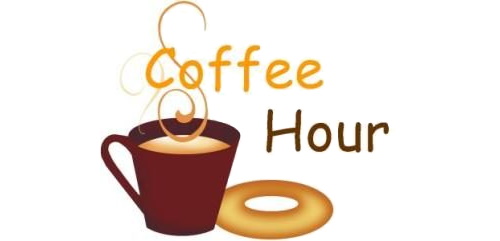 On most Sundays we will serve lighter refreshments like coffee, sweets, hummus, olives, feta, pita and similar items. Please continue bringing these items. Even though we have a range (unlike our former facility), we appreciate items that are "ready to be served."
Please do not donate coffee. We have a space age coffee brewer that we acquired at no cost if we buy our coffee from one supplier. If you bring in coffee, we can't use it.
We cannot continue preparing meals for Memorials, Name Days, Anniversaries, and other celebrations. We don't have the appliances or manpower to do it well. We do, however, have the name of two catering companies that can prepare and deliver the food if you would like to sponsor a celebration. Please call Tom Haley at 239-887-0753 for details and to make arrangements.
If you would like to bring in your own prepared food, please contact Tom Haley at 239-887-0753 a week before the upcoming Sunday. That way we know not to prepare any food for Sunday.
The Safest Way to Come to Church
US 41 is a busy highway and the intersection at Hickory Drive does not have a stop light. We recommend turning on Sanibel Boulevard and following Coconut Road instead.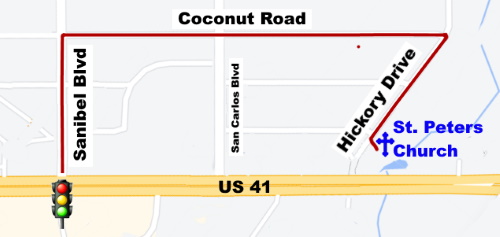 Calendar At A Glance
Calendar also available on the St. Peter website.
JANUARY
Sun Jan 02 — SUNDAY DIVINE LITURGY – Orthros 8:30am Divine Liturgy 9:30am LIVE STREAM
Wed Jan 05 — Theophany Royal Hours 9:00am LIVE STREAM
Wed Jan 05 — Theophany Orthros 5:OOpm
Wed Jan 05 — Theophany Divine Liturgy and Great Blessing Of The Waters 6:00pm LIVE STREAM
Fri Jan 07 — Synaxis of St. John the Baptist Divine Liturgy 9:30am LIVE STREAM
Sun Jan 09 — SUNDAY DIVINE LITURGY – Orthros 8:30am Divine Liturgy 9:30am LIVE STREAM
Sun Jan 09 — Cutting of the Vasilopita 11:30am LIVE STREAM
Wed Jan 12 — Paraklesis to the Theotokos 9:30am LIVE STREAM
Fri Jan 14 — Paraklesis to the Theotokos 9:30am LIVE STREAM
Sun Jan 16 — SUNDAY DIVINE LITURGY – Orthros 8:30am Divine Liturgy 9:30am LIVE STREAM
Mon Jan 17 — St. Anthony the Great Divine Liturgy 9:30am LIVE STREAM
Tue Jan 18 — Sts. Athanasios and Cyril Divine Liturgy 9:30am LIVE STREAM
Fri Jan 21 — St. Maximos the Confessor Divine Liturgy 9:30am LIVE STREAM
Fri Jan 21 — Parish Council Meeting 3:30pm LIVE STREAM
Sun Jan 23 — SUNDAY DIVINE LITURGY – Orthros 8:30am Divine Liturgy 9:30am LIVE STREAM
Tue Jan 25 – Sat Jan 29 — DOMSE RETREAT Fr. Hans Out of Town
Wisdom From The Elders
Without love, there will never be peace, but only enmity pushing humanity towards self-destruction. This is why it is so sadly ridiculous to read about various world peace conferences and negotiations that aim at the establishment of enduring peace on earth. Archbishop Averky (Taushev)
When bad thoughts surround us like a swarm of flies, we shouldnt become discouraged, but persevere in prayer and hold on. Elder Sergei of Vanves
It is not because of his own righteousness that a man finds salvation, but by the power of the all-purifying grace of God. Archbishop Averky (Taushev)
Before holy baptism, grace encourages the soul towards good from the outside, while Satan lurks in its depths, trying to block all the intellect's ways of approach to the divine. But from the moment that we are reborn through baptism, the demon is outside, grace is within. Thus, whereas before baptism error ruled the soul, after baptism truth rules it. St. Diadochus, bishop of Photike in Epirus
As the Apostle says, 'It was not I but the grace of God which was with me' (1 Cor. 15:10) that won this victory, raising me above the impure thoughts that assailed me. It was His grace that 'delivered me from the wicked man' (cf. Ps. 18:48. LXX), that is, from the devil and from the 'old man' within me (cf. Rom. 6:6). St. John of Karpathos
Remember in Your Prayers
List has been updated. If you want some names restored, please mention it to Fr. Hans.
Names will remain on the list for two months.
If you would like to keep them on longer please mention it to Fr. Hans. We will keep the names on the list for as long as the person needs prayers.
Names will include the person who requested the prayers and the month the name will be removed.
The permanent list includes friends and members of St. Peter's and others including shut-ins.
Were names dropped that should have remained? Please mention it to Fr. Hans. He will add them back.
Updated November 18 / Resets January 1.
Current Prayer List
John (Duskas 3/22)
Nancy (Coin 3/22)
Carmella (Jacobse 2/22)
Roma (Jacobse 2/22)
Nicholas (Ghanem 1/22)
Arielle (Ghanem 1/22)
Georgia (Sarros 1/22)
Kerri (Dusckas 1/21)
Aggie (Dusckas 12/21)
Fr. Thomas (Forderhase 12/21)
Emily (Forderhase 12/21)
Sean (Breitenbach 12/21)
David (Zafiris 12/21)
Robin (Zafiris 12/21)
Dana (Zafiris 12/21)
Mackenzie (Zafiris 12/21)
Harry (Zafiris 12/21)
Bettina (Zafiris 12/21)
Harry James (Zafiris 12/21)
Anastasia (Protopapadakis 12/21)
Barbara (Dusckas 11/21)
Dave (Dusckas 11/21)
Elizabeth (Wolfe 11/21)
Catherine (Breitenbach 11/21)
Permanent Prayer List
Corgette (Troutman)
Irina (Irina)
Lee Joseph (Irina)
Lidia (Irina)
Sarina (Ghanem)
Kasiani, Jordan and their unborn child (Chapekis)
Debbie (Breitenbach)
Kathy (Breitenbach)
Hope (Isadore)
John (Long)
Pantelis (Tsikita)
Marisa (Tsikita)
Barbara (Dionysopoulos)
Patricia (Evanoff)
Gabriel (Mankus)
Baby Dani (Repya)
Maria and her newborn baby (Diveris)
Despina (Diversis)b
Fredericos (Diveris)
Sophia (D. Constantine)
Herman (Kerr)
Innocent (Kerr)
Nicholas (Kerr)
Paola (Jacobse)
Gregory (Yankopolos)
Soterios (Ninos)
Pauline (Poulos)
Sergio (Kazakos)
Rae (Semeretis)
Fran (Hansen)
Nina (Krotov)
Franklin (Pyrrson)
George (Chionis)
Stamatia (Evelyn)
Demetrios (Kuchera)
Theodosios (Palis)
Theodora (Webb)
Helen (Rogers)
Robert (Smith)
Robert (Jarvis)
Presbytera Rosy (in Pakistan)
James (Hord)
Vassiliki (Kontinos)
Vassiliki (Morekeas)
Founders, Members, Benefactors and Friends Departed this Life
John (Hansen)
Anatoly (Kurdsjuk)
Thareni (Brooks)
Milan Evanoff
Jean (Sam)
Eleni (Pearson)
Richard (Pearson)
Fr. Stephanos (Shagoury)
Panagiota (Bea Chionis)
Anthony (Mourgis)
Anthony (Mankus)
Constantine (Houpis)
Constantine (Joseph)
Mary (Jarvis)
Panagiota Margarita (Palis)
Maria (Ninos)
John (Katsigianopoulos)
George (Chionis)
Mary (Spiropoulos)
Gregory (Pappas)
Angela (Coran K
Eugene (Rust)
How should we pray for the sick? Remember them daily. Say their names (first names are sufficient) and ask God to bestow mercy and grace on them.
Add or remove names and print this list for easy reference during your prayer time on the St. Peter website.
Sunday Readings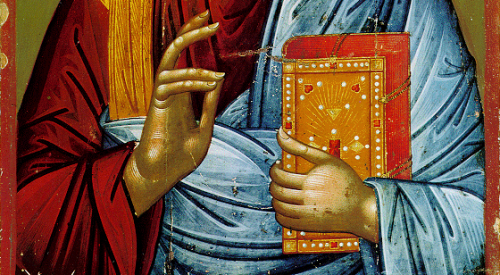 EPISTLE
For the Sunday after Theophany of Christ
Let Thy mercy, O Lord, be upon us.
Rejoice in the Lord, O ye righteous.
The Reading from the Epistle of St. Paul to the Ephesians. (4:7-13)
Brethren, grace was given to each of us according to the measure of Christ's gift. Therefore, it is said, "When He ascended on high He led a host of captives, and He gave gifts to men." (In saying, "He ascended," what does it mean but that He had also descended into the lower parts of the earth? He who descended is He who also ascended far above all the heavens, that He might fill all things.) And His gifts were that some should be apostles, some prophets, some evangelists, some pastors and teachers, to equip the saints for the work of ministry, for building up the body of Christ, until we all attain to the unity of the faith and of the knowledge of the Son of God, to mature manhood, to the measure of the stature of the fullness of Christ.
GOSPEL
For the Sunday after Theophany of Christ
The reading from the Holy Gospel according to St. Matthew. (4:12-17)
At that time, when Jesus heard that John had been arrested, he withdrew into Galilee; and leaving Nazareth he went and dwelt in Capernaum by the sea, in the territory of Zebulon and Naphtali, so that what was spoken by the prophet Isaiah might be fulfilled: "The land of Zebulon and the land of Naphtali, toward the sea, across the Jordan, Galilee of the Gentiles—the people who sat in darkness have seen a great light, and for those who sat in the region and shadow of death light has dawned." From that time Jesus began to preach, saying, "Repent, for the kingdom of Heaven is at hand."