Lenten Services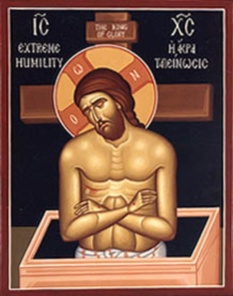 As announced last Sunday, we will be following the Lenten liturgical schedule of our sister parish, St. Paul Antiochian Orthodox Church. Basically this consists of Wednesday Pre-Sanctified Liturgy at 7:00pm, and Friday Salutations at 7:00pm. You can see the full schedule on the calendar at the St. Peter website.
Sunday of Orthodoxy
The Sunday of Orthodoxy Vesper Service will be held at St. Paul's (map) this coming Sunday, February 21, 2010, starting at 5:00pm. On this day all the Orthodox worshipers from different Orthodox parish meet to celebrate this day. Fr. Hans will give the homily.
Bible Study
Bible studies continue on the same schedule: every other Tuesday starting at 7pm. The next study will be on Tuesday, February 23, 2010 at the home of Jack and Angela Long (map). Hope to see you there.
Orthodoxy 101+
Yes, this year it is not only Orthodoxy 101, it is Orthodoxy 101+. The format in the past was simply bring your questions and we will have a discussion. This year one of the priests will offer a 15 minute presentation (or demonstration) about something relevant to Orthodox faith and practice. These classes are very popular so make sure to attend.
They are held in a different parish each Sunday starting at 6:00pm.. The schedule is on the calendar, and included here:
May you have a blessed Lent.
Fr. Hans