This Sunday we honor the members of the Order of St. Ignatius.
The Order of St. Ignatius of Antioch is an organization of the Antiochian Orthodox Archdiocese of North America with the objective of financially supporting the departments, programs and charitable works of the Antiochian Archdiocese, Patriarchate of Antioch and the Orthodox Christian faith.
The Order assists the Antiochian Archdiocese in its continued effort to reach out to all in need and bring to them the message of the Gospel.
Currently, there are nearly 3,000 active members who support worthy causes including: camping and college conference scholarships, married seminarian assistance, theological and religious education, clergy retirement, Project Mexico, International Orthodox Christian Charities (IOCC), The Treehouse Family Ministry, and Orthodox Christian Fellowship (OCF).
Who is St. Ignatius?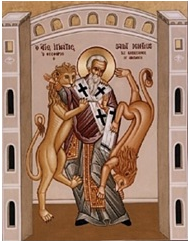 St. Ignatius (Theophoros in Greek) was taught by the Apostle Peter (the first Bishop of Antioch) and ordained a bishop by St. Peter. He was a strong man of God who was martyred by being fed to the lions of Rome.
Tradition holds that he was the child sitting on Christ's lap when Jesus said, "Let all of the children come unto me."
In St. Ignatius' most famous quote, he wrote to the Romans:
I am writing to all the Churches and I enjoin all, that I am dying willingly for God's sake, if only you do not prevent it. I beg you, do not do me an untimely kindness. Allow me to be eaten by the beasts, which are my way of reaching to God. I am God's wheat, and I am to be ground by the teeth of wild beasts, so that I may become the pure bread of Christ.
Fr. Hans will briefly speak about the Order following Divine Liturgy this Sunday.
You can learn more about the Order of St. Ignatius on the Antiochian Archdiocese website.