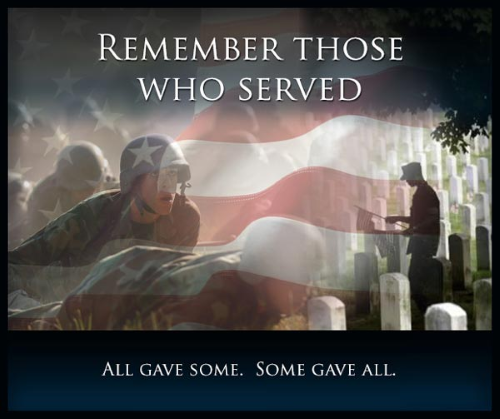 MEMORIAL DAY 2016
We offer our heartfelt gratitude to our veterans. We honor the men and women who gave their lives. We will not forget.
The following words are by Former President Ronald Reagan given at Arlington National Cemetery May 31, 1982. They eloquently express our gratitude and also reveal our responsibility to preserve the liberty for which so many of our soldiers died.
In America's cities and towns today, flags will be placed on graves in cemeteries; public officials will speak of the sacrifice and the valor of those whose memory we honor.

In 1863, when he dedicated a small cemetery in Pennsylvania marking a terrible collision between the armies of North and South, Abraham Lincoln noted the swift obscurity of such speeches. Well, we know now that Lincoln was wrong about that particular occasion. His remarks commemorating those who gave their "last full measure of devotion" were long remembered. But since that moment at Gettysburg, few other such addresses have become part of our national heritage—not because of the inadequacy of the speakers, but because of the inadequacy of words.

I have no illusions about what little I can add now to the silent testimony of those who gave their lives willingly for their country. Words are even more feeble on this Memorial Day, for the sight before us is that of a strong and good nation that stands in silence and remembers those who were loved and who, in return, loved their countrymen enough to die for them.

Yet, we must try to honor them—not for their sakes alone, but for our own. And if words cannot repay the debt we owe these men, surely with our actions we must strive to keep faith with them and with the vision that led them to battle and to final sacrifice.

Our first obligation to them and ourselves is plain enough: The United States and the freedom for which it stands, the freedom for which they died, must endure and prosper. Their lives remind us that freedom is not bought cheaply. It has a cost; it imposes a burden. And just as they whom we commemorate were willing to sacrifice, so too must we—in a less final, less heroic way—be willing to give of ourselves.
Read President Reagan's entire speech on the American Presidency Project website.