Want to learn how make prosphora, the bread from which Holy Communion is given every Divine Liturgy?
Join us on Monday, November 9 the home of BJ James at 10am. BJ's address is:
26086 Fawnwood Court,
Bonita Springs, FL 34135
Get map and directions here or call BJ at 239-498-1931.
BJ has enough stamps (seals) and pans but if you have any 8 inch round cake pans please bring them.
Please call Mary Copeland if you can make it at 239-498-1331.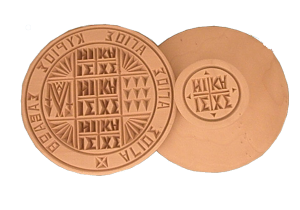 From Orthodoxwiki:
Prosphora (Greek for "offering") is bread prepared for use in the Divine Liturgy. A portion of it, known as the lamb (or amnon) is cut out during the proskomedia which is consecrated during the Divine Liturgy to be the Eucharist, while the rest is cut up for the antidoron, the blessed bread distributed at the end of the liturgy.
During its preparation, prosphora is stamped with an image usually including IC XC NIKA ("Jesus Christ conquers"), which is maintained during baking and then serves as a guide for cutting out the lamb during the proskomedia.