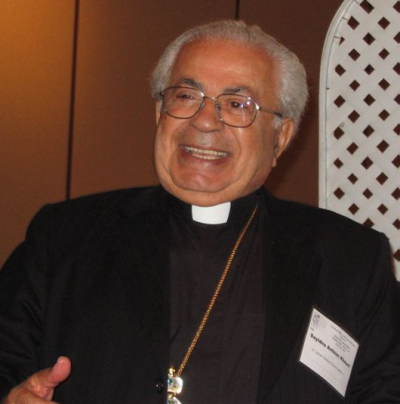 His Grace Bishop Antoun was consecrated to the Holy Episcopacy on January 9, 1983 at the Cathedral of St. Nicholas in Brooklyn, where he served as pastor. His consecrating bishops included Metropolitan Philip (Saliba). He became a diocesan bishop on October 9, 2003 and currently bears the title Bishop of Miami and the Southeast.
Bishop Antoun has served as a beloved pastor and educator in many settings, including St. Vladimir Orthodox Seminary in Crestwood, NY; St. George Church in Philadelphia, Pennsylvania; St. George Church in Toronto, Ontario; St. George Church in Allentown, Pennsylvania; and St. Nicholas Cathedral in Brooklyn, New York. He is currently assigned by Metropolitan Philip to the Archdiocesan Chancery in Englewood, New Jersey.
Bishop Antoun was born Antoun Yssa Khouri on January 17, 1931 in Damascus, Syria. At the age of fourteen, he entered Minor Seminary at Balamand Monastery in Lebanon, where he met and befriended Philip Saliba, the future Metropolitan of North America. He received his diploma in theology from the Balamand Seminary.
On October 28, 1951, Antoun was ordained a deacon by Patriarch Alexander III at the Patriarchal Cathedral of the Dormition of the Theotokos in Damascus. Upon graduation from Assiyat Orthodox College in 1957, he was assigned to the Antiochian Orthodox Archdiocese of Brazil. In 1959 he came to the United States to pursue a Master of Divinity at St. Vladimir Orthodox Seminary, from which he graduated in 1962. He was ordained to the priesthood on May 29, 1960, by Metropolitan Antony Bashir, and was elevated to the Archimandrite by Metropolitan Philip (Saliba) on August 3, 1969.
Bishop Antoun's namesday is January 17 (Anthony the Great).