Fifth Sunday of Luke
Twenty Second Sunday after Pentecost
Apostles Hermas, Linus, Gaius, Patrobas and Philologos of the Seventy; Jonah the wonderworker, Archbishop of Novgorod
Who Were Apostles Hermas, Linus, Gaius, Patrobas and Philologos of the Seventy?
The Apostles Hermas, Linus, Gaius, Patrobas and Philologos
These men were among the Seventy Apostles of Christ.
Hermas is mentioned in Romans 16:14: "Greet Hermas." He became Bishop of Philippopolis.*
Linus is mentioned by the Apostle Paul in 2 Timothy 4:29: "Greet Linus and Claudia." He became the Bishop of Rome after the leader of the Apostles Peter.**
Gaius is mentioned in Romans 16:23: "Gaius my host, and of the whole church, greets you." He became Bishop of Ephesus after Timothy.
The divine Apostle Paul refers to Patrobas also in Romans 16:14: "Greet Patrobas." He became Bishop of Pottole, which is a city in Naples of Italy, and there he baptized many unbelievers.
Philologos is mentioned by Paul in Romans 16:15: "Greet Philologos and Julian." He was made Bishop of Sinope by the First-Called Apostle Andrew.
All of these Apostles served as Bishops of above-mentioned cities and regions, faced many temptations, and endured tribulations on behalf of piety, bringing many unbelievers to the salvation of Christ, and reposing in the Lord.

* This Hermas is to be distinguished from the Apostle Hermes, who is celebrated on April 8th and also mentioned in Romans 16:14. Hermas was the author of three spiritually beneficial books: first was The Church, second was The Shepherd, and third The Ten Parables. His primary feast is celebrated on March 8th.
** The earliest witness to Linus's status as bishop was Irenaeus, who in about the year 180 wrote, "The blessed apostles, then, having founded and built up the Church, committed into the hands of Linus the office of the episcopate" (Against Heresies 3:3.3). Linus is presented by Jerome as "the first after Peter to be in charge of the Roman Church" ("Post Petrum primus Ecclesiam Romanam tenuit Linus" –Chronicon; 14g) and by Eusebius as "the first to receive the episcopate of the church at Rome, after the martyrdom of Paul and Peter" (Church History 3.2).
Source: The Mystagogy website.
Who Was St. Jonah the Wonderworker, Archbishop of Novgorod?
St. Jonah of Novgorod
Saint Jonah, Archbishop of Novgorod, in the world named John, was left orphaned early in life and was adopted by a certain pious widow living in Novgorod. She raised the child and sent him to school. Blessed Michael of Klops Monastery (January 11), who chanced to meet John on the street, foretold that he would become Archbishop of Novgorod. John received tonsure at the Otnya wilderness-monastery, 50 versts from the city, and he became igumen of this monastery. It was from here that the people of Novgorod chose him as their archbishop in 1458, after the death of Saint Euthymius (March 11).
[…]
In 1463, Archbishop Jonah built the first church dedicated to Saint Sergius of Radonezh in the Novgorod region. Concerning himself over reviving traditions of the old days in the Novgorod Church, he summoned to Novgorod the renowned compiler of Saints' Lives, Pachomius the Logothete, who wrote both the services and history of the best known Novgorod Saints, based on local sources.
And to this time period belongs also the founding of the Solovki monastery. Saint Jonah rendered much help and assistance in the organizing of the monastery. To Saint Zosimas he gave a special land-grant (in conjunction with the secular authorities of Novgorod), by which the whole of Solovki Island was granted to the new monastery.
The saint, after his many toils, and sensing the approach of his end, wrote a spiritual testament to bury his body at the Otnya monastery. On November 5, 1470, after he received the Holy Mysteries, the saint fell asleep in the Lord.
Read the complete story on the Orthodox Church of America website.
Synaxis of the Archangels Michael and Gabriel Divine Liturgy on Tuesday, November 7, 2017 at 6:30pm
We will celebrate the Divine Liturgy for the Sunaxis of the Archangels Michael and Gabriel and the Heavenly Hosts on the eve of the Holy Day Tuesday, November 7, 2017 at 6:30pm.
On November 8 in the Holy Orthodox Church we celebrate the Synaxis of the Supreme Commanders Michael, Gabriel and Raphael, and of the other bodiless and heavenly orders, the Seraphim, Cherubim, Thrones, Dominions, Powers, Authorities, Principalities, Archangels and Angels.
Dionysius the Areopagite, a disciple of the Apostle Paul who was taken up into the third heaven (II Cor. 12:2), described the nine orders of angels in his book, On the Celestial Hierarchies. The Apostle Paul says all angels are ministering spirits, sent forth to minister to them who shall be heirs of salvation (Heb. 1:14). The leader of all the angelic hosts is the Archangel Michael.
When Satan fell away from God and drew a part of the angels with him to destruction, then Michael stood up and cried out before the faithful angels: "Let us stand aright! Let us stand with fear! Let us attend!" and all of the faithful angelic heavenly hosts cried out: "Holy! Holy! Holy! Lord God of Sabaoth! Heaven and earth are full of Thy glory!" The Archangel Gabriel proclaimed the news of the conceptions of John the Baptist and our Lord Jesus Christ to their mothers, Elizabeth and the Ever-virgin Mary (Luke 1). The Archangel Raphael healed Tobit of his blindness (Tobit 11) and freed his daughter-in-law, Sarah, from a demon (Tobit 6). Every nation has its guardian angel, as does every Christian. We must always remember that whatever we do, in open or in secret, we do in the presence of our guardian angel
.
Source: The Antiochian Orthodox Archdiocese website.
Divine Liturgy for St Nektarios on Wednesday, November 8, 2017 at 6:30pm
The divine Nektarios of Aegina, is one of the most widely known of Greek Orthodox Saints. He was born on October 1st, 1846 in Silyvria, in Asia Minor (now occupied by Turkey).His great service to the Church, prolific writings and teachings, energy and zeal led Fr Nektarios to be ordained as the Metropolitan of Pentapolis in Egypt.
In 1904, our Saint founded a monastery for women in Aegina, the Holy Trinity Convent. Under his guidance the Convent flourished. In 1908, the Blessed Nektarios, at the age of 62, retired from the Rizarios Ecclesiastical School and withdrew to Holy Trinity Convent in Aegina. There, for the rest of his life as a true monk and ascetic. He served as a confessor and spiritual guide to the nuns and even priests from as far as Athens and Piraeus. His Holy and pious life shone forth like a guiding light to all near him. Many would come to him for healing. Saint Nektarios was a great ëWonder-workerí even while alive.
On September 20, 1920 one of the nuns took him to the local hospital, in spite of his protest. He was convulsing in pain from a long-standing ailment. He was admitted, and placed into a ward reserved for the poor and unwanted. There he stayed for two months among the sick and dying. At 10:30 in the evening of November 8th, although in the midst of terrible pains, in peace and at prayer he gave up his spirit unto God at the age of 74.
As soon as the Saint gave up his Spirit, a nurse came to prepare him for transfer to Aegina for burial. As the nurse removed the Saints sweater, she inadvertently placed it on the next bed, on which a paralytic lay. And O, strange wonder!, the paralytic immediately began to regain his strength and arose from his bed healthy, and glorifying God.
Read the complete story on the Orthodox Christian Info website.
Living the Orthodox Faith Class Continues Wednesday, November 1 and November 15 at 7:00pm
"Living the Orthodox Faith" will look at why our Church does things the way it does, and how to do it properly. We will learn about the sign up the cross, how to enter the Church properly (candles and veneration), how to make a home altar, and more. This is a very practical class, not theological as much as how to live the Orthodox life as an Orthodox Christian.
This week we will learn about the Proskomede – How the priest prayers the gifts (the bread and wine that become the Holy Eucharist).
Can't make the class? Join in on Facebook Live! You can also view last week's class too.
Bob Smith Hospitalized
Winter resident Bob Smith was hospitalized recently and is undergoing rehabilitation in Minneapolis, Minnesota. Bob and his wife Jane are strong supporters of St. Peter's having joined just as we moved into our present location and helping us with the move.
You can send Bob a note a Caring Bridge, a website that delivers notes and well wishes to people undergoing medical treatment.
Keep Bob and Jane in your prayers (they are the top of the prayer list). Pray for a speedy recovery and a return to good health.
Toys for Tots Drive Begins
Every Christmas season St. Peter's parishioners contribute to Toys for Tots which gives children who otherwise would receive no gifts some presents on Christmas Day.
If you would like to contribute, bring an unwrapped present for a child in its original packaging. A collection box is in the Social Hall. We will deliver them to the fire station where they are collected for distribution to the needy children.
Need Volunteers to Pack Bake Sale items on Thursday November 9 at 1:00pm
Can you help pack bake sale items on Thursday, November 9 at 1:00pm? Please mention it to Tom or Marlene Haley. Orders will be distributed on Sunday, November 12 and 19 following the Divine Liturgy.
Memorial Prayers of John Spiropoulos and Plato Pavis, Sunday November 5, 2017
Thirteen year memorial prayers will be offered of John Spiropoulos, father of Joan Simon, on Sunday, November 5, 2017 following the Divine Liturgy. John was born in Manhattan and grew up in Elmhurst, Queens, NY. He had resided in Succasunna for 47 years before moving to Mt. Arlington, New Jersey. He also resided in Ft. Myers, FL. Mr. Spiropoulos served in World War II and the Korean War as a First Lieutenant in the US Marine Corps. He was a 1947 graduate of Princeton University where he earned his B.S. Degree in Economics and was Captain of the Varsity fencing team. Mr. Spiropoulos worked as a market research analyst for various companies, including Reliance Electric in Newark, NJ.
One year memorial prayers will be offered for Plato Pavis was a long time resident of Fort Myers, a locally known painter, and a much loved man in the local Orthodox community. Plato possessed an indomitable spirit and was active until his death at 97 years old. Several years ago the Fort Myer's News Press published an article that reveals what an interesting man Plato was.
Both memorials are sponsored by John and Joan Simon.
Church Clean Up Day, Saturday November 4, 2017 following Divine Liturgy at 9:00am
Church clean up day is scheduled for Saturday, November 4 starting at 10:30am. Please note that this follows a Divine Liturgy at 9:00am for St. Raphael of Brooklyn that our Metropolitan requires us to celebrate.
Please bring your cleaning tools from home along. We will have supplies at Church as well the the more we have the easier and faster the job can be done.
This prepares the Church for the Christmas and Epiphany season.
Many hands make light work. The more volunteers we have, the quicker the clean up can be done.
Calendar At A Glance
Wednesday, October 25, 2017 6:30pm Liturgy Eve of St. Demetrios
Tuesday, October 31, 2017 5:30pm Trunk or Treat. Meet at Church at 5:30.
Wednesday, November 1, 2017 6:30pm Choir Practice
Wednesday, November 1, 2017 7:00pm "Living the Orthodox Faith" Class
Saturday, November 4, 2017 9:00am (NOTE TIME) Liturgy St. Raphael of Brooklyn
Saturday, November 4, 2017 10:30am Church Clean Up Day
Sunday, November 5, 2017 John Spiropoulos and Plato Pavis Memorial by John and Joan Simon
Wednesday, November 7, 2017 6:30pm Liturgy Eve of Archangels Michael and Gabriel
Wednesday, November 8, 2017 6:30pm Liturgy Eve of St. Nektarios
Saturday, November 15, 2017 Nativity Fast begins
Saturday, November 15, 2017 Charity Drive for NAMI and Toys for Tots begins
Wednesday, November 15, 2017 6:30pm Choir Practice
Saturday, December 2, 2017 3:30pm Social Hall Decoration, Vespers, Potluck Day
Wisdom From The Elders
The most pure name of Jesus cannot tolerate to dwell in the midst of impurity. It requires that all impurity should be expelled and vanished from the vessel of the soul. It enters the vessel according to the degree of its purity, and it at once begins to act in it and effect the further purification for which the man's own efforts were insufficient and which is needed if the vessel is to become a worthy recepticle for the spiritual treasure, a shrine for the most holy name.
St. Ignatius Brianchaninov
If you wish that God should speedily give you hearty faith in prayer, strive with all your heart to speak and to do everything in regard to other people sincerely, and never be deceitful in your dealings with them. If you are straightforward and truthful with others, then God will give you straightforwardness and sincere faith also in reference to Himself.
St. John of Kronstadt
Whoever observes God's benevolence learns to rely upon divine providence. He then feels like an infant in a crib, crying when left alone for a little while by its mother, until she returns to its side. It is an important matter to entrust yourself to God.
Elder Paisios of Mount Athos
And so it is incumbent upon us to strive, rather, to correct our faults and to improve our behavior.
St. John Cassian
On account of its soul-saving effect upon us of prayer in general, and of the rememberance of God or the prayer of Jesus in particular,as means to remaining in constant union with God and to constantly repulsing the attacks of the enemy, engagement in the prayer of Jesus is especially hateful to the devil.
St. Ignatius Brianchaninov
Satan dwells morally in a man when the man becomes a door of the devil's will. It was in this way that Satan entered into Judas Iscariot (John 13:27), that is, he controlled his reason and will, and became one with him in spirit.
St. Ignatius Brianchaninov
Remember in Your Prayers
Constantine
Robert
Jane
Theodora
Baby Brynn L.
Micheal
Haralambos
Lillian
Presbytera Rosy
Valentina
John
Eva W.
Barbara
Angela
Sonya
Kenneth
Carol Ann
Matthew
Chrysostom
Tim
Ron
Ivy-Jean
Pat
Christina
Maria Louise
Maximos
Marian
Photini
Nicholas
Brad William
Sarah
Petronia (Wife of Phil Pappas)
Constantine Houpis
Anna Marie Smith Baker
Ron Chromulak
Beverly Chromulak
Katerina
Loucine Kassis
Mary Kassis
Baby Maximus
Christine
Maria
Annette Star
Claire Livaditis
Eva Chandilles
Baby Dani
Scott Nedoff
Anthony Mourgis
John Hansen
James Hord
Tom and Jean, parents of Patty and Jerry.
How should we pray for the sick? Remember them daily. Say their names (first names are sufficient) and ask God to bestow mercy and grace on them.
Add or remove names and print this list for easy reference during your prayer time on the St. Peter website.
Sunday Readings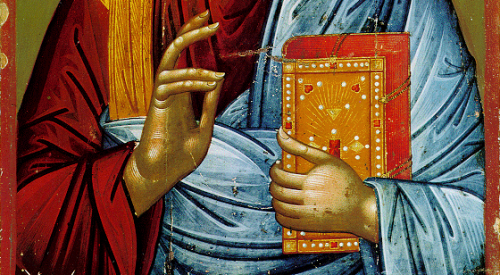 Epistle
For the Twenty-Second Sunday after Pentecost
Thou, O Lord, shalt preserve us and keep us from this generation.
Save me, O Lord, for the godly man hath disappeared.
The Reading from the Epistle of St. Paul to the Galatians. (6:11-18)
Brethren, see with what large letters I am writing to you with my own hand. It is those who want to make a good showing in the flesh that would compel you to be circumcised and only in order that they may not be persecuted for the cross of Christ. For even those who receive circumcision do not themselves keep the Law, but they desire to have you circumcised that they may glory in your flesh. But far be it from me to glory except in the cross of our Lord Jesus Christ, by which the world has been crucified to me and I to the world.

For neither circumcision counts for anything, nor uncircumcision, but a new creation. Peace and mercy be upon all, who walk by this rule, upon the Israel of God. Henceforth let no man trouble me; for I bear on my body the marks of Jesus. The grace of our Lord Jesus Christ be with your spirit, brethren. Amen.
Gospel
For the Fifth Sunday of Luke
The Reading is from the Holy Gospel according to St. Luke. (16:19-31)
The Lord said, "There was a rich man, who was clothed in purple and fine linen and who feasted sumptuously every day. And at his gate lay a poor man named Lazarus, full of sores, who desired to be fed with what fell from the rich man's table; moreover, the dogs came and licked his sores. The poor man died and was carried by the angels to Abraham's bosom. The rich man also died and was buried; and in Hades, being in torment, he lifted up his eyes, and saw Abraham far off and Lazarus in his bosom. And he called out, 'Father Abraham, have mercy upon me, and send Lazarus to dip the end of his finger in water and cool my tongue; for I am in anguish in this flame.'

But Abraham said, 'Son, remember that you in your lifetime received your good things, and Lazarus in like manner evil things; but now he is comforted here, and you are in anguish. And besides all this, between us and you a great chasm has been fixed, in order that those who would pass from here to you may not be able, and none may cross from there to us.' And he said, 'Then I beg you, father, to send him to my father's house, for I have five brothers, so that he may warn them, lest they also come into this place of torment.' But Abraham said, 'They have Moses and the prophets; let them hear them.' And he said, 'No, father Abraham; but if someone goes to them from the dead, they will repent.' He said to him, 'If they do not hear Moses and the prophets, neither will they be convinced if someone should rise from the dead.'"
>