Dear Members and Friends of St. Peter Orthodox Mission,
Summer is always a difficult time for parish finances and St. Peter's is no exception.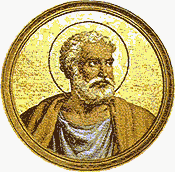 While we are capable of holding our own and meeting our obligations for the most part, occasionally we have to dig a little deeper to support the parish. Now is one of those times.
Would you be able to send a contribution to St. Peter's to help us pay our expenses?
St. Peter's is a fledgling but growing mission. We have a very strong core group, a good stream of visitors, and great promise for growth. According to statistics that measure mission growth, we are doing very well. But missions take time to grow, and while we are getting on our feet we need your help even more.
Regular mission members need to consider establishing a tithe to help the mission. A tithe is a certain percentage of your income given to the work of God through St. Peter's. That's what Pres. Susan and I do. We have promised a certain amount of our income to the mission every month.
What you tithe is up to you. It can be anywhere from 3% to 10%. Ideally it is 10% but it might take a while for some of us to get there. In any case, if we cultivate the attitude that our spiritual home deserves more than what we sometimes give it, we enable God to bless us for blessing His Church.
A special thank you to the friends of St. Peter's who, while not regular members, still believe in the mission and support it.
You can put your contribution in the tray, or send it to:
St. Peter Orthodox Mission
28679 Alessandria Circle
Bonita Springs, FL 34135
Make you check payable to "St. Paul Orthodox Church" but put "St. Peter Mission" in the memo line.
One more thing. Please remember that Church this Sunday will be held at St. Paul Orthodox Church in Naples (map). I will be out of town this weekend leading a retreat in Rives Junction, Michigan.
You can read more about the retreat on the Orthodox Women in the Healing Ministries website. On Sunday night I speak at the Michigan State University Orthodox Christian Fellowship. I will return home early next week.
May God bless you all.