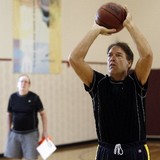 Chris Spina, treasurer of St. Peter Orthodox Mission, was featured on the front page of Naples Daily News yesterday. Chris is trying out for the basketball team at Ave Maria University where is also completing a degree. Congratulations Chris.
Story follows:
BONITA SPRINGS — A little over eight months ago, Bonita Springs resident Chris Spina had a revelation.
At 53 years old and tipping the scales at more than 300 pounds, he knew he needed to make a change.
But when he told friends and family of the change he had mind, he couldn't blame them for being a little skeptical at first.
That's because Spina proudly announced that he was going to drop nearly 100 pounds and play college basketball — all in less than one year.
Now as Spina's quest has become well-known through local communities, cynics have become supporters and strangers have become fans. Spina has lost 70 pounds, and thanks to the support of the coaching staff at Ave Maria, will try out for the team's basketball team in September.
"It's always been a dream of mine to play organized basketball," said Spina, who owns the Southwest Florida-based Spina Realty Company. "I love the game so much and I've always loved playing so I thought this would be the perfect motivation."
[…]
Read the entire story on the Naples Daily News website.