Bible Study Starts This Tuesday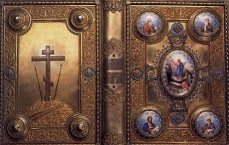 Our bible study begins this Tuesday evening at 7pm at the home of Jack and Angela Long. We will hold the study every other week.
To get to the Longs: Take US 41-Tamiami Trail to Bonita Beach Road, go west to Vanderbilt Drive, go south for about 1 mile or so to the Audubon development on the right. Ask the guard for directions from there. You can also get a map.
There has been a lot of interest and everyone is invited. You do not have to be a member of St. Peter Mission to attend. Bring your friends.
Don't forget to bring your bible!

One more reminder. If you have not pledged for 2010, please do so soon! You can print a pledge form from our website. Either mail it to St Peter's (28679 Alessandria Circle, Bonita Springs, FL 34135) or drop it in the offering plate on Sunday.
Yours in Christ,
Fr. Hans