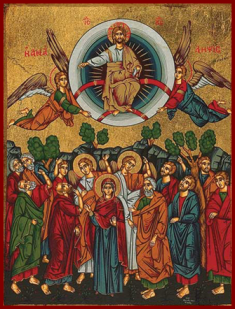 The season of Pentecost draws to a close this Thursday as we celebrate the Ascension of our Lord and Savior Jesus Christ. Often this crucial holy day gets overlooked because it falls during the week when we are working. But it is important for several reasons, the most important one being that it completes Christ's work of salvation.
Christ came into the world as a new born baby, then leaves the world by ascending into heaven. He takes on our human nature and lives life as we do. He dies for our sake and is raised from the dead. Then, when all the work is complete He ascends back to the Father.
Christ comes to us in many ways, through prayer, through the sacraments, through obedience to the commandments. And, because He ascended into heaven, He opens the doorway into God's Kingdom – the place where God lives, and which is also the proper home for mankind.
A Liturgy will be held for Ascension at St. Paul's Antiochian Church on Wednesday, May 27 at 7:00 pm, the evening before Ascension. Everyone is of course invited and encouraged to attend.