The Holy Apostle James was the son of Alphaeus and one of the twelve. He was the brother of the holy Evangelist Matthew. The Church commemorates the Apostle James on October 9, and on June 30 with the Synaxis of the Glorious and All-Praiseworthy Twelve Apostles of Christ.
James heard the Lord's words and witnessed his miracles. After the Descent of the Holy Spirit the Apostle James, Alphaeus, and the Apostle Andrew the First-Called (November 30) made missionary journeys throughout Judea, Edessa, Gaza, and Eleutheropolis, proclaiming the Gospel, healing all sorts of sickness and disease, and converting many to the path of salvation. St James finished his apostolic work in the Egyptian city of Ostrachina, where he was crucified by the pagans.
Source: Orthodox Wiki website.
May Their Memory Be Eternal
Upcoming Memorials at St. Peter's include:
Sunday, October 16: One year Memorial for Mary Spiropoulos, mother of Joan Simon. Luncheon sponsored by John and Joan Simon immediately following Liturgy in Fellowship Hall in honor of Mary.
Memorial for Magdalen Pandazi (one year – mother of Maria Pandazi and Andrea Psaras) and Andrew Pandazi (two years – Father of Maria Pandazi and Andrea Psaras) by Andrea and John Psaras, and Maria Pandazi. Andrea, Maria and John will sponsor a luncheon following Liturgy in honor of Magdalen and Andrew.
Get To Know Your Neighbor
St. Peter's is growing, so much so that there are new members we might not know? Get to know each other! Make sure to let others know they are welcome? How can we do this? Sit at a different table at Social Hall or extend your hand and introduce yourself. Go out of your way and the blessings will come.
In particular plan on attending our New Member Potluck on Saturday, October 22 at 6:00pm in the Social Hall. This will be a great chance to get to know new members in our parish and for the new member to get to know others.
Our pot lucks are great, by the way. You'll like it. St. Peter's puts a premium on food and fellowship!
Fr. Hans Out of Town Monday through Wednesday of This Week
Fr. Hans is in Washington, DC from Monday through Wednesday, October 3-5, 2016. He will be available by cell phone.
In case of pastoral emergency please call Fr. Stephanos at 239-810-9520.
Women's Group Meets
The first St. Peter's Women's Group meeting was held on Thursday, September 22 and it was a resounding success with over 15 women in attendance. Much discussion ensued about the purpose and goals of the group, particularly how to serve Christ, His Church, and others.
Some tentative goals include:
Establishing a ministry to the hospitals and nursing homes to aid Fr. Hans,
Charity and service work including Cafe of Life, Interfaith Charities, and NAMI,
Establishing a parish library.
The next meeting is scheduled for Thursday, October 20, 2016 at 6:00pm in the Social Hall.
Events This Fall
As we enter into the new Ecclesiastical Year, St. Peter's will hold at least one monthly parish social event. Please mark you calendars.
October 22 (Saturday, 6pm) New Members Welcome pot luck.
November 12-13 (Saturday and Sunday) Christmas Lent Retreat with Fr. Gregory Jensen on "Building an Intentional Community." Fr. Gregory will speak on our calling and vocation as Christians and how to live it especially in the Church.
December 3 (Saturday – 6pm) Christmas pot luck
More details as we move closer to the dates.
No Choir Practice This Wednesday, October 4, 2016
Fr. Hans is in Washington, DC.
Choir Practice resumes Wednesday, October 12 at 6:00pm.
No Bible Study This Wednesday, October 4, 2016
Bible study also this Wednesday, September 21.
Fr. Hans is in Washington, DC.
Bible Study resumes Wednesday, October 12 at 7:00pm.
Calendar At A Glance
Choir Practice at 6pm and Bible Study at 7pm every Wednesday unless cancelled as noted below.
Divine Liturgy every Sunday at 9:30. Extra services noted below.
October 5 Wednesday 6:00pm – Bible Study CANCELLED
October 5 Wednesday 6:00pm – Choir Practice CANCELLED
October 22 Saturday 6:00pm – New Members Welcome Pot Luck
October 23 Sunday – Memorial Mary Spiropoulos
October 30 Sunday – Memorial Andrew and Magdelen Pandazi
November 23-24 Saturday/Sunday – Christmas Lent Retreat
December 3 Saturday – Christmas Pot Luck
Wisdom From The Elders
And with our intelligence let us bind fast our anger, deranged and frenzied by sensual pleasure, so that we may receive the kingdom of God the Father, that comes to us through gentleness.
—St. Maximos the Confessor
One should fear and beware of grumbling at God, for while the Lord God, according to His great mercy, is long-suffering and patient with our sins, His mercy does not extend to the tendency to complain.
—St. Antony of Optina
It is more serious to lose hope than to sin.
—St. John of Karpathos
Do not be surprised that you fall every day; do not give up, but stand your ground courageously. And assuredly, the angel who guards you will honor your patience.
—St. John Climacus
Remember in Your Prayers
Robert Jarvis
Petronia (Wife of Phil Pappas)
Anna Marie Smith Baker
Harry Zifiris
Iris Kuring (Bettina Zifiris' mother)

Constantine Houpis
Gerhard Kuring (Bettina Zifiris' father)
Ron Chromulak
Beverly Chromulak
Katerina
Dianne
Loucine Kassis
Mary Kassis
Baby Maximus
Annette Star
Christine
Maria
Claire Livaditis
Eva Chandilles
Baby Dani
Scott Nedoff
Anthony Mourgis
John Hansen
Constandina James
James Hord
Bob Smith
Tom and Jean, parents of Patty and Jerry.
How should we pray for the sick? Remember them daily. Say their names (first names are sufficient) and ask God to bestow mercy and grace on them.
Add or remove names and print this list for easy reference during your prayer time on the St. Peter website.
Sunday Readings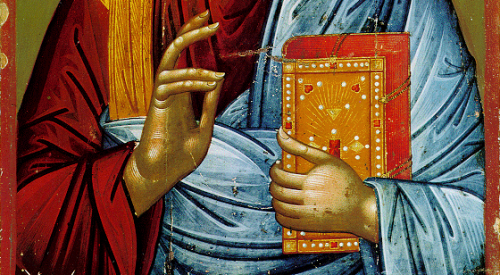 Epistle
For the Sixteenth Sunday after Pentecost
The Lord will give strength to His people.
Ascribe to the Lord, O sons of God, ascribe to the Lord honor and glory.
The Reading from the Second Epistle of St. Paul to the Corinthians. (6:1-10)
Brethren, working together with Him, then, we entreat you not to accept the grace of God in vain. For He says, "At the acceptable time I have listened to you, and helped you on the day of salvation." Behold, now is the acceptable time; behold, now is the day of salvation. We put no obstacle in anyone's way, so that no fault may be found with our ministry, but as servants of God we commend ourselves in every way: through great endurance, in afflictions, hardships, calamities, beatings, imprisonments, tumults, labors, watching, hunger; by purity, knowledge, forbearance, kindness, the Holy Spirit, genuine love, truthful speech, and the power of God; with the weapons of righteousness for the right hand and for the left; in honor and dishonor, in ill repute and good repute. We are treated as impostors, and yet are true; as unknown, and yet well known; as dying, and behold we live; as punished, and yet not killed; as sorrowful, yet always rejoicing; as poor, yet making many rich; as having nothing, and yet possessing everything.
Gospel
For the Third Sunday of Luke
The Reading from the Holy Gospel according to St. Luke. (7:11-16)
At that time, Jesus went to a city called Nain, and many of His disciples and a great crowd went with Him. As He drew near to the gate of the city, behold, a man who had died was being carried out, the only son of his mother, and she was a widow; and a large crowd from the city was with her. And when the Lord saw her, He had compassion on her and said to her, "Do not weep." And He came and touched the bier, and the bearers stood still. And Jesus said, "Young man, I say to you, arise." And the dead man sat up, and began to speak. And Jesus gave him to his mother. Fear seized them all; and they glorified God, saying, "A great prophet has arisen among us!" and "God has visited His people!"