Fourth Sunday of Great Lent
St. John of the Ladder (Climacus)
Leave-taking of the Annunciation to the Theotokos
Divine Liturgy of St. Basil the Great
Who was St.John Climacus?
On March 30 and on the Fourth Sunday of Holy Lent the Orthodox Church commemorates our Righteous Father John Climacus. He is called Climacus due to his authorship of the great spiritual work The Ladder of Divine Ascent.
His commemoration is designated by the Church on one of the Sundays of Lent as his life and writings affirm him as a supreme bearer and proponent of Christian asceticism. The ascetic example of this great Saint of the Church inspires us in our Lenten journey.
Saint John Climacus was probably born in the second half of the sixth century; but his country and origins are alike unknown because, from the beginning of his renunciation of the world, he took great care to live as a stranger upon earth. "Exile," he wrote, "is a separation from everything, in order that one may hold on totally to God."
We only know that, from the age of sixteen, after having received a solid intellectual formation, he renounced all the pleasures of this vain life for love of God and went to Mount Sinai, to the foot of the holy mountain on which God had in former times revealed His glory to Moses, and consecrated himself to the Lord with a burning heart as a sweet-smelling sacrifice.
Read St. John's complete biography on the Greek Orthodox Archdiocese website.
Annunciation Divine Liturgy on Saturday, March 25
We will celebrate the Annunciation of the Theotokos on Saturday, March 25 at 9:30am. Vespers will be offered the evening prior at 6:30pm.
Background
The Feast of the Annunciation of Our Most Holy Lady, the Theotokos and Ever-Virgin Mary is celebrated on March 25 each year. The Feast commemorates the announcement by the Archangel Gabriel to the Virgin Mary that our Lord and Savior Jesus Christ, the Son of God, would become incarnate and enter into this world through her womb.
The biblical story of the Feast of the Annunciation is found in the first chapter of the Gospel of Luke (1:26-39). The Archangel Gabriel appeared to the Virgin Mary, who was living in Nazareth, and said to her, "Hail, O favored one, the Lord is with you." Mary was perplexed and wondered what kind of greeting this was.
Read more on the Greek Orthodox Archdiocese website.
Parents: Bring Your Children on Lazarus Saturday
We will begin with the Liturgy (where Fr. Hans will explain the importance of the day to the children), a pancake breakfast, making palm crosses to be distributed the next day at Palm Sunday and confession for the kids.
Please sign up in the Social Hall or on the website.
Orthodoxy 101
Several years ago the Orthodox priests in the area began question and answer session that meet on the evenings of the Sundays of Great Lent. The sessions rotated from parish to parish. Orthodox 101 has started up again. Sessions last about an hour. Everyone is invited.
The next session will be held at 6pm on Sunday, March 26 at St. Polycarp of Smyrna Romanian Orthodox Church. St. Polycarp is located in the Cedar Montessori School behind the Circle K gas station on Immokalee Road (just east of Sam's Club). Get directions here.
Lenten Service Books
The Akathist Hymn to the Theotokos in a new translation by Father Seraphim Dedes, presented in Greek and English on opposite pages. Text is metered.
Order your copy through the Holy Cross Bookstore either online or call (800) 245-0599. We will have a few extra copies at Church for visitors.
Holy Week (Palm Sunday Evening through Agape Service)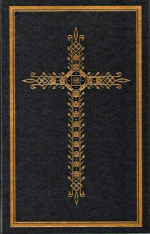 We will be using the Holy Week Service Book of the Antiochian Archdiocese during Holy Week. If you would like one for private use please order it from Ancient Faith Publishing. The price is $35.00.
Includes the three Bridegroom services, the three Liturgies of the Presanctified Gifts; the service of Holy Unction; the Vesperal Divine Liturgy and 12 Passion Gospels of Holy Thursday; the Royal Hours, Vespers, and Lamentations of Holy Friday; the Vesperal Divine Liturgy of Holy Saturday morning; Great and Holy Pascha; and the Agape Vespers of Sunday afternoon.
Printing Services from Your Computer
Some of the services we use can be found on the internet. This page lists all the services that you can print out and use. Most of the services we use not found in books will be taken from here.
St. Basil Liturgy Celebrated During Lent
During the Lenten Sundays we celebrate St. Basil's Liturgy instead of our usual St. John Chrysostom Liturgy. St. John's liturgy is derived from St. Basil's but the prayers are a bit shorter.
Lenten Suppers — Sign-Ups and Program
We will hold a light Lenten supper following each Wednesday Presanctified Liturgy during Lent. This will be something like lentil soup, bread and fruit — very simple.
We also will hold brief presentations during the suppers. This year we look at Monasticism. The remaining schedule this year:
March 22 Monasticism in the United States — A video on the monastery in Arizona
March 29 From the Little Mountain — A video on a hermitage in West Virginia
Sign up for Palm Sunday Brunch (Sunday April 9, 2017)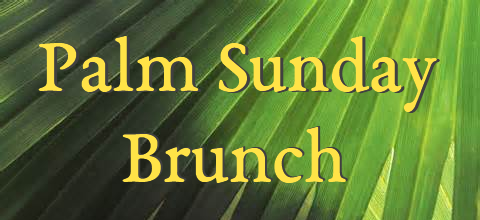 St. Peter's will hold a Palm Sunday Brunch following the Liturgy on Palm Sunday, April 24. This is a great time of fellowship for all. We need a count so please sign up at Church this Sunday or submit your names on the website.
Sing up for Agape Service Pascha Dinner (Sunday April 16, 2017)
On Pascha Sunday we will come together again after the Pascha service to celebrate Agape Vespers (Sunday, May 1 2015), a very short service followed by a community wide Pascha dinner. This will be good!
Like all dinners however, we need a count. Sign up in the Social Hall or let us know through the website if you will be attending.
Social Hall Lenten Food
In order to stay faithful to our Lenten disciplines, during Lent we will eliminate animal products (meat, cheese, eggs, fish, etc.) from our refreshments following the Divine Liturgy. Shell fish (shrimp, etc.) and oil are still allowed.
Calendar At A Glance
Choir Practice every Tuesday at 6:00pm and Bible Study every Wednesday at 7:00pm unless cancelled as noted below. Divine Liturgy every Sunday at 9:30. Extra services noted below.
March 20 (Monday) Great Compline 6:30pm
March 22 (Wednesday) Presanctified Liturgy 6:30pm
March 24 (Friday) Great Vespers Annunciation / Fourth Stanza Akathist Hymn 6:30pm
March 25 (Saturday) Annunciation Divine Liturgy 9:30pm
March 26 (Sunday) Sunday of St. John Climacus 9:30pm
March 27 (Monday) Great Compline 6:30pm
March 29 (Wednesday) Presanctified Liturgy 6:30pm
March 31 (Saturday) Akathist Hymn 6:30pm
Full Lenten schedule available on the website.
Wisdom From The Elders
Obedience is true love. Obedience is the source of life and blessedness, while disobedience is the source of death and unhappiness.
Archbishop Seraphim (Sobolev) of Bogucharsk
Our Lord Jesus Christ is the Conqueror of death, and, consequently, of the death of our departed ones.

Monk Mitrophan
Obedience is true love. Obedience is the source of life and blessedness, while disobedience is the source of death andAnd as much as one progresses spiritually, just as much will he see the love of God on a greater scale and he will melt away because of that love.
St. Paisios of Mount Athos
We must give thanks for all things to the lord, Who has rightly given us difficulties that we may learn patience, which is more beneficial than comforts, and ennobles the soul.
St. Moses of Optina
The Christian who is struggling in the world is helped when he has relationships with spiritual people.

Elder Paisios of Mount Athos
God knows when to give us what we ask for, so we won't be harmed spiritually. Sometimes we ask God for something, but we have no patience and are troubled.
Elder Paisios of Mount Athos
He who loses his cross loses his Christianity.
Metropolitan Saba(Esber)
Remember in Your Prayers
Chrysostom
Tim
Ron
Ivy-Jean
Pat
Christina
Baby Samuel
Victoria
Jennie
Mary
Baby Kyriake
Maximos
Marian
Photini
Nicholas
Brad William
Ryan
Sarah
Robert Jarvis
Petronia (Wife of Phil Pappas)
Anna Marie Smith Baker
Iris Kuring (Bettina Zifiris' mother)
Constantine Houpis
Ron Chromulak
Beverly Chromulak
Katerina
Dianne
Loucine Kassis
Mary Kassis
Baby Maximus
Annette Star
Christine
Maria
Claire Livaditis
Eva Chandilles
Baby Dani
Scott Nedoff
Anthony Mourgis
John Hansen
Constandina James
James Hord
Bob Smith
Tom and Jean, parents of Patty and Jerry.
How should we pray for the sick? Remember them daily. Say their names (first names are sufficient) and ask God to bestow mercy and grace on them.
Add or remove names and print this list for easy reference during your prayer time on the St. Peter website.
Sunday Readings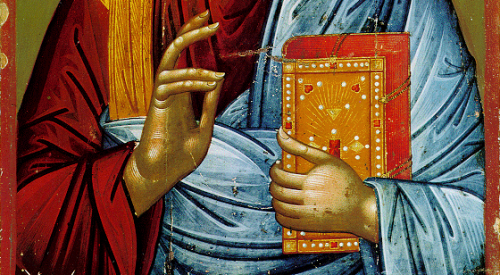 Epistle
For the Fourth Sunday of Great Lent
The Lord will give strength to His people. The Lord will bless His people with peace.
The Reading from the Epistle of St. Paul to the Hebrews. (6:13-20)
Brethren, when God made a promise to Abraham, since He had no one greater by whom to swear, He swore by Himself, saying, "Surely I will bless you and multiply you." And thus Abraham, having patiently endured, obtained the promise. Men indeed swear by one greater than themselves, and in all their disputes an oath is final for confirmation.

So when God desired to show more convincingly to the heirs of the promise the unchangeable character of His purpose, He interposed with an oath. So that through two unchangeable things, in which it is impossible that God should prove false, we who have fled for refuge might have strong encouragement to seize the hope set before us.

We have this as a sure and steadfast anchor of the soul, a hope that enters into the inner shrine behind the curtain, where Jesus has gone as a forerunner on our behalf, having become a high priest forever after the order of Melchizedek.
Gospel
For the Fourth Sunday of Great Lent
The Reading from the Holy Gospel according to St. Mark. (9:16-30)
At that time, a man came to Jesus, kneeling down and saying unto him, "Teacher, I brought my son to you, for he has a dumb spirit. And wherever it seizes him, it dashes him down; and he foams and grinds his teeth and becomes rigid; and I asked Thy Disciples to cast it out, and they were not able." And Jesus answered them, "O faithless generation, how long am I to be with you? How long am I to bear with you? Bring him to Me." And they brought the boy to Him; and when the spirit saw Jesus, immediately it convulsed the boy, and he fell on the ground and rolled about, foaming at the mouth.

And Jesus asked his father, "How long has he had this?" And he said, "From childhood. And it has often cast him into the fire and into the water, to destroy him; but if Thou canst do anything, have pity on us and help us." And Jesus said to him, "If you can believe, all things are possible to him who believes." Immediately the father of the child cried out and said with tears, "Lord, I believe; help my unbelief!" And when Jesus saw that a crowd came running together, he rebuked the unclean spirit, saying to it, "You dumb and deaf spirit, I command you, come out of him, and never enter him again."

And after crying out and convulsing him terribly, it came out, and the boy was like a corpse; so that most of them said, "He is dead." But Jesus took him by the hand and lifted him up, and he arose. And when Jesus had entered the house, His Disciples asked Him privately, "Why could we not cast it out?" And Jesus said to them, "This kind cannot be driven out by anything but prayer and fasting."

They went on from there and passed through Galilee. And Jesus would not have anyone know it; for He was teaching His Disciples, saying to them, "The Son of man will be delivered into the hands of men, and they will kill Him; and after He is killed, He will rise on the third day."