Liturgy tomorrow (Tuesday, September 7, 6:30pm) – Nativity of the Theotokos
I apologize for this late notice but I was informed earlier today that a Vesperal Liturgy commemorating the Nativity of the Theotokos will be held at St. Paul Antiochian Church tomorrow, Tuesday, September 7 at 6:30pm (get map to St. Paul's).
Some background (from: Orthodoxwiki):
The Nativity of the Theotokos is one of the Great Feasts of the Orthodox Church, celebrated on September 8.

The Holy Virgin and Theotokos Mary was born to elderly and previously barren parents by the names of Joachim and Anna, in answer to their prayers. Orthodox Christians do not hold to the Roman Catholic doctrine of the Immaculate Conception of Mary, in which it is supposed that Mary was preserved from the ancestral sin that befalls us all as descendents of Adam and Eve, in anticipation of her giving birth to the sinless Christ. The Orthodox believe that Mary indeed received the ancestral sin, having been conceived in the normal way of humanity, and thus needed salvation like all mankind. Orthodox thought does vary on whether Mary actually ever sinned, though there is general agreement that she was cleansed from sin at the Annunciation.
Michael Pegades, Missionary
Many of you will remember Michael Pegades who spoke to us about his plans to do missionary work in Tanzania with the Orthodox Christian Missionary Center (OCMC). Michael has been in Tanzania for about a month and blogs about his experiences there. You can keep up with Michael on his blog.
Here Michael reflects on one cultural difference he encountered:
Habari za leo?

I thought I'd start this installment with a typical Tanzanian greeting. Habari za leo? means What's new? or literally News of today? In Tanzania, the greeting process can go back and forth for quite a while. How are you? How's work? How are things at home? Each time, the person being asked responds positively, even if they're not feeling that great. Nzuri! Fine! As an American, I'm programmed to get past the small talk as soon as possible and move right into the crux of the conversation, but here things are much different. Small talk is valued and seen as an integral part of the conversation. Many conversations I have here are nothing but an exchange of greetings, yet they carry a lot of weight. I've even thrown in some acceptable slangy responses that I've learned along the way, and these have garnered both smiles and surprised looks from the locals.
Website redesigned
Although you will notice only a few changes on the website, the engine that drives it has been revamped to make updating it much easier and work faster. We decided at the last parish council meeting to improve communications and our parish web presence is part of that project. A few items are left to be updated but if you visit it you should see some improvements. Be sure to take a look.
Fr. Hans on Ancient Faith Radio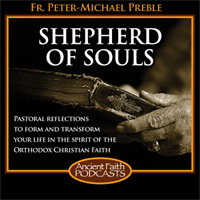 Fr. Peter-Michael Preble interviewed me on the Ground Zero mosque issue recently on his radio program "Shepherd of Souls."
You can hear the interview on the St. Peter website.
This Wednesday I am a guest of Kevin Allen's "The Illumined Heart" on Ancient Faith Radio in a discussion with a Muslim convert to Orthodox Christianity about the role of religion in American society. This discussion will be released in a few weeks and I will post it on the website when it becomes available.
On November 16 I will be in Maryland at the University of Maryland Baltimore County (UMBC) to debate an atheist. Fortunately my side got to pick the title. We chose "Can you be fully human without God?" My debating opponent is the son of a Baptist preacher. Should be interesting. More details as this develops.
Feeling Confident
Over the last few months I have a growing confidence about the viability and success of St. Peter Mission. We have a core of very solid and committed members. We have a dynamic Parish Council committed to the success of St. Peter's. Most encouraging I think is the new people we see attending the Mission. No one comes to Church by accident — not even the regular members. God brings us and when we see new people coming we can take assurance He is blessing our efforts. The people he brings us are, in fact, the blessing.
I've been talking to people who have experience in starting missions. Did you know that we are doing very good? In fact, in some ways we are ahead of the curve. I find this very encouraging.
We will keep working and praying. Something very good happens every Sunday. I think this is what keeps each one of us coming back. As we grow into a Church, the Lord will bring people to us who are seeking Him too. In many ways, if we understand this correctly, this is a great privilege that has been handed to us.
May God bless you.
Fr. Hans